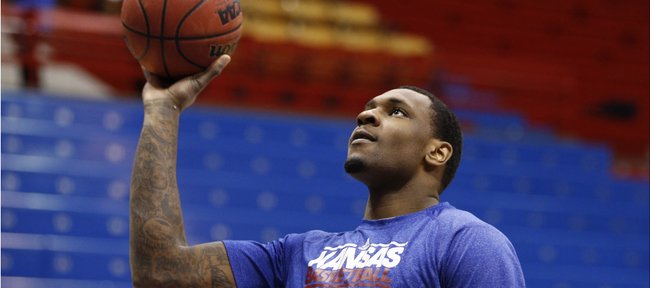 Kansas University senior pivot Tarik Black, who has started nine games and come off the bench in 18 more in his one and only season at KU, now returns to the starting lineup for the next two games ... and possibly more.
The current rest/rehab period prescribed for freshman sensation Joel Embiid means more playing time and more of the spotlight for Memphis transfer Black, who was asked on Tuesday if this is a chance for him to make a push for personal accolades.
"I play my role. I don't try to overthink it or overdo it. I don't try to get in a position where I say, 'OK, Jo Jo is out, now it's my time to shine.' That's not what is called for," said Black, a 6-foot-9, 260-pounder, who takes a 4.3 scoring, 3.1 rebound average into today's 7 p.m. Senior Night game against Texas Tech.
"If I break out and shine ... I am a really good player. I'm very talented. I've proven it in my years of college. You can look at my statistics. My numbers are there. I know what I'm capable of. This team will function the way it needs to in order to win games. That's something I will not mess up. I will not make that dysfunction thinking about me, me, me. It's always about Kansas. It's always about the Jayhawks. It's always about the team."
Black will be joined in the starting lineup by fellow seniors Justin Wesley and Niko Roberts, who will be making their first career starts, as well as freshmen Andrew Wiggins and Wayne Selden.
It'll be an emotional night for KU newcomer Black, who thanks his teammates, especially junior Christian Garrett, who "has helped me grow spiritually. That changes your whole life."
"I learned so much about basketball, life and myself in this one year being in this program than I have ever learned playing the game of basketball leading to this point," Black said. "I was meant to be here. I'm very blessed to be here. This is my stop. This is where I was supposed to be for reasons bigger than basketball. This is life-changing for me."
Black, who after this semester will have to write a thesis to finish requirements for his masters in African American Studies, wants to play in the NBA then open a nonprofit organization in Memphis.
"It's a dream for me," Black said of playing in the pros. "I've been blessed to make it this far. I will not put any limitations on my blessings in the future."
He said the sky is the limit for this team, which enters today's game 22-7 overall and 13-3 in the league; Tech, which fell to KU, 64-63, on Feb. 18, enters 13-16, 5-11.
"I want to accomplish something we're still in the running for," Black said of a deep run in the NCAAs. "This season has been so intriguing, so interesting, so fun that time has flown by. It feels like yesterday I arrived on campus. and now we're here today getting ready to go into Senior Night and postseason. That's crazy to me."
Of Black, KU coach Bill Self said: "He's got something about him that I think every kid yearns for. He's ultra-positive, has a great attitude. He's got energy and he's always trying to make others better."
Of point guard Niko Roberts, Self joked: "I think I even spanked Niko when he was about 3- or 4-years-old a couple of times when we used to babysit him." Self is a long-time friend of Niko's dad, KU assistant Norm Roberts. "He's awesome, and he's part of our family and has been for a long time, and certainly I'm real proud of him."
Niko played along with the spanking story.
"Most of the time I got in trouble it was his daughter Lauren messing with me. I never did anything wrong, it was just her," Niko said, laughing. "I got a couple beatings, I'm not gonna lie. Hopefully I won't get any more."
Of starting his first game, Niko said: "Hopefully once the game gets going a little bit I'll be more comfortable and it'll be less nerve-wracking. Those first 30 seconds will probably be kind of jittery for me."
Cool customer: Wesley has actually started three exhibition games in his KU career. "I've played before. I'll be excited for Niko especially. (He's) my best friend; we came in together. I'll be excited in that aspect. I can't wait."
Of Wesley, Self said: "I think Justin is maybe the coolest kid on our team."
Wesley is the brother of former KU standout Keith Langford. "He's been like my idol, my father figure, my hero, if you want to say. It was great to come here and kind of follow in his footsteps," Wesley said.
Speeches: There will be speeches following the game. If KU wins, there figures to be mention of KU's undisputed league title, the program's 10th in a row.
"But it won't be a net-cutting ceremony. We've never been big on stuff like that," Self said.
Only for seniors: Wiggins, and any other non-seniors who might join him in the 2014 NBA Draft, will not speak to the fans tonight.
"I think our fan base, the majority would be disappointed if we did something that took away from what is one of the great traditions of our basketball season, and that is Senior Night," Self said. "Now, I'm not saying I may not recognize or something, but certainly I don't want the emphasis to ever get away from those kids that have actually exhausted their eligibility here. And in this case all three graduated, obviously."
Of the tradition, he said: "This is not Freshman Night, it's not Sophomore Night, it's not Junior Night; it's Senior Night."
Beer sales in KC: Self talked about the decision to allow beer sales at the upcoming Big 12 Tournament.
"Unless it's available to the coaches, it won't affect me whatsoever. I probably could have used a little help the last 10 minutes of the Oklahoma State game," he said, laughing. "That wouldn't affect us one way or another."
Naadir OK: Self said Naadir Tharpe (dislocated thumb) should be 100 percent. "I'm not a professor, but a B+ or an A-minus or something," Self said of a grade to give Tharpe this season. " I still think he can play better in some ways, but I think he's been really good. He probably is as responsible for us winning the league as any individual."
Self on the future of freshman Brannen Greene: "Brannen Greene is going to be an NBA player. I really believe that he could be that. He's talented. Now, does he guard anybody yet, does he do some things that we think are important that he hasn't quite bought into the same importance level? Probably not, but he is really a talented kid."
Recruiting: Myles Turner, a 6-11 senior from Trinity High in Euless, Texas, who is ranked No. 6 nationally by Rivals.com, is slated to attend tonight's game on a recruiting visit.
Season over: KU signee Cliff Alexander's Chicago Curie High team fell to DuSable, 88-85, in overtime in a Class 4A Illinois State High School Basketball Association regional opener on Tuesday. Alexander had 25 points, 15 rebounds and eight blocks. Curie finishes with an 0-26 record after having to forfeit 25 games because of ineligible players. DuSable is 11-11.
More like this story on KUsports.com