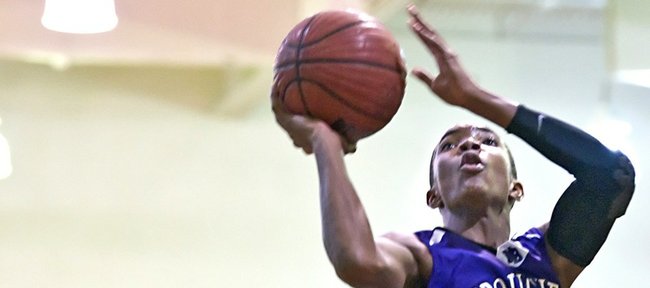 ESPN's Paul Biancardi recently ranked Kansas University point guard Devonté Graham No. 2 on a list of the "nation's most important freshmen," behind Indiana's James Blackmon.
"With the departure of starting point guard Naadir Tharpe in April, the program had a huge void. That's when Bill Self and his staff went back to Brewster Academy to fill their need. The irony is that Tharpe and Graham both played for Jason Smith at Brewster and were extremely successful," Biancardi wrote. "Once Graham was released from his letter of intent to Appalachian State, Kansas and many other high-profile programs pursued this lead guard.
"He brings the balance between running a team and scoring, with the decision-making ability that Self needs to lead his team. Sophomore Conner Frankamp can be a steady influence on the ball, but his best asset is as a shooter. Frank Mason is at his strongest in the open court. However Graham offers the best of both worlds."
As far as winning the starting job, Graham said Wednesday: "It's always a battle. No spot is guaranteed, as coach has been telling us. It's definitely available."
The 6-foot-2 Graham, who averaged 17.2 points and 5.0 assists for 33-2 national prep school champion Brewster Academy last season, said he's ready to work for minutes, starting this summer. He listed his immediate goals as, "Just to work hard every day, be in the gym, get better, get stronger and try to get ready for the season."
Embiid has edge: KU coach Self was asked on the ESPN.com podcast of Andy Katz and Seth Greenberg if there's a "little nasty" in possible No. 1 NBA Draft pick Joel Embiid.
"Oh, yes," Self said. "When I went to watch him play pick-up with his high school team, The Rock, in Gainesville, Florida, there weren't any 6-2 guys, let alone 6-10 guys. One guy hit Jo with an illegal screen. I thought he (7-footer Embiid) was going to run him out of the gym, chase him down. He couldn't wait to get him back.
"This dude has got a little streak to him. When he got here, all you had to do is call him 'soft' once, and he'd make sure you don't ever call him that again. I do think he has a chip, a nasty streak, one you can't see really visibly from looking at him because of his smile and everything else. The guy does like to compete," Self noted.
Stevens lauded by Self: Self may not be interested in NBA jobs right now, but he does like the fact college coaches like former Butler coach Brad Stevens are getting opportunities in the pros.
Stevens in 2014-15 will begin his second year with the Boston Celtics.
"I do think it's still basketball, and I do think it's still dealing with people, getting players as close to their ceiling as possible working for the same cause," Self said on Katz's podcast. "It'd be a challenge obviously in that league, but it's a challenge at any level. I'm happy the Brad Stevenses of the world have gotten that opportunity. Hopefully he'll have great success, which may open doors for other guys moving forward.
"The whole thing ... this is a pretty high level," Self added of college. "You have so many guys whether it be (Mike) Krzyzewski, (Roy) Williams, (Jim) Calhoun or so many guys great at their trade ... you know they've had numerous opportunities to do this," he added of coaching in the pros.
"They thought the biggest time was where they are at. That's kind of how I feel. I'm not saying never. Certainly this is a pretty good situation. Being able to impact 18- to 22-year-old kids and hopefully prepare them for their dream, which is the next level, is a good challenge and pretty fun time doing that."
Fans can breathe easier for now: It looks as if the Oklahoma City Thunder head-coaching job will not be open this offseason. Thunder general manager Sam Presti backed coach Scott Brooks on Thursday, saying he "did an excellent job" this past season.
"I understand, we all have a tendency to look at the last game, or the last series. I respect that. That's part of sports," Presti said on ESPN.com. "I can't do that. I'm looking at a body of work. I'm looking at an understanding of what drives our success and the way in which we've gotten to this point (losing in Western Conference finals). You have to look at yourself critically every year and that starts with me, that starts with everyone in the program, and I think Scott will do the same and come back a little bit better."
If KU coach Self ever bolts to the NBA, it has been assumed it'd be to his home-state team, the Thunder, or the San Antonio Spurs, where former KU assistant coach R.C. Buford is general manager.
Classic update: Here are rosters for the sixth-annual Rock Chalk Roundball Classic, set for 7 p.m., June 12, at Lawrence High. Red team: Brennan Bechard, Danni Boatwright, Greg Dreiling, Jeff Hawkins, Ben McLemore, Sean Pearson, Todd Reesing, Tyrel Reed, Russell Robinson, Wayne Simien. Blue team: Cole Aldrich, Jeff Carey, Sherron Collins, Carolyn Davis, Jeff Graves, Mario Little, Brandon McAnderson, Brady Morningstar, Conner Teahan. Coaches are Max Falkenstien, Alonzo Jamison, David Lawrence, Roger Morningstar, Patrick Richey, Bud Stallworth, Billy Thomas and Calvin Thompson. For information, go to http://ljw.bz/1pWzcwb.
NCAA won't block settlement: The NCAA told CBSsports.com on Wednesday that current college athletes would not lose eligibility by receiving money from a proposed $40 million lawsuit settlement related to the use of names, images and likeness of players in NCAA-branded video games. CBSsports.com reports that more than 100,000 current and former football and men's basketball players have potential claims to money, ranging from a couple hundred dollars to a couple thousand dollars.
More like this story on KUsports.com