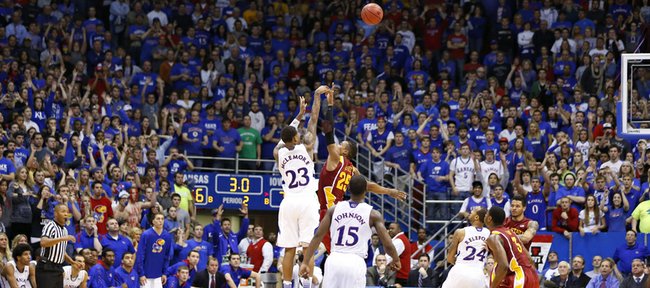 It's been a year and 20 days since Kansas University wing Ben McLemore banked in a buzzer-beating three-point shot to force overtime against Iowa State in Allen Fieldhouse.
"It still pains me," fourth-year ISU coach Fred Hoiberg said of the straight-on 22-footer that tied the game at 79 and forced an extra five-minute session. KU went on to win, 97-89.
"When it went off his hand, it looked like it's three feet to the left. I usually can judge if the ball is going to go in. From my angle it looked so far left. It banked and went in. It was a hard one to handle," added former ISU star Hoiberg, who had a 4-5 record versus KU as a player and takes a 1-7 mark as a head coach versus the Jayhawks into today's 8 p.m. rematch in Allen.
"My message to the guys after that game was, 'If we can play with that type of intensity and give ourselves a chance to win in that arena, we'll have a pretty successful year.' That's exactly what our guys did (in finishing fourth in Big 12 and winning a game in 2013 NCAAs)."
KU, which went 3-0 against Iowa State last season and has defeated the Cyclones once this year — 77-70 on Jan. 13 in Ames — had all the momentum after McLemore's improbable bank shot. KU scored the first 11 points of overtime and rode McLemore's 33 points to victory.
"Last year as a team we felt we played the complete game," said ISU sophomore forward Georges Niang, who missed 16 of 20 shots and went 0-for-9 from three in ISU's loss to KU 16 days ago. "We guarded their stuff well. We made 14 threes. When he hit that banked three to win the game, it was sort of like, 'How did that happen?' Credit to them. They do a great job of winning in their home arena, so we're going to have our hands full."
KU coach Bill Self, who has directed KU to a 169-9 record in Allen in 11 seasons, was mighty happy McLemore gave KU an opportunity for overtime.
"Well, I knew it had a chance because it was plenty hard enough. There was no way it was going to be short because he banked it in," Self said. "When we play Iowa State, it usually is a fun game for fans, kind of stressful for coaches probably.
"We were so lucky last year. Our guys are totally aware of how dangerous a team that can score as easily as Iowa State is. We need to guard them and do a good job on the glass (KU won the board battle on Jan. 13, 53-36). I'm sure Fred is telling his guys the same thing about us. We've scored quite a few points in our games as well. I hope it's not a 100-95 game like last year," added Self, whose Jayhawks rolled 108-96 in OT in Ames a year ago behind Elijah Johnson's 39 points. "Certainly when they make shots, you've got to be able to put up points."
KU's returning players, of course, have fond memories of McLemore's heroics. He's now a rookie with the Sacramento Kings.
"Yes, that's Ben McLemore, that's my boy," Tharpe said with a smile, asked if he thought the bank shot would drop through the hoop. Tharpe, by the way, burned ISU for a career-high 23 points on Jan. 13.
"Toward the end of that game, I didn't know if we were going to come back and win," noted red-shirt freshman center Landen Lucas. "When Ben hit that shot, I knew we were going to win in overtime. There was too much momentum. That was a big-time shot, definitely one to remember."
Playing in the fieldhouse was an eye-opening experience for Iowa State's Niang. It was his first Big 12 game.
"I don't think any KU fan likes any opposing team that comes in and plays their Jayhawks," Niang said. "There's a lot of anger and it's very loud in there."
Freshman guard Monte Morris, who had seven points and four assists against KU in Hilton this season, remembers battling some KU fans on the Internet a year ago.
"I think I tweeted about it, saying when I get there hopefully it'll be a different outcome," Morris said. "I got a lot of tweets of, 'Wait until you come here.' KU fans got on me saying they can't wait to chant some stuff," he added, smiling. "This is a year ago. I don't know if they are going to do that. They remember, so it should be fun."
"It's fun for a lot of people, it's not fun for the coaches," Hoiberg stated of playing in Allen. "It's a cool place, a great atmosphere. Obviously has a lot of history. I think the two loudest arenas, if you ask anybody in the league, it's Kansas and Iowa State.
"We put ourselves in a position to win there last year. It's not something that's easy to do. Obviously we didn't finish it off. This time if we go down there and have the same confidence and again knock down shots, we will have a chance. It's going to be rocking, we know that. It's an important game for both teams."
Noted ISU's Morris: "It's not a better feeling going somewhere and stunning their crowd. We have been talking about that all week, the feeling if we win at Kansas we can walk off the court and silence all their fans and the critics saying we can't beat Kansas."
No. 16-ranked ISU enters 3-3 in the league and 15-3 overall; No. 6 KU is 6-0 and 15-4. Senior forward Melvin Ejim (15 points vs. KU in Ames) leads the Big 12 in scoring at 17.9 points per game. Senior guard DeAndre Kane, who had 21 vs. the Jayhawks, is next in scoring for ISU at 16.3 ppg. Niang, who had 11 in Ames, averages 15.4 points.
"Great. We held him to 21 or 23 with a bad ankle?" Self joked when asked of KU's defense on Kane in Ames. "Look at his stats and look at Niang and his stats and (one could) say we did a great job guarding him. I don't think that was the case at all. He (Niang) missed some looks. There's a lot of things we can do better defending them."
Questionable: KU senior forward Tarik Black remains questionable for today's game, Self said after Tuesday's practice. Black did not practice 100 percent of the time Tuesday. "He's made progress but not great," Self said of the player who sprained his ankle in the Baylor game on Jan. 20.
Welcome back, Doc: Former KU director of basketball operations, Doc Sadler, is a first-year assistant on Hoiberg's ISU staff.
Wiggins a winner: KU freshman guard Andrew Wiggins was named winner of the Wayman Tisdale National Freshman of the Week award Tuesday, the U.S. Basketball Writers Association announced. Wiggins was selected by CBSSports.com's Jeff Borzello, in partnership with the USBWA.
This, that: KU leads the all-time series, 174-59, dating to 1908. KU has won four straight and 17 of the last 18 meetings. ISU's last win was 72-64 on Jan. 28, 2012, in Ames. KU is 48-9 vs. ISU in Allen. KU has won eight straight over ISU in Allen. ISU's last win was 63-61 in overtime on Feb. 19, 2005. Self is 20-3 all-time versus Iowa State, including 19-3 while at KU.
More like this story on KUsports.com