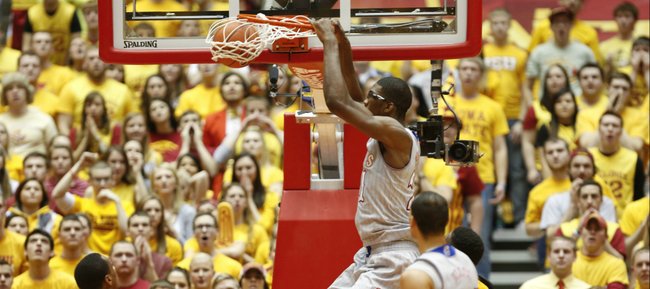 Photo Gallery
Kansas basketball v. Iowa State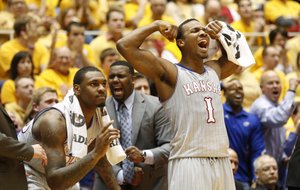 Images from Monday night's game against Iowa State at Hilton Coliseum.
Podcast episode
KU coach Bill Self after Jayhawks' huge 77-70 victory at Iowa State
The Keegan Ratings
KANSAS 77, IOWA STATE 70
Ames, Iowa — Ball on the baseline, nowhere to go and still he reached somewhere, taking a route not often chosen by 7-footers. Joel Embiid weaved through traffic on the edge of the court and seemingly found himself in a jam, buried under the hoop, surrounded by Iowa State's biggest bodies.
Embiid's creativity doesn't die that easily. In that regard, he is Todd Reesing, plus a foot and change. Embiid jumped up, stretched his arm out and laid the ball in with his back to the basket. Then he went down to the other end of the floor and instead of merely blocking Dustin Hogue's shot, he ripped the ball right out of his hands, gave it to a ballhandler and raced to back to the right baseline. 
Just in case the 14,384 spectators in Hilton Coliseum — most of whom had never seen the basketball prodigy trained on the soccer pitches and volleyball courts of Cameroon play — missed it the first time, Embiid pretty much gave them a replay. Two more points to help Kansas on the way to a 77-70 victory.
Even on a night when Naddir Tharpe played with fire in his eyes and on his shooting hand, a night Andrew Wiggins flashed insane quickness and snared 19 rebounds, the Jayhawks needed a big second half from Embiid to survive 24 turnovers.
They'll always need the advantage his size and fancy footwork bring them. When he's on his game, nobody can stop him, except himself. And for the second game in a row, this time not as blatantly, Embiid got in his own way and was tagged with a technical foul. No ejection, so that's progress. But progress isn't good enough. He must learn how not to take the bait.
Kansas State wrote the book on Embiid: Rough him up, expose him to a style foreign to his artistic way of playing the game. Keep roughing him up until he responds without subtlety. Iowa State read the book and applied the lessons from it.
The art of getting away with retaliation is nearly impossible to master, even for Embiid, who showed the Hilton crowd so much magic.
As referees studied the monitor, Embiid faced Bill Self's firing squad of questions again. He tried to explain that he didn't throw to the floor the guy who had been roughing him up. He demonstrated that he was falling backward and merely reached his hand out to steady his balance. Self didn't seem to be buying it.  The refs definitely didn't see it that way.
The monitor showed him doing just what he demonstrated to his coach and then tossing the player to the floor, not all that forcefully, but with enough purpose to land himself on the bench for a long stretch.
How much does Kansas need Embiid not making plays that take him out of the lineup even if just for a few minutes of sitting in the corner? Listen to what Iowa State's coach said when asked about KU's young personnel.
"I think they're all very good players," Hoiberg said. "I think Embiid's the best player in the country."
Why?
"You see him play tonight?" Hoiberg asked with a sarcastic edge. "That's why. He's huge and he's got great length. He can shoot, and he's got incredible footwork, and he's been playing the game for about two years (three)."
Embiid's boundless footwork amazes everyone who watches him and he'll keep adding combinations that might have made the late Michael Jackson in his prime trip over himself. Embiid does need to lose one bit of footwork, however. The graceful, gentlemanly giant needs to lose that step out of character opponents baited him into the past two games, both impressive victories.
Kansas coach Bill Self said the coaches "got after him pretty good" at halftime because he, "hasn't been very good the past few games. He was fabulous in the second half."
Embiid finished with 16 points, nine rebounds, five blocked shots, two assists, two steals and seven turnovers. He scored 12 of the 16 points in the second half, when his rim protecting played a huge part in Iowa State shooting .243 from the field in the final 20 minutes.
Embiid shared a little of what Self told him after his technical: "He told me not to lose my cool."
Good idea, because losing is so much easier to avoid with Embiid on the floor.
More like this story on KUsports.com