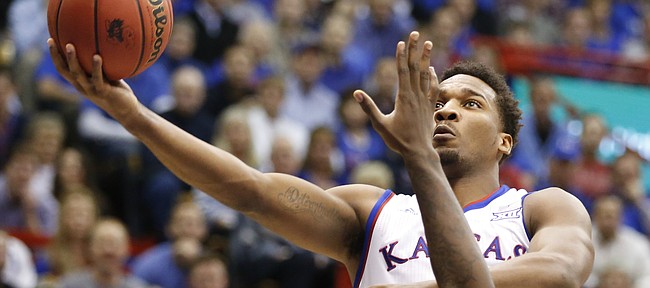 It was layup city for much of the night for the Florida basketball team, which overcame a slow start, built a huge lead and then went ice cold as the 11th-ranked Kansas University men's basketball team stormed its way to a 71-65 victory at rockin' and rollin' Allen Fieldhouse.
Led by 21 points from Wayne Selden, who broke out of his shooting slump in a big way (9-of-15 shooting), the Jayhawks outscored the Gators 47-26 in the second half and turned it over just five times in the final 20 minutes after coughing it up nine times in the first half, mostly on careless miscues.
Perry Ellis (10), Frank Mason (12) and Cliff Alexander (12, including 8-of-8 from the free throw line) also reached double figures in scoring for KU, which improved to 6-1 on the season. Florida fell to 3-4.
Here's a quick look back at some of the action:
• The game turned when: After trailing by 18 early in the second half, KU ripped off a 33-7 run to jump back in front by eight. The run spanned a little more than 10 minutes and featured a whole lot of Wayne Selden.
• Offensive highlight: After a nice baseline drive to draw the defense, Devonte' Graham flipped a perfect pass to Cliff Alexander in the lane and the big fella did the rest. When he caught it, it looked as if Alexander wanted to elevate over the defender and punish the rim. His body had other ideas, though, so Cliff gathered himself, contorted his upper body around the defender and laid it in with a little finger roll. The bucket pulled KU within 8 with a little less than 11 minutes to play.
• Defensive highlight: It's hard to say how much contact there really was, but Wayne Selden made a heck of a smart play to sell it after Florida's Devin Robinson dove into his body to catch a pass and then bounced back to the three-point line. As Robinson gained separation, Selden flew backwards and the official ruled that Robinson pushed off and whistled him for an offensive foul. A bucket on the other end pulled KU to within five points, at 52-47, and brought the Allen Fieldhouse crowd to a fevered pitch.
• Key stat: There were so many things that contributed to KU's second-half comeback, but the Jayhawks controlled the glass (out-rebounding UF 35-27) and forced the Gators to shoot just 35 percent during the final 20 minutes. It also did not hurt that KU shot 84 percent from the free throw line.
• Up next: The Jayhawks continue their stretch of tough games, when they travel to Georgetown on Wednesday for a 6 p.m. tipoff with the Hoyas. The game will be shown on FOX Sports 1.
More like this story on KUsports.com