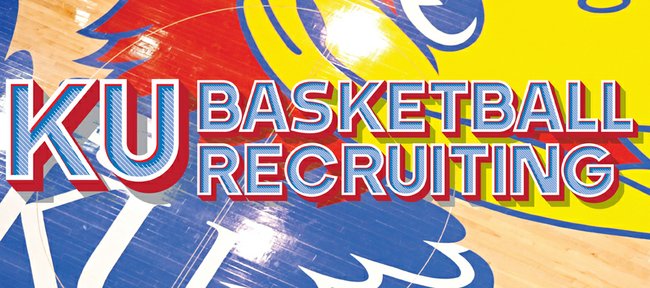 Gardner — Kansas University's Bill Self, SMU's Larry Brown, North Carolina State's Mark Gottfried, Baylor's Scott Drew, UConn's Kevin Ollie and Georgetown's John Thompson III were among the college head coaches who sat in chairs just behind the east basket of New Century Fieldhouse Court One late Friday night.
Colorado's Tad Boyle and Florida Gulf Coast's Joe Dooley elected to stand against a wall with the likes of college assistants Nick Bradford (Missouri Southern) and Jeremy Case (Houston Baptist), among many others.
Whether from schools big or small, the coaches who traveled to the 2014 Under Armour Jayhawk Invitational AAU tournament all had to be impressed with the play of Diamond Stone, a 6-foot-10, 253-pound junior from Milwaukee's Dominican High.
Stone scored 36 points, grabbed 16 rebounds and had six blocks in Young Legends' 74-70 win over 1-Nation. On Saturday, he scored 20 points off 8-of-11 shooting with 10 boards and five blocks in a 55-46 win over Gamepoint White.
"My dad told me they would be there. I just said, 'OK.' I was being humble about the whole situation," said Stone, who is ranked No. 3 in the recruiting Class of 2015 by Rivals.com.
"I enjoy it. There's no pressure really," added Stone, who on Friday hit 10 of 16 shots, including his only three-point attempt, plus 13 of 18 free throws and also hit the court hard several times in diving for the basketball.
"I just like basketball. I like competition," Stone said.
Stone, who didn't discuss his list of schools but reportedly has KU, Duke, Wisconsin, Marquette, UCLA and Arizona on his long list, appeared unselfish, passing crisply out of the low post.
"My style of play is to get my teammates involved. I feed off them," Stone said. "It's my team and all, but I like to get them involved. I like them to score. I like to help my team out.
"I'm a pass-first-player," he added. "I'm a low-post player. I'm trying to get my jump shot accurate. This summer I'll be working on my defense, perimeter defense, being able to guard wings because a lot of bigs now are playing wing. I've got to be able to guard that, so that's what I'm going to start working on this summer."
As far as his ability to block shots, he said: "My coach sometimes tells me, 'Don't jump at everything. You are 6-10. Your wingspan is 7-5 so just put your hands up you'll block a shot no matter what.'"
Stone said it was too early to comment on schools recruiting him.
"We (he and parents) have a plan. Once we narrow my schools down then I'll get my decision where I'm going to go," said Stone, who smiled when asked about his colorful first name.
"Diamond is a stone, so it's Diamond Stone," he said.
Newman smooth: Playing before a batch of college coaches, Malik Newman, a 6-3 junior shooting guard from Callaway High in Jackson, Miss., scored 16 points in Mo Williams Academy's 35-23 loss to KC Run GMC on Friday. The game was about half as long as a regulation game because of time constraints. The final games of the night had to start before 10 p.m., in accordance with AAU rules.
"I am just trying to make my teammates better and be the best person I can be on and off the court," Newman said after Friday's action. "I just go out and play hard and be the best I can be."
He's considering Kentucky, Duke, KU and many others.
Asked about his No. 1 ranking by Rivals.com, he stated: "I knew I was (No. 1), but I don't get really too involved in it."
Though displeased his team's game was cut short, he did enjoy watching Diamond Stone in the game before his.
"Diamond is a great player on and off the court. He's like a brother to me," Newman said. "I look forward to playing with him in the future."
Newman scored 26 and 21 points in two victories Saturday.
Local player Jimmy Whitt, 6-2 from Hickman High in Columbia, Mo., by the way, had 12 points off 5-of-7 shooting in going up against Newman. Whitt is ranked No. 74 in the Class of 2015.
Comanche update: No. 12-ranked Chance Comanche, a 6-10 junior from Los Angeles, had 23 points in Earl Watson Elite's 76-73 loss to Team Superstar, then scored eight points in a 66-46 loss to YOBO. The tourney concludes today.
McClure decision coming: King McClure, a 6-3 junior shooting guard from Dallas' Triple A Academy, on Tuesday will choose between Baylor, KU and UCLA, various recruiting sites report. Baylor is believed to be the leader for Rivals.com's No. 37-rated player.
Wesley at combine: KU senior Justin Wesley is at the third-annual Australian Football League combine this weekend in Los Angeles. In all, 20 invitees are learning the game and being put through tests. The athletes come primarily from basketball backgrounds and, according to league officials, have been "selected for their size, age and athletic abilities."
"Oklahoma State's Mason Cox and KU's Justin Wesley tested off the charts," noted Jonathan Givony of draftexpress.com. "Wesley broke their all-time vertical leap record by a wide margin and tested out freakishly fast (third-quickest ever in 30-meter dash) for guy his size."
More like this story on KUsports.com