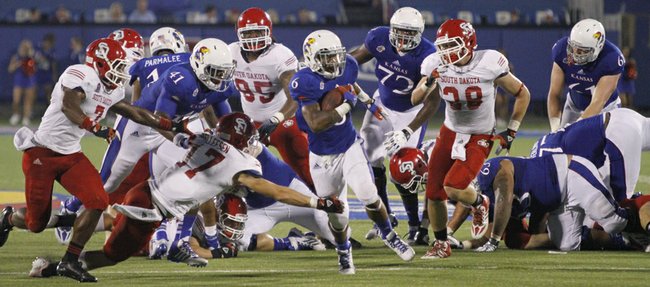 Looking ahead to his third season as a Kansas University football player and not behind at the two that ended with him leaving to address personal problems, Darrian Miller is happy to be back on the team, slipping tackles with the ball tucked under his arm.
Miller is not behind for having been gone, because KU has a new offensive coordinator, so everybody is learning the offense. In one sense, he's ahead of most because this is the third offense he has learned. He's a veteran at learning new terminology and wrinkles.
Chuck Long was KU's offensive coordinator when Miller played as a freshman, and Charlie Weis coordinated the offense last season, when Miller was a sophomore. Weis, the head coach, fired himself as OC and turned the keys over to John Reagan, wooed back to Kansas from Rice. (Miller was enrolled at Butler Community College but did not play football the year between his first and second seasons).
Miller echoed the sentiments of others who have talked about the difference between Reagan's spread offense and the pro-style approach taught by Weis. It's more about the offense doing its thing and making the defense react than vice versa.
"Instead of ID-ing a lot of things, most of the things are kind of planned, laid-out," Miller said. "I think that's one thing that makes it more efficient. We're not making all the calls at the line. It just allows us to play, instead of thinking while the game's going on. It's definitely more comfortable."
That word, "comfortable," described how Miller seemed as he discussed his return to the team for which he has performed well, rushing for 881 yards and four touchdowns (4.34 yards per carry) in parts of two seasons.
Slippery might be as apt a word as any to describe his running style. Powerful, despite standing just 5-foot-10 and weighing 195 pounds, would be another. He keeps his muscular legs churning.
"I'd probably say it's balanced," he said when asked for a word to describe his running style. "I wouldn't say elusive, but I would say deceptive. I don't think anybody's going to get a full hit on me. I'm just giving them a lesser surface to hit. That's kind of my game. Not elusive, probably evasive. I'm not taking full tackles. I just try to keep standing up."
Just when it looks as if the play has ended, Miller churns out another yard or two.
Despite the departure of James Sims, who led KU in rushing in each of the past four seasons, running back remains KU's deepest position. Seniors Brandon Bourbon (5.21 ypc) and Taylor Cox (5.24 ypc) bring size and speed. DeAndre Mann, a junior-college transfer from California, and freshmen Traevohn Wrench from Gardner-Edgerton High and Corey Avery from Dallas Carter High, rank high among KU's 2014 recruiting victories.
The veterans have the jump on the newcomers in terms of learning the offense, the third in three seasons for Miller.
"Sometimes it's been a little hard," Miller said. "Each one brings different terminology and a different style."
Learning has been easier than it might have been because each of the three coordinators has had the same running-backs coach, Reggie Mitchell, who walks short but carries a big stick.
"Coach Mitchell's a man of many faces," Miller said, laughing. "He's one of the best comedians, then he's one of the best disciplinary figures, and he's also one of the most enthused. He'll keep you up if you're having a bad day. There's a lot in that little body. It's good and bad. You've got to make sure you're doing everything right if you don't want to see the bad."
The calm confidence Miller now emits suggests that only a fool would not give him strong consideration when formulating a guess as to which back will take the torch that Sims carried for four years and lead KU in rushing in 2014.