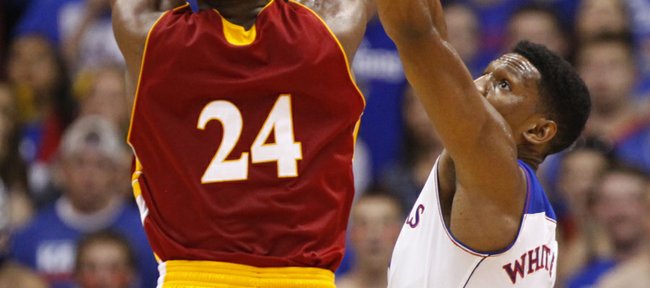 Andrew White III was in no hurry to tear off his Kansas University basketball jersey, shower and go out and celebrate after playing a major role in KU's 97-57 exhibition rout of Pittsburg State on Tuesday night in Allen Fieldhouse.
The 6-foot-6, 210-pound sophomore from Richmond, Va., instead put himself through an individual workout after his 12-point, four-rebound performance, which included 4-of-7 shooting, 2-of-3 from three.
"He's in the back doing pushups," KU senior Tarik Black said incredulously while standing on the court 30 minutes after the game. "He has a pushup routine he does after every practice.
"I asked him, 'Man, after a game, really?' He was like, 'The game was light. It was lighter than practice. I've got to get my workout in.' Andrew White is a machine actually. It's just crazy," Black added.
White, who played sparingly his freshman year, averaging 2.2 points and 5.0 minutes a game in 25 games, went to work on his game and his body this past offseason.
He not only obeyed the instructions of coach Bill Self and strength coach Andrea Hudy, but decided to put in voluntary overtime.
All summer long, he was a fixture in KU's practice gym at the oddest hours — midnight into the wee hours of the morning, even on weekends.
"When did I see him work out at midnight? We'd work out at midnight together (during summer). Andrew would call me," Black said. "Andrew works out every night.
"His mouth is salivating. He wants it. He wants it more than a lot of guys I know, trust me," Black added.
White, who played 15 minutes vs. Pitt State, said he began his workout regimen right after KU's season-ending NCAA Tournament loss to Michigan.
"I committed myself to working on things I'm not good at — ballhandling, getting my body a little better, faster," White said. "Lateral speed, do whatever I can to help the team. Hustle has helped my game, really just the hustle, making plays on defense."
Fans and media — who are not allowed to watch practices in both the summer and preseason — assumed White might be a red-shirt candidate this year.
Turns out he's one of the Jayhawks' most important players. He was first off the bench on Tuesday.
"He's worked his butt off. He's the hardest worker we have," Self said. "Last year we thought he could shoot it. He struggled in other areas. He's addressed every area head-first. He has to become a better rebounder, ballhandler; his passing skills need to get better. But he has a better understanding of how we want him to play every possession. He's bigger, stronger, but he was pretty big and strong last year."
Self went on ... "Andrew is stealing extra possessions. You watch Andrew. He'll take rebounds away from our bigs because he's going after the ball. I like that. Andrew White has been good."
The soft-spoken White, who says he likes the "calm atmosphere" of the practice gym late at night, said he actually has the same work ethic of a year ago. He just wasn't ready for prime-time basketball after averaging 22.9 points and 10 rebounds a game his senior year at Miller School in Charlottesville, Va.
"I think I played real hard. I tried hard in practice every day," White said. "You learn new things. This year I know how to read somebody when they are getting ready to make a handoff, so I can get a steal. I'm faster (in) jumping to the ball in help defense. It wasn't a matter of a big effort jump. It was that you become more aware of what's going on the more experience you get. I try to see things a little early, try to be in position and focus a lot more because now I have younger guys looking up to me. I need to try to do my stuff right. That's a big part of it too, leadership."
More like this story on KUsports.com