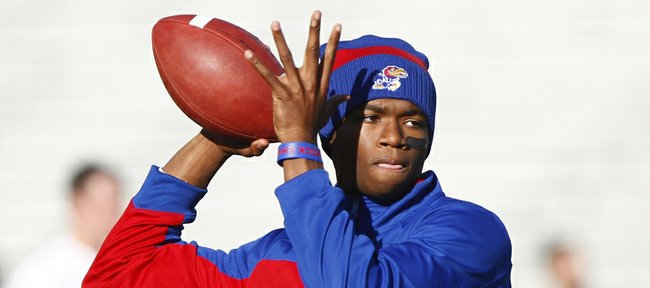 Kansas University football coach Charlie Weis has a well-known fondness for quarterbacks, from his NFL days working with Tom Brady in New England and Matt Cassel in Kansas City to college experiences with Brady Quinn, Jimmy Clausen, Dayne Crist and Jake Heaps.
And while KU ranks 117th of 123 Division I teams in total offense this season, Weis sees a silver lining when evaluating the quarterback position — character.
Because of Kansas' difficultly putting points on the board, Weis has turned to true freshman Montell Cozart in an attempt to jump-start an offense that has scored in the teens for six straight games.
Both Cozart and Heaps have played in the Jayhawks' last two games and there does not appear to be so much as a hint of animosity from the starter about the hard-charging backup.
"It would be a really difficult situation if (not for) the way Jake Heaps handles it," Weis said. "Jake has made this a little bit easier because Jake is probably one of the most unselfish people we have. Whatever we have to do that gives us the best chance, that's all he's concerned with."
That has included mentoring Cozart at practice and from the sideline during games. Several of their teammates said the veteran-brings-rookie-along dynamic showed up early during fall camp and has not changed a bit now that Heaps is sharing the huddle.
"Even before the idea of Montell even playing came about, Jake always gave him the tips he needed and never hesitated to help him out," running back Darrian Miller said. "I think that's why Montell's development has been so fast."
Added senior co-captain James Sims: "Just the way he takes him under his wing is cool to see. Jake takes pride in doing that."
Now that both Heaps and Cozart have game experience and have enjoyed some success, however minimal, Weis said the plan is to continue to use them both. Practice reps are split in a way that each QB is in on 75 percent of the week's game plan — 50 percent that's available to both and 25 percent specifically designed for each player. The scenario Weis does not want to create is one in which each quarterback feels he'll be yanked after three plays on game day.
"Obviously, we haven't had much offensive production," Weis said. "But if one of them got a hot hand in the game, why would you take them out? You just wouldn't. We'll just have to wait and see how it goes."
As for what Heaps can do to help Cozart's growth — something Weis believes will happen naturally with each snap — the coach said Heaps been very vocal with his encouragement of Cozart.
"A lot of times when you're a freshman, you're kind of afraid to take that role," Weis said. "But one of the things that Jake (told Cozart) was, 'Go ahead, be more authoritative in huddle; don't just read the plays, call the plays. When you're in there, it's your huddle, it's your team.' Jake's been really good for Montell. He'll run with that in a heartbeat. Knowing you have the support from the guy that's really starting, who's a runaway captain on the team, it takes away the tension of what he has to deal with. He doesn't have to deal with, 'Here, I'm trying to take your job.'"