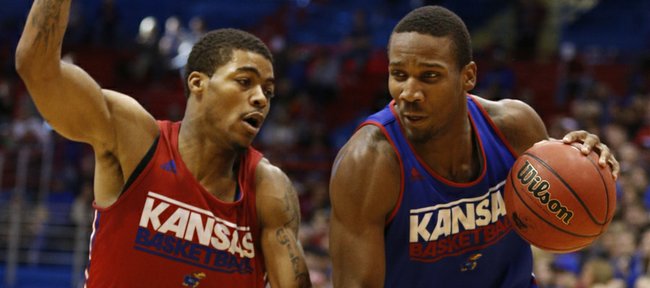 At least one thing stands out when evaluating Kansas University's possible starting lineup of 5-foot-11 Naadir Tharpe, 6-5 Wayne Selden, 6-8 Andrew Wiggins, 6-8 Perry Ellis and 6-9 Tarik Black.
It's one, fairly tall unit — sure to provide matchup problems for opposing coaches.
"Last year we had big guards, too, with Travis (Releford, 6-6) and Ben (McLemore, 6-5)," KU men's basketball coach Bill Self reminded reporters at Big 12 Media Day on Tuesday in Kansas City, Mo. Starting point guard on the 31-6 squad was 6-4 Elijah Johnson.
"You know, we were not quite as big as we're going to be this year. Some of our best teams I've had little-bitty guards, guys that make plays. But I do think there is a difference with Wayne and with Andrew. I do think they can make plays and make them off the bounce. I think they can make them off the catch, too, because they both shoot the ball pretty well.
"It's going to be a little bit different, but we're not going to play much different. We're going to try to put them in as many ball screens as we possibly can and get them to the point where they can attack off the bounce and get a piece of the paint like those little guards we've had in the past. I think they'll be able to do it."
Self — who praises the leadership, shooting and passing ability of height-challenged Tharpe — sounds like he's intrigued by the size of freshmen Wiggins and Selden. Also, first guard off the bench at this time figures to be 6-6 Andrew White III.
"We've got to get Andrew (Wiggins) and Wayne opportunities to catch in the post. They could be two of our very best post players," Self said.
"Absolutely," he added when asked if he could play Selden or Wiggins at the 4 position (power forward). We could go real small and have Perry at the 5 (post). The thing is you want to play your best players if it works out. Our bigs now have been as consistent performers as we have. It's hard to take both (bigs) out as of now."
Frontcourt players Ellis and Black are being pushed hard daily by 7-foot Joel Embiid, 6-8 Jamari Traylor and 6-10 Landen Lucas. Judging from some recent practices, it appears Lucas may be the fifth big with several workouts remaining before Tuesday's exhibition opener versus Pittsburg State.
"Last year we played without a low-post player. Jeff (Withey) was not a low post scorer. Kevin (Young) wasn't a low-post scorer," Self said. "We have more size and ability to play through our post more to score, I hope. I don't think we were the deepest on the perimeter last year. A lot of things we can do better this year. We're also replacing three fifth-year guys who started (Releford, Young, Withey) and a four-year guy who started (Johnson). There's no substitute for experience. If we were going to play a game right now, trust me, last year's team would beat this year's team. Hopefully that will not be the case later. We weren't good early last year either. There's natural progression for teams to make."
One thing KU may be missing is a batch of blocked shots.
"He's not a rim protector like Withey," Self said of Embiid. "I think he's a good shot blocker. I don't think he's as good as he can be. He has to condition his brain to go get 'em. We've been spoiled the last two years. We had the best shot blocker in America the last two years. He made up for a lot of mistakes."
Self does expect some growing pains from his team, which plays what's been called the toughest nonconference schedule in America.
"Well, we're going to make mistakes and we'll struggle in some areas, and I assume closing close games out could be a struggle until you learn how to win and that kind of stuff," Self said. "But I would hope by conference play we don't allude to these guys as young kids, inexperienced and that kind of stuff. Because the games that we play nonconference, if that can't get a freshman ready to become a sophomore by mid-season, I'm not sure there is any schedule out there that can."
More like this story on KUsports.com