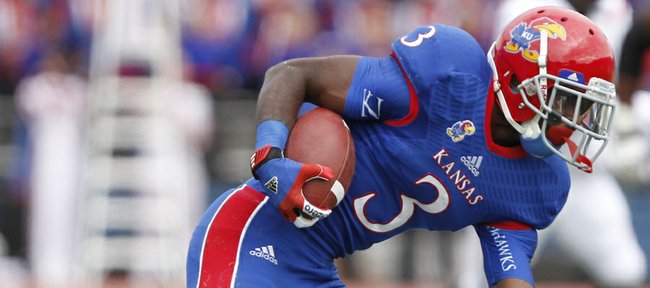 A lot of analysis has gone into exploring what is wrong with Kansas University's struggling passing game. But it should come as no surprise that two of the Jayhawks' worst passing performances came during the games when their leading receiver, junior Tony Pierson, was out with an injury.
This week, as they prepare to host sixth-ranked Baylor at 6 p.m. Saturday, the Jayhawks are hoping to get Pierson back, and quarterback Jake Heaps said seeing No. 3 running routes again could change things in a hurry.
"I mean, man, you look at Tony and his production and what he brings to our offense, he's a tremendous football player," Heaps said. "He's really grown a lot as a receiver this year and, obviously, you guys have seen that I really enjoy throwing to him. You miss him out there, that goes without question. But our other receivers have to find a way to make it so that it's not just one guy and that we can utilize everybody on every single play."
The 5-foot-10, 175-pound Pierson leads Kansas (2-4 overall, 0-3 Big 12) in both receptions (21) and receiving yards (327) and is one of just three players not named Jimmay Mundine, a tight end, to catch a TD pass this fall. With him, KU has averaged 195 yards and one touchdown per game while completing 54 percent of its passes. Without the dynamic speedster, the numbers dip to 84 yards and one touchdown per game at 46 percent.
"Having the opportunity to have Tony back will be a great boost to our offense if we can get him back," Heaps said. "We'll take him any time we can get him."
Asked if it was passing rhythm, his ability to get open or his wheels that meant the most, Heaps was not able to pick just one.
"I think he's just key to the whole offense," Heaps said. "To know that, on any given play, if he touches the ball it could be a huge play for us. You lose that aspect when Tony goes down, and whenever we can get him back, that'll be great and it'll just be another addition to what we've been able to start as a foundation."
Sizemore sensational
Although he received no statistics and probably was barely noticed by most of the 41,000 people in attendance, senior fullback Nick Sizemore received high marks for his performance during last week's loss to Oklahoma.
"He really helped us in that last game because one thing he does is he brings a lot of physicality," KU coach Charlie Weis said of Sizemore, who missed the first few games of 2013 because of a suspension. "Unlike a lot of people, he's not looking for the ball to be in his hands. He's a skill guy, but, for him, a winning play is a successful block."
Heaps said he saw plenty of those against the Sooners, particularly during the first quarter in which the KU offense dominated with the running game.
"You watch the film vs. Oklahoma, they have some really good linebackers and, as the game wore on, they didn't want any part of him," Heaps said. "I know he's just so excited to be back and he's got this look on him and it's exciting to have that energy in the huddle with you."
Ben or no Ben, KU ready
With middle linebacker Ben Heeney out with a knee injury during last week's loss to OU, the KU defense was able to get a taste of what life was like without its leading tackler and best energy guy on the field. Like Pierson, Heeney remains a question mark for this week's game against Baylor but the Jayhawks said having played one game without him made them more comfortable should the co-captain miss another.
"Any time one of your leaders goes down, someone else has to step up and that's gonna be something new for your whole defense," said Jake Love, who started in Heeney's spot at middle linebacker and played one of the best games of his life. "It was a little different not having another guy out there running around, making tackles."
Added linebackers coach Clint Bowen: "I think it's good. You always talk to your kids and explain to them that if one guy goes down the other guy has to step up. Last week, Jake Love did that for us. He played the Mike position for us and had a good game. Obviously, we're a better defense when Ben Heeney's healthy and on the field. He's a special player. But I think we're at a point in our program where kids understand they can step in the game and fill in."
Low-key leader
Everyone knows about KU's head coach, its quarterback and other three captains. But when asked Wednesday to name other leaders on this team, junior cornerback JaCorey Shepherd gave a couple of answers.
"I would say Darius Willis. That's one that really stands out," Shepherd said, naming the senior linebacker from Houston. "And I'd say I like (junior tight end) Jimmay (Mundine). Jimmay shows a lot, too."
Asked why Willis stands out as such a strong leader, Shepherd provided a clear look.
"He just loves the game," Shepherd said. "He tries to help anybody and everybody that he can in any way. He's always talking when we're at practice or in film. He's always just trying to help any way he can."