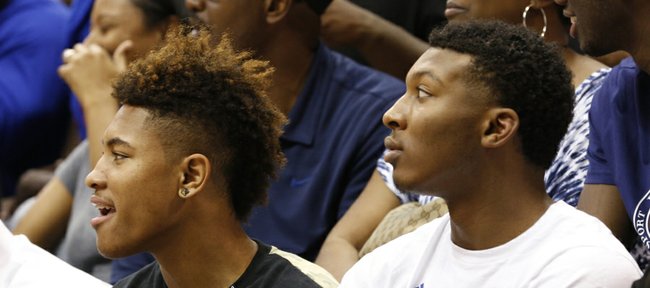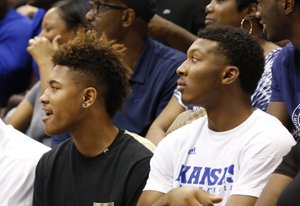 Blue-chip high school basketball wing Kelly Oubre, a 6-foot-7 Richmond, Texas native who is attending Findlay Prep in Nevada his senior season, told reporters at last weekend's USA Basketball developmental camp in Colorado that he had an amazing time at Friday's Late Night in the Phog.
"It was love, man. I loved it a lot," Oubre, the country's No. 12th-ranked player according to Rivals.com, told zagsblog.com. "I love their chemistry and all the things that they displayed on my visit. The personalities and love from the fans and everything. It was a pretty good experience."
Oubre has a final two of Kansas University and Kentucky.
"Just filling in for Andrew (Wiggins). Of course he's going to the league this year so they just need another big wing to come in and just fill that spot. He pretty much told me everything's there for me," Oubre said, referring to what KU coach Bill Self told him his role would be.
He said he likely would announce his college choice shortly after his visit to Kentucky for Big Blue Madness on Oct. 18.
"They (UK Wildcats) just need to replace seven guys," Oubre told zagsblog. "They need some more wings. They pretty much need to fill every spot. They're recruiting a heavy class again this year and that's what they're going to continue to do."
Of Oubre's play at the USA camp, Rivals.com's Eric Bossi said: "Oubre has been absolutely torching the nets out here. Don't think he's missed tonight. He and (Rashad) Vaughn are gonna be filthy at Findlay."
Added Evan Daniels of Foxsports.com: "My USA Basketball Camp MVP's? Top 2014 performer? Kelly Oubre. Top 2015 Performer? Diamond Stone. Top 2016 performer? Jayson Tatum." Earlier, Daniels wrote: "Oubre has been as impressive as any wing early on here at USA Bball. Has shot working. Not missing from three. Competing on both ends."
Crazy visit for King: King McClure, a 6-3 junior shooting guard from Dallas' Triple A Academy and the No. 14-rated player in the Class of 2015, told Jayhawkslant.com that Late Night in the Phog was "crazy. As soon as we walked in the arena, about 17,000 fans stood up and gave us an ovation. Man, that was just a crazy experience.
"I talked to Wayne Selden and Andrew Wiggins during my visit," he added. "Both of those guys are pretty cool, and it was a real honor (talking to them)."
He is considering KU, Baylor, Florida, Indiana, Oklahoma, Oklahoma State, Texas and others.
Cliff notes: No .4-ranked Cliff Alexander, a 6-8 senior forward from Chicago Curie High, wrapped up his official visit to KU on Sunday. "No interviews or quotes for the night I'm chillin," Alexander tweeted Sunday.
Alexander is set to visit Memphis on Oct. 18 and Illinois on Oct. 26. He's already visited Arizona and DePaul and still has Michigan State on his list.
Pope likes KU: No. 17-ranked Malik Pope, 6-8 senior small forward from Laguna Creek High in Elk Grove, Calif., who attended Late Night in the Phog as part of his official visit, tweeted, "Kansas is nice," on Saturday. Pope, who also has Gonzaga, San Diego State, Arizona, Washington, USC, Oregon, UCLA and California on his list, recently broke his leg, the same leg he fractured last season.
Henry hits for 29: Former KU guard Xavier Henry is off to a great start in his attempt to make the Los Angeles Lakers roster.
The 22-year-old Henry scored 29 points off 9-of-15 shooting in the Lakers' 104-95 exhibition victory over Golden State on Saturday at Citizens Bank Arena in Ontario, Calif. He hit two of four three-pointers and nine of 11 free throws with seven rebounds. Henry had 15 points, making four of eight shots and seven of nine free throws, on Sunday in a 97-88 preseason loss to Denver.
According to the L.A. Times, "the guard whose addition to the Lakers' training camp roster didn't cause much of a stir was a crowd favorite (Saturday) with several amazing plays, including an alley-oop pass on an inbounds play and a shot from beyond half court at the halftime buzzer."
Henry, a free agent last offseason, averaged 4.5 points a game during his first three seasons in Memphis and New Orleans.
"I just never had that opportunity to really show what I can do," Henry told the Times.
"His biggest thing is shot selection and getting confidence," Lakers coach Mike D'Antoni said, "and tonight he did that, and if he can continue to do that, he can play."
More like this story on KUsports.com