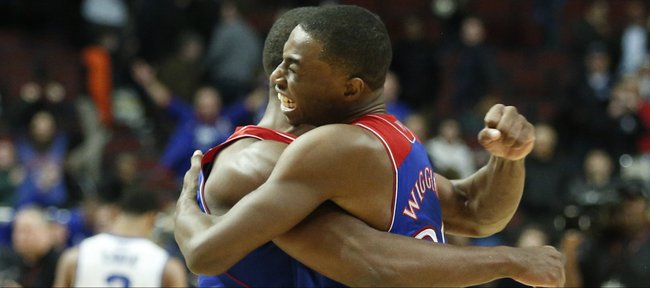 Photo Gallery
Kansas basketball v. Duke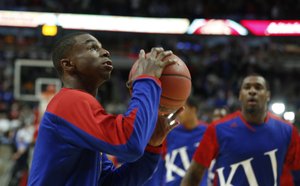 Images from the Champions Classic matchup between the Jayhawks and Blue Devils at the United Center in Chicago.
Document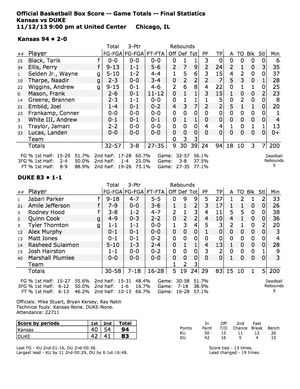 Podcast episode
Bill Self postgame interview vs. Duke
Podcast episode
Perry Ellis and Andrew Wiggins postgame interviews vs. Duke
Chicago — Kansas University's first victory in three tries at the Champions Classic proved to be one worth waiting for.
The Jayhawks, who fell to Kentucky and Michigan State the first two years of the three-year, early-season college basketball extravaganza, rode a career high 24 points from sophomore Perry Ellis and 22 from freshman Andrew Wiggins, plus 15 from freshmen Wayne Selden and Frank Mason to a 94-83 victory over Duke in the United Center.
"We'd like to have won all three," KU coach Bill Self said, "but I will say this: It's good for a young team to have success. I'm happy about that."
The youthful Jayhawks won this one during crunch time.
With the score tied 79-79, KU went on a 9-2 run to lead, 88-81, at 1:02.
First, Selden tipped in a Mason miss to bust the deadlock, then Chicago native Jamari Traylor drove the lane for a bucket, and KU grabbed an 83-79 advantage at 2:06.
Next, after a Duke bucket, Wiggins hit a deep jumper, then followed with a slam dunk. Naadir Tharpe responded with a free throw to open the seven-point advantage.
"The hype was big. I tried to block it out," said Wiggins, who cut his hair for his first huge game, a showdown against Duke's Jabari Parker, who finished with 27 points and nine boards.
"Our names on the jersey don't say Parker and Wiggins, but Kansas and Duke. Not one player was going to win it, but the team," Wiggins added.
Of his jumper and dunk late, Wiggins acknowledged, "It meant a lot. Big players make big plays. I'm glad we came out on top."
Power forward Ellis, who returned two minutes after suffering a bout of cramps with four minutes to play, passed his career high of 23 points set against Iowa State in the Big 12 tournament last year.
"The key was getting the ball inside and attacking. That's what we tried to do," said Ellis, who had nine rebounds and three steals.
"It was a great challenge," he added of going against power forward Parker. "He has great moves. He is a great player. We had to adjust to his game (19 first-half points). It took awhile to do."
Wiggins, who is the same height as Parker at 6-8 but gives up 30 pounds, spent some time guarding Parker the second half.
"It's all pride. You take pride in what you do, whether offense or defense," Wiggins said.
It seems he actually asked KU coach Self to take his turn on Chicago native Parker, Self allowing the match-up to happen at times the second half.
"Jabari lived up to his billing. Andrew lived up to his billing late," Self said, adding, "Perry was one who gave us the chance to be in the game. Perry played great. I've been on him to be more aggressive. He was great."
Other KU heroes: Mason, who hit 11 of 12 free throws and finished with his 15 points in 23 minutes; Joel Embiid who had five assists the first half. And Brannen Greene went for five points the first half when KU needed a boost. He didn't play the second half as Self searched for the best match-ups "to try to win the game."
Parker outscored Wiggins, 19-6, the first half, carrying Duke to a 42-40 lead.
Parker, 6-8 from Simeon High, hit four threes in five tries — six of 10 shots total. He also had five rebounds the first half. For the game, he hit nine of 18 shots, to Wiggins' nine of 15.
Wiggins hit three of five first-half shots and had four rebounds, but missed the last 9:30 of the half after picking up his second foul.
"It was tough sitting out at first. As a competitor, you want to play," Wiggins said, noting he was quite nervous for the prime-time game.
"Ask Perry Ellis how I was in the locker room. It was nerve-wracking," Wiggins said smile.
Parker eventually picked up his second foul with 1:30 left in the half.
Ellis led KU the first half with 10 points off 4-of-6 shooting.
Duke's early 8-2 lead was erased by an 11-2 KU run that gave the Jayhawks a 13-10 advantage at 12:34.
KU's Traylor had the highlight-reel plays in the surge, first feeding Wiggins for a dunk, then forcibly blocking the shot of Rodney Hood and scoring a dunk off a pass from Wiggins.
Parker hit a three and was fouled by Traylor, hitting a free throw, then another three and Duke led, 17-15 at 11:33.
Duke was up 24-23 when KU's Brannen Greene swished a three then a deep two as the Jayhawks led, 28-26 at 7:31.
KU built the lead to a half-high six points (32-26, 34-28) but Parker scored seven of nine points for Duke to get the Devils back in front, 37-36 and 40-38 following a two and three.
KU will meet Iona at 7 p.m. Tuesday in Allen Fieldhouse.