Photo Gallery
Kansas basketball v. Duke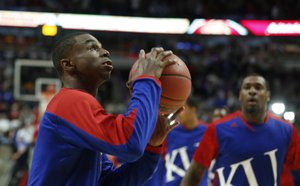 Images from the Champions Classic matchup between the Jayhawks and Blue Devils at the United Center in Chicago.
Document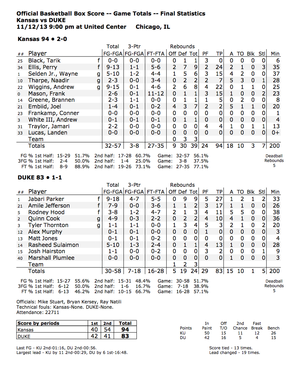 Podcast episode
Bill Self postgame interview vs. Duke
Podcast episode
Perry Ellis and Andrew Wiggins postgame interviews vs. Duke
Chicago — Jabari Parker scored 27 points and grabbed nine rebounds for Duke in 33 minutes. On the opposite side, Andrew Wiggins went for 22 points and eight boards for Kansas University in 25 minutes.
Without a doubt, Dick Vitale's diaper dandies had exceptional performances with ESPN's Hall of Fame announcer in the house. Those performances were secondary in the big picture, according to Blue Devil coach Mike Krzyzewski.
"This wasn't about those two kids. It was about Duke against Kansas," Krzyzewski said after the Jayhawks' 94-83 victory at the United Center in coach K's hometown. "A lot of kids played well tonight."
Of the 6-8 Chicago Simeon High graduate Parker, Krzyzewski said: "Two games in, he's been sensational. Jabari did a great job. I like my guys. They are playing their butts off. We're not going to make any trades."
Amile Jefferson had 17 points, Rasheed Sulaimon 13, Rodney Hood 11 and Quinn Cook 10 for Duke.
"They are tough in the post. They've had strong low post play since Bill (Self) has been there," Krzyzewski said. "They shot 80 percent from the foul line (27 of 35). We shot 50 percent (57.1, 16 of 28). They are going to score. We are going to score. We have to at least match them in the percentage."
Notes: Former Duke players Carlos Boozer and Grant Hill attended as did former KU player Kirk Hinrich. ... KU is now 3-7 all-time against Duke. Self is 1-1 as KU coach versus the Devils.