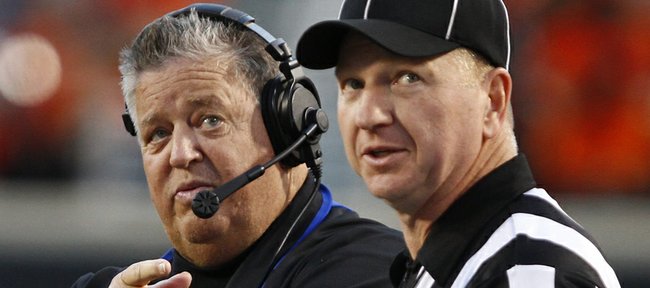 With his team officially eliminated from bowl contention after last week's loss at Oklahoma State, Kansas University football coach Charlie Weis is moving forward with a new mentality for KU's final three games.
"These are our playoffs," Weis said Tuesday. "Our bowl game's on the Saturday after Thanksgiving. That's the way we're approaching it."
That "bowl" match-up will take place in Lawrence against Kansas State on Nov. 30, but before the Jayhawks reach that game — KU offensive line coach Tim Grunhard calls it the state championship — the Jayhawks first will have to battle West Virginia at 11 a.m. Saturday and then travel to Iowa State for a 7 p.m. kickoff on Nov. 23.
West Virginia enters this weekend at 4-6 overall, 2-5 in Big 12 play and in playoff mode itself.
"At this point, we gotta start talking about winning the next one to get us to a bowl game," WVU coach Dana Holgorsen said earlier this week. "We gotta win this one or else the bowl game's out. That will be used as motivation this week, and, if we can get the victory this week, we'll take the same approach three weeks from now against Iowa State."
Because of that, the Jayhawks (2-7, 0-6) find themselves in the position to play the spoiler role, but Weis said neither he nor his team was focusing on that.
"We're in the same must-win category that they're in," he said. "... We're at the stage of the year where I'm putting all my focus and all my energy into the last three games of the season, starting with this one. Every bit of juice that I have is going into this game."
Cozart up next?
After playing two quarterbacks in each of the past four games, Weis did not tip his hand about his starter during Tuesday's news conference.
"I know who's starting at quarterback," Weis said. "Why should I tell (West Virginia)? That's really what it comes down to."
Junior Jake Heaps, who started KU's first nine games, and freshman Montell Cozart, who has played in the past four, were listed as co-starters, separated only by an "OR" on KU's latest depth chart. Weis said keeping open the possibility of starting either player put more pressure on the Mountaineers.
"Not that we're trained killers on offense," Weis said. "But they have to practice (what to do) if Jake's in the game, when Montell's in the game and (based on what we did last year) when Mike Cummings was in the game. If I do one out of those three things and they spend one-third of their time on it, then 'OR' was definitely worthwhile."
KU-ISU set for 7 p.m.
KU's final road game of 2013 will kick off under the lights in Ames, Iowa, KU officials announced Tuesday.
KU's Nov. 23 match-up with Iowa State is scheduled to start at 7 p.m. and will be televised by Fox Sports 1.
The game features the bottom two teams in the conference standings — both teams enter this weekend 0-6 in Big 12 play — but likely was scheduled for prime-time because there are fewer games throughout college football at 11 a.m. that day, and putting another Big 12 match-up in the earlier time slot allows better exposure and less ratings competition for that game.
Juco D-end picks KU
Three-star defensive end Damani Mosby, of Mesa (Ariz.) Community College, orally committed to KU on Tuesday, giving Weis and the Jayhawks nine commitments in the Class of 2014.
Mosby, 6-foot-3, 235 pounds, chose Kansas over offers from Kansas State, Hawaii, North Texas and New Mexico. Cal, Arizona State and Indiana also had shown interest.
In eight games with Mesa, Mosby has recorded 34 tackles and 7.5 sacks. He projects as a Buck (hybrid defensive end and linebacker) in KU's system and sounds content with his decision.
"I don't see myself at any other school," Mosby told Jon Kirby of JayhawkSlant.com. "I felt the coaches and people are behind me at Kansas."