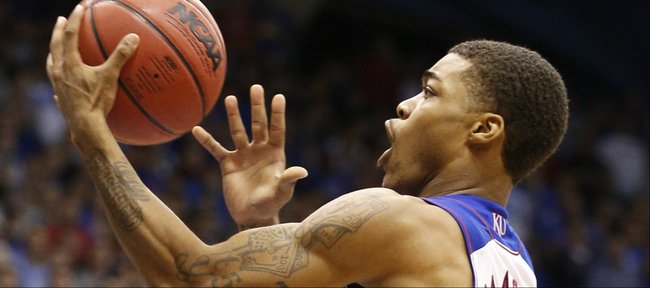 Photo Gallery
KU basketball v. Fort Hays State (exhibition)
Images from Tuesday night's exhbition basketball game between Kansas and Fort Hays State.
Box score
Podcast episode
Frank Mason, Perry Ellis and Jamari Traylor react to KU's win over Fort Hays State
Podcast episode
Following Tuesday's 92-75 exhibition victory over Fort Hays State, KU men's basketball coach Bill Self said his team needs to turn up the energy more and he expects it will during Friday's regular season opener.
It happens nearly every year. A freshman plays a terrific game against a Div. II team in an exhibition and I raise my expectations to the moon, conveniently forgetting that the overmatched opponent might have had something to do with it.
The best way to look at the performance of a young Kansas University player in a game vs. one of the four in-state D-II teams is to treat it as if the KU freshmen are juniors or seniors playing against a bunch of freshmen.
Thomas Robinson dominated Pittsburg State as a freshman, totaling 17 points, seven rebounds, three blocked shots and two steals. I was convinced Kansas had its next star. I was wrong, as Robinson too often played out of control that year and at times as a sophomore. Then I was right, when as a junior Robinson finished as runner-up to national player of the year Anthony Davis.
So consider yourself warned when reading what I write about freshmen in exhibition games. Be more patient than I am. Remember that in a week's time the challenge grows from arithmetic to advanced calculus, from D-II to D-U-K-E.
OK, now that all the qualifiers are out of the way, freshman point guard Frank Mason sure did look like a player Tuesday night in leading KU to a 92-75 victory against Fort Hays State.
Other than Joel Embiid, a 7-footer who with a tall enough partner could blow away the competition on Dancing with the Stars, so graceful are his feet, Mason put on the most entertaining show of anybody in Allen Fieldhouse.
Given the starting assignment because that's what he'll do in Friday night's season opener as Naadir Tharpe sits out a one-game suspension, Mason ran the team with equal parts confidence and emotion, substance and style. In 19 minutes, he totaled four points, six assists, three steals and a blocked shot. And he turned it over just once.
"I thought he played really well," 11th-year KU coach Bill Self said. "Frank was probably about as good a performer as we had tonight."
When he made stylish plays, he did so with a purpose and looked fast and smooth doing it.
With the ball near the left edge of the free-throw line, Mason pump-faked his defender into the air, dribbled to the right and zipped a beauty of a pass to vastly improved Jamari Traylor for an easy bucket. He stole the ball under the Fort Hays State basket and whipped a left-handed pass behind his back to start a break. He started another break by dribbling behind his back to free himself from a crowd, was off to the races, made eye contact with Andrew Wiggins and connected with him for a crowd-pleasing slam.
"I could have been a lot better," Mason said afterward. "I thought I did a good job of getting my teammates involved and communicated with them and tired to be a positive leader."
He communicated with the opposition, too, in a fearless and demonstrative way once or twice.
"He took care of the basketball and he played with energy and he played without fouling," Self said. "Their point guard, Craig (Nicholson), who's a great kid, quick, I've known him for a while. He's hard to guard. He's a good player and Frank did a pretty good job on him, keeping him out of the paint."
Mason gets the treat of hearing his name called in Allen Fieldhouse because Tharpe played in a summer exhibition game in Chicago, a no-no because it wasn't in his hometown, and incurred a one-game suspension. When Self found out, he turned beat red, opened the window so the steam whistling out his ears wouldn't melt the room and then informed the athletic department's compliance department to let them know to self-report it to the NCAA.
The consequences of Tharpe's unwise decision weren't all bad.
"It'll be good for our team — even though I wish we weren't doing it, playing without Naadir — (because) it puts pressure on Frank," Self said of Friday's game against Louisiana-Monroe.
That can only help Mason better prepare for the pressure Duke applies when Tharpe needs a breather next Tuesday in the United Center.