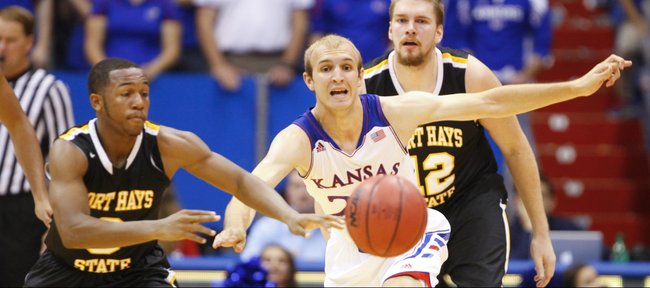 Photo Gallery
KU basketball v. Fort Hays State (exhibition)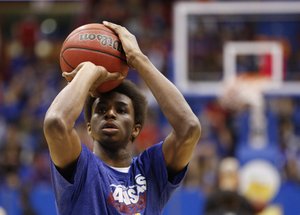 Images from Tuesday night's exhbition basketball game between Kansas and Fort Hays State.
Box score
Podcast episode
Frank Mason, Perry Ellis and Jamari Traylor react to KU's win over Fort Hays State
Podcast episode
Following Tuesday's 92-75 exhibition victory over Fort Hays State, KU men's basketball coach Bill Self said his team needs to turn up the energy more and he expects it will during Friday's regular season opener.
Things could change in the next couple days, but as of 10:30 p.m., Tuesday, there were no plans to red-shirt any of Kansas University's basketball players during the 2013-14 season.
"I wouldn't write anything thinking we will because right now we're leaning towards not (red-shirting anybody)," KU coach Bill Self said after a 92-75 victory over Fort Hays State.
"I don't know if we'll red-shirt anybody. I think everybody could help us win a game that we would consider red-shirting or help us win multiple games," he noted after watching freshmen Conner Frankamp and Brannen Greene account for four of the Jayhawks' five threes versus the Tigers.
"With freshmen, it's hard to say for sure with the guys I'd consider because (soph) Andrew White is ahead (of them) but you don't know where potential is when they 'get it' and that kind of stuff.
"Conner and Brannen can both make shots. We can't red-shirt Landen (Lucas) because he red-shirted last year."
Self did note that there would be some "serious talks" in the next couple days heading into Friday's 7 p.m. opener against Louisiana-Monroe.
Self didn't envision sitting a player a few games out of the gate just in case he'd decide to go the red-shirt route down the line with a player. Once a player enters a game, he cannot red-shirt.
"Conner will probably be our backup point guard the first game," he said of Frankamp, who will likely back Frank Mason. Naadir Tharpe is suspended for the opener for playing in a pro-am summer league game in Chicago.
"If we're going to do it, we'll do it regardless of what the situation is. If I think I'm going to play them, then we're going to play 'em."
He did say he's planning on cutting the rotation to a workable number. On Tuesday, 12 players played seven or more minutes.
"I do think we'll look a lot better when we play less guys," Self said. "To me, it's hard to play that many guys and share minutes. That's what I told our guys after the game. The days of equal opportunity ... they are done. There are some guys who will play 30, 32 minutes a game now."
Milestone possible Friday: KU is shooting for its 700th victory in Allen Fieldhouse on Friday. The Jayhawks are 699-108 in Allen.
Wiggins on list: KU's Andrew Wiggins is one of 15 players on the watch list for the U.S. Basketball Writers Association's Oscar Robertson Trophy, which goes to the national player of the year. It will be presented on April 14, 2014 in Oklahoma City.
Others on the list: Jahii Carson, Arizona State; Aaron Craft, Ohio State; C.J. Fair, Syracuse; Aaron Gordon, Arizona; Gary Harris, Michigan State; Joe Harris, Virginia; Doug McDermott, Creighton; Mitch McGary, Michigan; Shabazz Napier, UConn; Jabari Parker, Duke; Adreian Payne, Michigan State; Julius Randle, Kentucky; Marcus Smart, Oklahoma State and Russ Smith, Louisville.
Cliff to visit this weekend: Cliff Alexander, a 6-9 senior forward from Chicago's Curie High who is rated No. 4 nationally by Rivals.com, will be on KU's campus this weekend on an unofficial visit. Alexander will choose either KU, Illinois, DePaul or Memphis on Nov. 15 on ESPNU.
"Yes, he's going to watch his girlfriend play (Caelynn Manning-Allen on KU women's team on Sunday)," Latillia Alexander, Cliff's mom, told SNY.tv and zagsblog.com.
One recruiting analyst said Monday that the 6-foot-9 Alexander would choose between local schools DePaul and Illinois, but his mother said that wasn't the case.
"No, not at all. They don't know what they're talking about," she told SNY.tv.
Peters cleared: Former KU forward Zach Peters has been cleared to play full-contact 5 on 5 basketball by the University of Arizona's medical staff, the Arizona Daily Star reports.
Peters had been held out of full contact because of five concussions he suffered in 2011 and 2012. Zach's father, Tim, told the Daily Star that Zach proved to be in the "99th percentile" in reflex tests taken recently, having already met standards for memory and cognition.
Peters first suffered a concussion at a LeBron James camp during the summer of 2011, then another while playing high school football at Prestonwood Christian Academy during the fall of 2011 in Plano, Texas. He suffered a concussion shortly after arriving a KU in June 2012. Peters suffered a concussion in September and took another shot to the head in the fall while wearing a protective helmet.