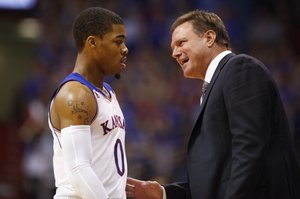 Kansas University freshman backup point guard Frank Mason has already learned a lot from junior floor leader Naadir Tharpe.
"Ways to be more vocal, talking to the guys, getting everybody involved when players are down, picking them up," said Mason, a 5-foot-11, 185-pounder from Petersburg, Va.
"It's something I've had to work on. I'm not used to being a vocal leader through high school. College is a different level, being vocal," Mason added.
Mason — who scored five points with one assist and three turnovers while playing 18 minutes as Tharpe's understudy in last Tuesday's 84-55 opening exhibition rout of Pittsburg State — tonight is slated to start in KU's exhibition finale against Fort Hays State (7 p.m., Allen Fieldhouse).
The switching of the guard is designed with Friday in mind.
Tharpe must sit out KU's regular-season opener against Louisana-Monroe as a result of a one-game NCAA penalty for playing in a pro-am game in Chicago over the summer.
"I just want to show I can defend, be a point guard and be coachable and do the things my coach needs me to do," Mason said of his goals during the preseason. "Learning all the plays, learning the system overall, knowing my role on the team."
Tharpe logged 23 minutes, just five more than Mason in last week's preseason opener.
"He'll play more. I don't know if it's going to be a lot more than he normally would have," Self said of Mason. "I'm certainly going to try to get him as many reps as possible.
"It's his responsibility we have a good offensive possession. He needs to be able to make a pass to initiate and drive to create for others. If it's a bad possession, then the point guard should take responsibility. It's on him. Just like the quarterback should in football.
"With Frank, it's just as important to make a pass to start a play as it is to make a pass to finish a play," Self added. "I want to see him make easy plays to get the ball moving. Of course, defensively he needs to cut the head off (stifle opponent's point guard)."
Self said he's "hoping we don't miss him (Tharpe on Friday). I'm hoping other guys step up and play great. A couple of years ago, Tyshawn (Taylor) and Elijah (Johnson) sat out Naadir's first game, and Naadir almost got a triple-double — 12 points, nine turnovers and eight assists (in exhibition win over Pitt State in 2011). So I think certainly Frank is going to make some mistakes. I think it's great for him to get out there."
Freshman combo guard Wayne Selden has confidence in Mason, who averaged 17 points and 8.0 assists last year at Massanutten Military Academy in Woodstock, Va.
"Naadir is more cool, calm and collected. Frank is more of a faster pace, I want to say," Selden noted, citing Tharpe for having experience. "They are two different point guards. They both work well in our system.
"Frank is doing a good job of backing Naadir. I don't think it'll be that big of a change. Frank is good; Naadir is good. We've got a lot of good guards — Naadir, Frank, Conner (Frankamp) We're adjusting well in following their leadership."
Selden, who stands 6-5, also can run the point. "Whatever I have to do is what I want to do. Wherever I need to play is fine," Selden said.
After picking up two early fouls, Selden finished the Pitt State game with five points, four turnovers and two assists in 18 minutes.
"I want to be on the floor. I don't want to foul like I did," Selden said of tonight's goals. "Get out there and compete and play defense."
The Jayhawks have been stressing defense at practice.
"Coach wants us to play higher on the floor, make it so our man catches farther away from the hoop," Selden said. "Farther from the scoring area."
Another freshman who hopes to show continued progress tonight is 7-footer Joel Embiid. He had nine points, three boards, four turnovers and two blocks against Pitt State.
"Very nervous," the Cameroon native said of his state of mind in his debut. "In the first game, when I had the dunk from Andrew (lob from Wiggins in second half), I knew I was good. In the second game, it would be good for me if I have a dunk at the beginning so I will be good," he added with a smile. "We've worked on defense, guarding the ball without touching the other players."
Tiger talk: Tonight's foe, Fort Hays State, is preseason pick to win the Mid-America Intercollegiate Athletics Association, in a vote of conference coaches. The Tigers are coached by Mark Johnson, who is 246-106 in 11 seasons. FHSU returns two starters — senior forward Dwayne Brunson and sophomore guard Craig Nicholson — and seven letterwinners from last year's 20-8 team. Brunson led the Tigers in scoring at (14.9 ppg) and rebounding (7.6 rpg). FHSU opened with a 94-68 exhibition win over Bethel on Oct. 30. Junior guard James Fleming led all scorers with 22 points on 8-of-10 shooting, including 6-for-7 from three-point range.
This, that: KU's Wiggins and Selden have made the 10-man Wayman Tisdale Award Preseason Watch List, presented to the national freshman of the year by U.S. Basketball Writers Association of America. Others: Aaron Harrison, Andrew Harrison, Julius Randle, James Young, Kentucky; Aaron Gordon, Arizona; Tyler Ennis, Syracuse; Kasey Hill, Florida; Jabari Parker, Duke. … Former KU coach Ted Owens will sign copies of his new book, "At the Hang-Up," from 3:30 to 5 p.m. today at Crown Automotive, 3430 Iowa, and at 6 p.m., in Allen Fieldhouse. ... KU has won 39 straight home exhibition games since a 93-82 loss to Australia on Nov. 9, 1993. ... KU is 8-0 vs. FHSU in exhibition action.