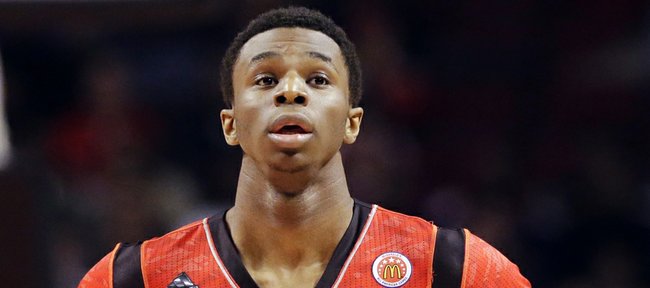 And then there was one. ...
No. 81-ranked Allerik Freeman's commitment to Baylor University on Tuesday means all but one of Rivals.com's top 150 players in the Class of 2013 have committed to a college with seven days remaining in the spring signing period.
The lone uncommitted player, of course, is No. 1 Andrew Wiggins, a 6-7 senior forward from Huntington (W. Va.) Prep, who has a final four of Kansas University, Kentucky, Florida State and North Carolina. Wiggins will either sign with a school by the May 15 deadline or show up on a campus at some point before the first day of the 2013-14 school year to ink scholarship papers.
"I know for him, he's just ready to get the decision over with," Leslie Thomas, Wiggins' host family mom in West Virginia, told the Louisville Courier-Journal.
Wiggins has told Thomas that his mother, Marita Payne-Wiggins, is planning to travel to West Virginia from Canada to be on hand for an announcement. Thomas told the paper her arrival would be "sometime in the next week or so."
"He said, 'When I declare where I'm going, my mom is going to be there with me,'" Thomas told the Courier-Journal.
Freeman, a 6-4 senior shooting guard from Findlay Prep High in Henderson, Nev., who chose Scott Drew's Bears on Tuesday, asked out of his UCLA letter of intent when Ben Howland was fired.
FSU the leader?
Jon Rothstein of CBSsports.com lists Florida State as the leader for Wiggins (4-1 odds), followed by Kentucky (6-1), KU (8-1) and Carolina (10-1).
"We've felt all along that Wiggins would wind up in Tallahassee, and we're not budging from that proclamation. The Seminoles have a distinct connection with the talented small forward that none of the other schools on his list possess — both of his parents are alums," Rothstein wrote.
Cobb talks
Ben McLemore's former AAU coach, Darius Cobb, spoke on ESPN's Coach and Company radio show on Tuesday, a day after Cobb had a Florissant, Mo., firm put out a press release stating KU knew nothing of his dealings with middleman Rodney Blackstock. Blackstock allegedly paid Cobb $10,000 to get close to KU star McLemore.
Cobb told co-host Linda Cohn he didn't know he was jeopardizing McLemore's amateurism by accepting two $5,000 payments from Blackstock.
"I was under the understanding because I was not his mother or father, boyfriend or immediate family it was OK," Cobb said. "All I was doing I was almost being paid for being a consultant, just to hear everybody out to start to gather information in the event he did decide to go pro at the end of the year."
Cobb explained the purpose of two all-expense paid trips to Los Angeles with Blackstock and McLemore's cousin, Richard Boyd.
"The only thing I did was I went on fact-finding missions," Cobb said. "I talked to individuals. No money was transacted. I just saw a couple plans as to what this company was willing to do for Ben or how they would set it up depending on where he went in the draft financially — CPA's covering taxes, how to incorporate to help his sisters or whoever Ben deemed necessary without it coming out of Ben's pocket. I talked to people about possible roles in starting an AAU program with Ben so he could help in his community. Those were the types of things discussed."
Cobb was asked Boyd's role on the two trips: "Basically to accompany me as I gathered information to make sure I wasn't doing anything unethical, doing anything to jeopardize Ben," Cobb said.
Cobb was asked if KU or McLemore knew McLemore's cousin went on those trips: "No, they did not," Cobb said.
Cobb has not been able to reach McLemore.
"My hope for Ben McLemore would be to run from Rodney Blackstock as far as possible, to go back to the original plan which was to sit down with three to four agents, three to four reputable finance people, let them do a presentation on an even playing field not based off who can do what underneath the table and pick the best person (agent) for his career," Cobb said.
More like this story on KUsports.com