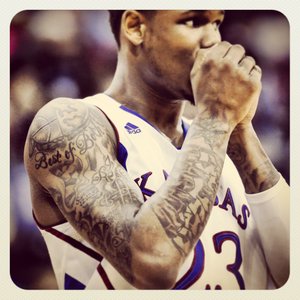 When Kansas University senior guard Travis Releford looks into a mirror, his mind often goes back to his freshman year when he was only picking up a handful of minutes.
The words "Only God can judge me" are written across his chest. It was his first tattoo.
"I was hearing, 'He's not good enough to play at Kansas.' All types of stuff like that,'" Releford said. "That quote just came across to me. I was just like, 'If I just think about that every time I hear something like that and keep working, then everything will pay off for me.'
"And so far, it has."
Though Releford told himself earlier in life he wasn't going to have a lot of tattoos at a young age, the self-expression became, in his words, "addicting."
He now has his son, Travis Jr.'s, footprints on his left arm, his area code "816" across his chest and the Kansas City skyline wrapped around his left forearm. And that's just a small sample.
"I got one, and I was like, 'This would look good if I add this to it. Then I'll add that,'" Releford said. " ... Then you just keep going. Next thing you know, you're all tatted up."
About half of the players on the men's basketball team have tattoos, with most of them turning to ink to help tell their life stories.
KU sophomore guard Naadir Tharpe says tattoos also have brought teammates closer together. Tharpe, along with freshman Ben McLemore and junior Niko Roberts, got matching tattoos — "KUCMB," which Tharpe says stands for "Kansas University college men's basketball" — on their arms.
Traylor came up with the idea.
"If it's going to be on me forever," Traylor said, "I've got to put a lot of thought into it."
Releford says it's up to the players to stay responsible financially. That means not spending too much on their hobby with the money they earn.
"We work camps and stuff, so it's not like we're using all our money on tattoos," Releford said. "We know when not to go and just blow our money. I think that's the key. We don't just go out and, 'Oh, we get a scholarship check,' and spend $500 on a tattoo."
Releford said a good example would be if a player received $200 from working a camp, he might go spend $100 on a tattoo.
"You save up. But coaches don't like us spending our money on it," Traylor said. "They say they'd rather have us buy some food or something like that.
"We definitely slow down a lot. They want us to save."
Tattoos aren't for everyone.
Traylor sometimes jokes with freshmen Andrew White III and Landen Lucas, who both have already indicated they won't be getting any tattoos.
KU center Jeff Withey, who has no tattoos, also likes to poke fun at teammates when he can.
"If they already have a tattoo, I'll be like, 'Yeah, I'm thinking about getting this.' And they'll be like, 'Man, I already have that,'" Withey said with a smile. "I'll tell them, 'Man, you're copying my idea.'"
Traylor has already thought about his next tattoo, envisioning the words "Windy City" on the inside of his right bicep.
He's not the only one with future plans.
"I'm just getting started, I feel like," Releford said. "I don't have any ideas. I'm just waiting until something comes to my head."
Here's a look at some of the Jayhawks' favorite tattoos:
Player: Ben McLemore
Favorite tattoos: "I've got a couple favorites. I've got my mom's name (Sonya) right here (on arm) and pretty much all my siblings. I've pretty much got all my family: I've got both of my brothers, I've got all three of my sisters, all my nieces and nephews and my mom's name. … I've also got a 'Best of Both' tattoo (on arm). It's got half a world and half a basketball, so basically, I'm best at both. Coming from nothing, coming to the top … it's just a blessing."
Player: Kevin Young
Tattoo: "I do have a tattoo on my (left) side. It's a poem that I wrote. Mine's a little bit more cheesy than all the other guys, but I take pride in myself and the things that I can do. Writing poetry is something that helps me as well. It's something that I do. I wanted to have that on my body, because that's something I'm never going to forget — that I can do that, the ability that I have."
Player: Elijah Johnson
Favorite tattoos: The words "Love" and "Hate," which appear on back of his left and right arms.
Why he likes the "Love" and "Hate" tattoos: "I've got just as much love as I've got hate, but at the same time, I've kind of spent it, coming from where I come from, going through the stuff I've been through. I used to have a lot of hatred in my heart. I've spent it in the love to use it in a positive way."
Player: Jamari Traylor
Favorite tattoos: "This is my dad's name, and I've got the ball and chain because my dad's in prison. Like the chain is breaking. My grandmother, she died. Rest in peace. … And my mom's name. This is my first tattoo: Tracy (on right arm with halo on top and devil tail on bottom). This signifies our relationship. She's my angel. Then she gets on my nerves sometimes, so I've got the devil tail."
Player: Travis Releford
Favorite tattoos: "I've got '816' on my chest then I've got the skyline of Kansas City wrapped around my left forearm. Those are probably my favorite, but all of them are meaningful to me. I've got my son's footprint (too)."
Player: Naadir Tharpe
Favorite tattoo: "My favorite one is definitely my Batman tattoo. I've got my dad's initials at the top that say, 'My hero.'"
Player: Jeff Withey
On talking to teammates about tattoos: "That's what I joke about with them. They all are tatted, and I have none. But I always play around with them, like, 'Yeah, I'm going to get my whole back done. This and that.' … They're always talking about getting new tattoos and stuff, but I love to jump into the conversation and kind of stir things up a little bit and just play around with them."
More like this story on KUsports.com