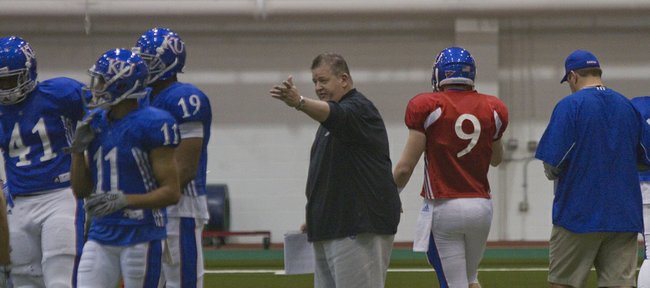 Before his Kansas University football players hit the road for spring break last week, KU coach Charlie Weis promised them something upon their return — a killer Monday morning conditioning session.
The idea behind the welcome-back workout was to keep football on the minds of the Jayhawks while they lived it up at their various spring break destinations.
"Hey, look, I want the guys to have a quality of life like any college kid and go have a spring break like everyone else," Weis said. "But we've got business to attend to and we're right in the middle of spring ball."
Tuesday morning, before leading his squad through the sixth of 15 spring practices, Weis shared the informal results of the conditioning test with the media.
"They knew it was coming," he said. "This was not unannounced. There were a couple of guys that obviously did not do a whole lot of work over (spring break), kind of laid on the couch the whole time. And they were hitting the garbage cans a little earlier than some other people. Look, if you go away somewhere and you're on the beach and you run on the beach every day, that's a good thing. As long as you're doing something to keep yourself in shape. So it looks like most of them put themselves in a pretty good position."
With spring drills starting a couple of weeks earlier than normal at KU this year, Weis and his coaching staff had the luxury of hitting it hard for five practices before using the week off to recharge and evaluate the team's progress.
"We gave 'em an awful lot of information in five days," Weis said. "And the minimal number of mental mistakes was encouraging. Now, we didn't move people around very much. (Tuesday) that changes, and we open ourselves up for a whole bunch of mental mistakes. And you don't do it to try to outthink yourself, you do it because you think that that's how it's gonna end up."
Heaps ahead
He's been listed first on the depth chart since it was released a few weeks ago. And although junior quarterback Jake Heaps and returning part-time starter Michael Cummings are currently battling for the starting job, Weis made it clear Tuesday that the depth chart reflected where the two guys stood.
"He's the man to beat out," Weis said of Heaps. "I put him first for a reason. If I thought he deserved to be second right now, I'd put him second."
Listing Heaps, a BYU transfer who sat out last season, ahead of Cummings, who actually played in 2012, follows a common theme throughout the roster.
"We were 1-11 last year," Weis said, "and I'd prefer not to be 1-11 again. So if I think that there are guys that are better than the other guys, then I'm putting ahead of them. And we have new guys coming in in the summertime, and, guess what, after the spring, if I think those guys are better than the guys that just practiced in the spring, I'm putting them ahead of them."
Such a scenario sounds likely on defense, where some of KU's top defensive prospects in the Class of 2013 will not arrive on campus until this summer.
"There's at least a half-dozen on defense that have a chance of being on the field the first play of the game when we play in September," Weis said. "When you're 1-11, you don't worry about being in love with anybody. You put the best guys out there, whoever they are. That's the only way you're gonna get better."
Receivers on the rise
With their top three receivers lost to graduation, the Jayhawks have multiple openings in the pass-catching department. And, although sophomore Tre' Parmalee and junior Andrew Turzilli opened the spring atop the depth chart, there has been some early movement.
"Christian Matthews has been the most pleasant surprise of anyone," said Weis of the senior wideout. "And I was hoping (junior transfer) Justin McCay would move up into that realm and he's moved up, too. Those guys who were running twos have now been running a lot of ones. ... If we were playing a game today, (they) would start at wide receiver."
Hoop, Hoop, Hooray
Since his arrival in Lawrence, Weis has been very open about his love of college basketball. Tuesday, he took time out to congratulate KU's hoops programs.
"I think it's only apropos that I mention something about both our basketball teams, men and women's," he said. "We're the only team in the land that, for the last two consecutive years, has had both the men's and women's basketball team make it to the Sweet 16. Kudos to coach (Bill) Self and his squad and coach (Bonnie) Henrickson and her squad. Congratulations and Rock Chalk as we go to the next venture and hopefully, at the end of the day, we come back with a couple of championships to add to our trophy case."
Virtual reality
Kansas Athletics became the first NCAA institution to partner with EON Reality, the world's leading interactive 3D software provider, in the creation of software to eventually be used in a virtual reality football simulator.
"This state-of-the-art training will greatly benefit our student-athletes and makes Kansas a leader of virtual reality in sport," said KU athletic director Sheahon Zenger in a news release. "We constantly seek responsible and innovative ways to help our student-athletes and this cutting-edge technology brings a great opportunity to our football team."
According to the release, once the software is fully developed, student-athletes will be able to step into a 10 feet by 10 feet room and be immersed into simulated-game action. The experience makes the user feel as if they are standing on an actual playing field, complete with crowd noise, realistic game speeds and football player avatars running real plays.