Photo Gallery
Kansas basketball v. Western Kentucky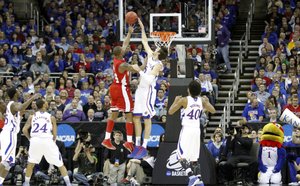 Images from Friday night's first-round game at the Sprint Center.
Podcast episode
Kansas coach Bill Self and guards Elijah Johnson and Travis Releford talk after the Jayhawks' 64-57 win over WKU on March 23, 2013.
Podcast episode
WKU coach Ray Harper talks after his team's 64-57 loss to Kansas on March 22, 2013.
Kansas City, Mo. — Former Kansas University point guard C.B. McGrath is in his 10th year on coach Roy Williams' North Carolina staff.
McGrath, a 37-year-old Topeka native, played four years for Williams at KU, graduating in 1998. He was an invited walk-on but ultimately was on scholarship all four years.
"My kids want me to change jobs. They are 6 (twins Kate and Addison) and 4 (Hunter), and they don't know what they are even saying," McGrath said, laughing. "They are, 'Well, can you change jobs?' I said, 'I can, I guess. Do you want me to?' They say, 'Yeah, we want you to.' I say, 'Why?' They can't think of a reason. That's kids for you."
Of possibly becoming a head coach some day, McGrath said: "I don't know when I'm going to get the opportunity, hopefully at some point in my lifetime. If not, it's been a good run. I'll call it quits and go work at Target or something."
McGrath played in 112 career games, scored 82 points and had 113 assists and 35 steals. He had 61 assists against 24 turnovers as a senior. He was a two-time academic All-Big 12 selection.
"Winning the conference title. Beating Missouri in the 100-year reunion game," he said of some highlights of his KU career. His teams won four conference titles but never reached the Final Four, with one Elite Eight appearance. "It's been 15 years since I played. You have different memories."
Prior to Carolina's first-round win over Villanova, McGrath was asked about possibly playing his alma mater.
"I prefer not to play Kansas again. It seems like that's starting to be a yearly thing," McGrath said.
KU beat his Heels in last year's Elite Eight and in the 2008 Final Four semis.
"It is what it is," McGrath said. "Our guys don't pay attention to it. Ten years ago, coach decided to leave Kansas to go to North Carolina. Hopefully the fans are over it by now."
Asked what the NCAA Tournament committee has been thinking in matching KU and UNC so often, McGrath said: "I don't know. A couple eight, nine seeds from the area got shipped out, Wichita State and Missouri. They would be the better story. How long has it been since KU played Wichita State? Kansas-Missouri … they don't play anymore. They want to bring us back here? That's fine. I get tired of all the texts and emails: 'What do you think about playing Kansas?' If we play them, we play them. It's nothing I can control. I don't know why the committee would do that, but they do things for certain reasons."
Faces in crowd
Former KU director of basketball operations Barry Hinson, first-year head coach at Southern Illinois, attended the KU-Western Kentucky game. So did former KU center Matt Kleinmann and Angel Morris, mother of former KU forwards Marcus and Markieff Morris.
Roy wins No. 700
Former KU coach Williams won his 700th career game on Friday (against 179 losses) in Sprint Center, a stone's throw from KU, where he won 418 games against 101 losses in 15 seasons.
Williams is the fourth active Div. I coach to win 700 games and 21st in NCAA history. He joins Mike Krzyzewski, Jim Boeheim and Bob Huggins in the active 700-win club. He is 282-78 at Carolina.
Give the man a cigar
KU junior Justin Wesley's brother, former KU standout Keith Langford, was in the U.S. last week but has returned to Italy where he plays professionally.
Wesley reports that Langford became a father Wednesday when Kaycen Keith Langford was born.
Wesley is an uncle, but not for the first time.
"On my dad's side I have quite a few nephews and nieces," he said.
Hilltopper coach hopeful
Second-year Western Kentucky coach Ray Harper believes he can help take the Hilltoppers back to their glory days.
"I'm at a place we can take this team to the next level," Harper said, "being in the top 20 every year. We're one or two recruiting classes from being there."
He's not seeking greener coaching pastures.
"This is where I'd love to be," Harper said. "I grew up an hour from here (Bowling Green). I stayed at Kentucky Wesleyan nine years and played in six straight national championship games (winning two). To me, you can't put a price on that."
Winning class
KU's seniors are used to winning. Fifth-year senior Travis Releford entered Friday's game with a 156-26 record (.857). Fourth-year seniors Elijah Johnson and Jeff Withey entered 129-18 (.878), while senior transfer Kevin Young entered 61-12 (.836). Releford has been a part of five Big 12 Conference regular-season titles, Johnson and Withey four and Young two. Additionally, in the last four seasons, KU has won three Big 12 postseason championships (2010, 2011, 2013), advanced to the NCAA Tournament Elite Eight twice and one Final Four, including last year's run to the NCAA championship game in New Orleans. Combined, these seniors entered Friday's game 17-4 in postseason play.
More like this story on KUsports.com