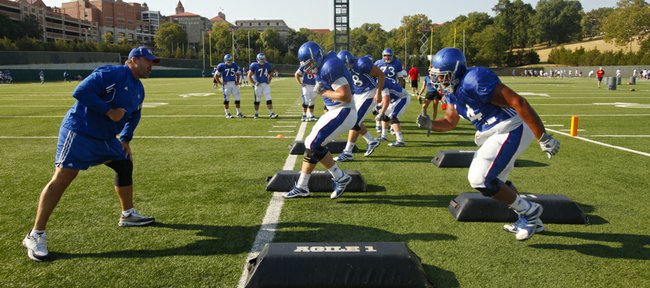 Kansas University offensive line coach Tim Grunhard won a national title as a player at Notre Dame and fought through 11 seasons in the NFL as a member of the Kansas City Chiefs.
Neither was as tough as what Grunhard went through last season as a first-time college football coach.
"The one thing that you take from this is humility," Grunhard said following the official first day of his second season with the Jayhawks. "You're gonna make mistakes. And you're gonna have times when you get knocked down on your butt, and it really does challenge your inner strength. It's not an easy job, and I give people a lot of credit for doing it."
Grunhard had done the coaching thing before. Prior to coming to Kansas, he spent six seasons as the head coach at nearby Bishop Miege High, where he led the Stags to five straight district championships and the 2009 Class 4A state title. At the prep level, Grunhard's squads had become a legitimate force to be reckoned with, both because of the talent and his ability to coach and develop athletes.
While some of that came with him to Kansas, Grunhard was quick to point out that a lot of what he experienced in 2012 was new.
"I think X's and O's was a big learning curve for me," he said. "Recruiting-wise, you want to win every one. You learn that you're not gonna. Taking rejection is not something I'm used to, but that's good to experience. I've enjoyed the relationships that I've built with the kids and their families."
Having played the game at the highest level, Grunhard believed he had a better indication of what he was getting into by saying yes to KU coach Charlie Weis than someone without his background. Still, there were things that surprised him.
"It's always more than you expect," he said. "The hours that you put in and the dedication. But I enjoy the challenge, and I really enjoy working for coach Weis. He's a very demanding person, and I'd like to continue to try to make sure he brings the best out of me."
With one season of lessons and tricks now filed away in his memory bank, does Grunhard believe that his second season coaching college football will be easier than the first?
"I don't know if it'll be easier," he said. "I just think I'll know what to expect."
Center of attention
Although KU's depth chart figures to undergo several revisions during the next six months, few positions seem to have the same flexibility as center.
Third-year sophomore Dylan Admire is listed as the current starter, and senior Gavin Howard, a part-time starter at guard in 2012, is listed as his immediate back-up. Mike Smithburg, a junior-college transfer from Iowa Western, also could factor in at center, but he currently is penciled in as the first-string right guard.
"Right now, we think our best group is the group we have out there, and we want to see what we have from Admire and from moving Gavin inside to center," Weis said. "Two of our brightest players are Admire and Howard, and as you know the center is a position that takes a lot of mental work. Having Smithburg come in at the semester and be able to run the show, that would be asking an awful lot. He is a guy that can eventually move in there, but for right now, we will wait and see how it goes."
Newcomers look good
Smithburg and first-string left guard Ngalu Fusimalohi have opened some eyes early this spring. Although both are new to the program and still are adjusting to Div. I football, Grunhard said one thing was clear about each player already.
"They both compete," he said. "That's the one thing you take from those guys. They compete. They (make) some mistakes, and they're gonna get beat. This is a whole different world for them, but the one thing they do is they compete their butts off, and they're gonna continue to do that."
More like this story on KUsports.com