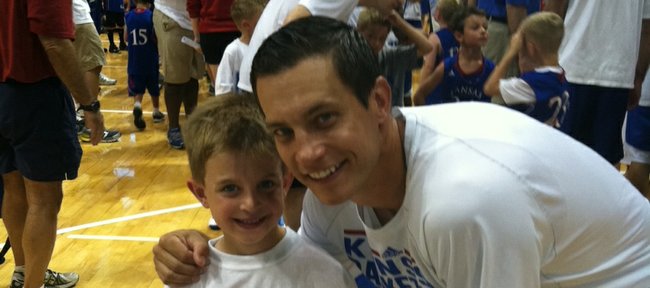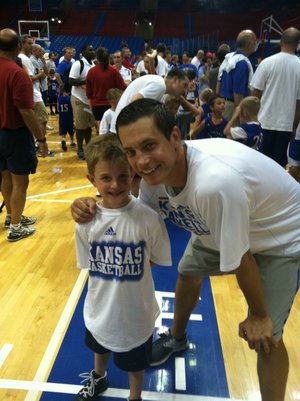 Ryan Robertson, who attended Roy Williams' Kansas University Basketball Camp as a freshman at St. Charles (Mo.) West High, on Friday was back in Allen Fieldhouse for Bill Self's Parent/Child camp.
"It's full-circle now," said Robertson, a 36-year-old former KU combo guard who played for the Jayhawks from 1996-99. He and 6-year-old son J.D. are in Lawrence for basketball and bonding this Father's Day weekend.
"When we walked in the fieldhouse for the first time with J.D. as a player, he went over there and shot at that goal, and that was the goal I shot on for four years during practice," Ryan Robertson added of a side goal on the southeast side of James Naismith Court.
"I'm passing it down a generation."
Robertson, who scored five points while playing for the winning Blue team in Thursday's Rock Chalk Roundball Classic, said, "Like all the other dads here, I'm here to have a good time, be with my son. It's going to be a good couple of days."
The 6-foot-5 Robertson and his wife, Andrea, a 5-foot-10 former University of Missouri soccer standout, live in St. Charles with their three children — J.D., Kylie and Rex. Ryan is regional marketing director for Goldman-Sachs.
"I'm trying to get college paid for. J.D. is 6. In 12 years, college is going to be too expensive for me to afford," Robertson joked.
Robertson played one year with the Sacramento Kings following his graduation from KU. He played pro ball in Holland, Greece and France for four seasons before entering the business world.
"I was done," Robertson said. "I got to the point I was ready to move to the next step, do something different, so it's what we did."
Of his appearance in the Roundball Classic, in which he hit one three, Robertson said: "I was mad at Pollard (Scot) and Gurley (Greg, Blue team coaches) for not playing me more. I'm getting old. There were a lot of younger guys there. It was fun. We put on a good show, I thought, raised some good money (for two youths with cancer)."
Former KU guard/current Perry-Lecompton coach Jeff Hawkins, who scored 13 points at the Classic, also is attending the Parent/Child camp with his son, Mav.
Looking back: Robertson, who is the No. 45-leading scorer (1,055 points) and No. 11 assists leader (485) in KU history, played in one of the most star-studded McDonald's All-America games of all time.
"There were a lot of great ones in that game," Robertson said. "You had Kevin Garnett, Paul Pierce, Chauncey Billups, Stephon Marbury, Antoine Jamison, Vince Carter, 'Tractor' Traylor ... I'm missing some others. We had a lot of big names."
Others in that game included Shareef Abdur-Rahim, Ron Mercer, Wayne Turner and Jelani McCoy.
"I knew Garnett was special," Robertson said of knowing at the time Garnett would be a phenom. "After playing with Paul a few years (at KU), you knew Paul was going to be special."
Daddy Ryan: The Ladue News in late February did a Q-and-A with Robertson. A sampling ...
Q: How do you approach basketball with your kids? A: It's my biggest struggle. I can't remember how serious I am supposed to take it. My daughter is in second grade and my son is in kindergarten. Do I ask them to practice layups in the driveway? I have to enjoy it — they have to enjoy it.
Q: Are MU fans still razzing you about choosing KU? A: Four years ago, I walked into a Bread Company in Columbia. I had my suit on and was doing business. I ordered my coffee and bagels. My head was down, and as I am walking out, there was a table by the door with four frat boys, who started to boo me. I smiled and waved, and walked out.
Q: Your most rewarding game against Mizzou? A: My senior year. We were ranked No. 1 or 2 my first three years that we went to Columbia. We had great teams, but Mizzou always won in Columbia. So my senior year, we traveled to Columbia...and we won the game. I think I had 18 points.
Wiggins update: Andrew Wiggins' dad, Mitchell, spoke to CBC Sports about Andrew's decision to work out at KU this summer instead of play for Canada's Under 19 national team.
"The last couple of years have been very taxing on him," Mitchell Wiggins told CBC. "We talked to (Canada senior national team GM) Steve Nash and Bill Self and we tried to come up with a program that fits everybody, but also gets Andrew some rest because, at the end of the day he's 18. The biggest thing was having Steve, Canada Basketball and coach Self on the same page. He's committed to the Canadian national program, but we just felt this was best route for him to go."
Wiggins is expected to be in Lawrence as soon as today. Per NCAA rules, he won't be allowed to do media interviews until fully enrolled in and attending classes.
"I think the route he's chosen to go is the right way because, after this year, he's not going to have a lot of (down time). He'll be playing on the national team and, hopefully, in the NBA ... he's going to be fresh, he's going to be healthy and his commitment is there as far as Canada Basketball," Mitchell said.
Self discussed a delay in getting Wiggins to campus Friday on 810 radio WHB.
"With international kids, it's not quite as easy getting student visas updated and a lot of other things updated that could potentially expire and make sure have no problems when you get here," Self said.
"Also, he's in a situation where you reclassify going from a junior to senior ... there's things like the high school computer getting everything right on the transcript, some things going on that aren't major. Trust me, they have nothing to do with him, but it's been a little more time-consuming than we thought. There's no reason to come until we get that stuff fixed. He couldn't do anything when he got down here (until paperwork is in order)."
Recruiting: Charles Matthews, a 6-4 junior-to-be from Chicago St. Rita, tells Eric Bossi of Rivals.com he plans to visit KU for the Oct. 4 Late Night in the Phog. KU, Arizona and Illinois are believed to be atop the No. 9-rated player's list, Bossi said. ... Kelly Oubre, a 6-5 senior from Bush High in Richmond, Texas, tells Bossi he likely will visit KU and Louisville. The No. 27-ranked Oubre is transferring to Findlay Prep in Nevada for the upcoming season.
More like this story on KUsports.com