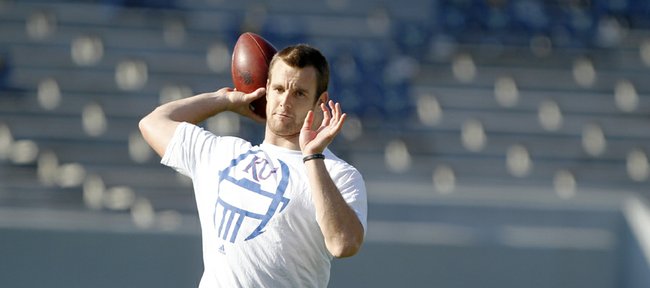 Former Kansas University quarterback Dayne Crist, who came to KU with a world of hype and left with a whimper, will begin the first stage of his quest to become a professional football player at 7 tonight in the Casino Del Sol College All-Star Game in Tucson, Ariz.
Crist, one of eight departing Jayhawks selected to play in various postseason all-star showcases during the next few weeks, is ready to do whatever it takes to put himself in the most positive light for pro scouts.
"Gotta take a shot," he said when discussing his future during the final weeks of KU's 1-11 season. "Gotta take a shot. I'm not done working."
In some ways, Crist could be just what NFL coaches and scouts are looking for during the couple of months leading up to this year's draft. At 6-foot-4, 235 pounds, he has prototype size. He was tutored — twice — by KU coach Charlie Weis. He has a strong arm and can make all of the throws required by NFL quarterbacks. Plus, those who suited up alongside him say he's a great teammate and, perhaps more importantly, no character risk.
That much we learned throughout the offseason, as Crist breathed life back into the foundering KU program. But then the games began, and questions about Crist the quarterback resurfaced. He looked slow, misfired on critical throws, could not avoid trouble or extend plays and ultimately was benched — again. Despite it all, the good and the bad, Crist walked away from his college career with his head held high.
"Experience adds to confidence," Crist said. "And I think I'm more confident than I've ever been and am grateful and appreciative for everything that I went through."
Crist, one of two QBs on the West roster for tonight's game, is realistic about his chances. He knows that having a better senior season (he finished with 1,313 yards, 47 percent completion percentage, four touchdowns and nine interceptions) would have helped his cause tremendously.
"I think your legacy is kind of the perception that others have of you," he said. "I would hope that everyone knows that I'm always myself regardless of who's around or what's going on. What I have done, in terms of networking, has put me in a position to feel pretty good about whatever's next."
While he remains a longshot to get drafted in late April, a good showing in the two all-star games he's playing in could help Crist receive an invitation to an NFL camp.
"He's the kind of guy that a game like this, it could really jump-start things for him," Crist's All-Star Game coach, Dick Tomey, told the Arizona Daily Star. "I remember when he was coming out of high school — what a prospect."