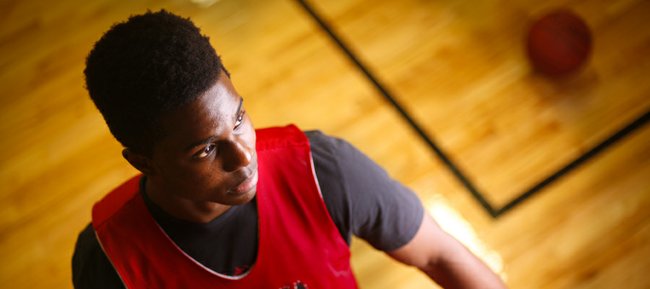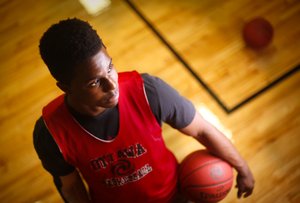 Ottawa — When he walks into a gymnasium, heads turn, eyes inevitably gravitating in his direction.
Quiet by nature and serious in his demeanor, it is nothing more than Semi Ojeleye's physical presence that draws the gazes of onlookers when Ottawa High's boys basketball team takes the court.
At 6-foot-7, 225 pounds, the mammoth senior forward is Thor with a hi-top fade. A teenage superhero in Nike Hyperdunks. And that's before he even gets his colossal mitts on a basketball. When he does, good luck stopping him.
Ranked the class of 2013's No. 33 recruit in the nation by Rivals.com, the Duke University signee has helped the Cyclones (9-0) destroy most of their competition this season, averaging 40.6 points and 7.3 rebounds in the process. Accustomed to elevating and shooting over defenders on the perimeter (43-for-97 from three-point range this year) and going into beast mode to overpower them in the paint (77-for-126 inside the arc), Ojeleye scored a career-high 58 points in December against Wray, Colo. His career scoring total at OHS stands at 2,176 points, and he's on pace to break the Sunflower State's record — 2,554, set by Brewster's Josh Reid, class of 1996.
Ojeleye's talent and the exposure that comes with signing to play at Duke have drawn national attention to Ottawa's living legend. Staff from USA Today and Sports Illustrated, not to mention Blue Devils coach Mike Krzyzewski, have flown halfway across the country to attend Cyclones practices this season. Amid all of this, somehow, the hoopla hasn't gone to Ojeleye's head.
"It's humbling," the soft-spoken superstar said. "I just want to help my teammates out and have a good year."
Modest monster
Actually, humble is the word people around Ojeleye use most to describe him. Senior classmate Dallas Natt, Ottawa's starting point guard, remembers when Ojeleye first began receiving letters of interest from the top basketball programs in the nation.
"He'd try to hide 'em," Natt said. "He's not the kind of guy who would be like, 'Oh, look what I got!' He's the quiet guy, and that's why we like him so much. He doesn't showboat."
The state's best player doesn't gloat on the court, either. Natt said Ojeleye simply plays the game. And dominates.
"Whenever he gets the ball on the block, it's a hassle," Natt said, adding that Ojeleye has an un-blockable three-point shot, too. "He's too explosive, too fast. He has the guard talent, but the post body. It's just insane."
Ojeleye's modest disposition impacts everything he does, according to Ottawa coach Jon McKowen. Sure, he has the skill set and physical ability to attract interest from national college powers such as Duke, Arizona, Indiana, Kansas, UCLA and others. McKowen sees much more in his elite senior.
"You top it all off with his work ethic," the OHS coach said. "It's unmatched. He works like he has absolutely no skill at all."
One can usually find Ojeleye getting in an hour of aerobic work before school. He lifts weights after school at least three days a week. When Ottawa practice ends, he'll goof around with other stragglers in the gym, then end his day with another full-blown, drenched-in-sweat individual basketball workout.
"It's every day with him," McKowen said of Ojeleye's dedication. "You can see it when he plays and when he practices."
It all has been a means to an end for Ojeleye. He said those long hours secured him a spot at Duke, currently undefeated and ranked No. 1 in the nation.
"That's what you work for," he said.
A Blue Devil in Kansas
Of course, as a Kansas resident, when Ojeleye gets approached by people who want to discuss his college choice, it's rarely to ask him about playing with fellow incoming Duke freshman Jabari Parker, of Chicago, Rivals' No. 2 recruit in the country. It's more like: Why didn't you pick Kansas or Kansas State?
"You have to live with your own decision at the end of the day," Ojeleye said, adding he did what was best for him.
His older brother, Victor, walked on at K-State, and KU is the national powerhouse over which basketball fans in this part of the country fawn and fret. The state's two Big 12 programs were on Ojeleye's radar before last summer, when he pared down his list to Duke, Indiana, Stanford and UCLA.
Former KU assistant coach Danny Manning had been Ojeleye's contact at KU. When Manning left to become Tulsa's head coach this past spring, Ojeleye said his communication with Kansas tapered off. He said KU showed renewed interest in him later, in the summer, and wanted him to take an unofficial visit to Lawrence. But by then he already had an idea of the programs best suited for him, and Ojeleye let Kansas know it wasn't on the short list.
Eventually, Krzyzewski and Duke beat out the rest of his suitors.
"I was thinking, 'What team's the best, and what coaching staff has my best interest in mind?'" Ojeleye said. "And I thought Coach K and his coaching staff really meshed with me. That's what it came down to."
It certainly didn't hurt that Krzyzewski came to Ottawa for an in-home visit in September, to meet with the Ojeleye family.
"That sent me a message that I was important to them," said Ojeleye, who committed to Duke during that meeting. "From there, just whenever we talked, we talked about me off the court as well as on the court."
McKowen considers Duke the perfect fit for Ojeleye, a 4.0 student who wants a great college education.
"Duke might have been the only place he could've chose to go that nobody could complain about," McKowen said. "If he would've went to KU or K-State, he would've made half the people mad and half the people happy."
Returning to 'game 26'
The four seasons Ojeleye has worn Ottawa red and white have been bliss for Cyclones fans. OHS has gone 77-10 since his arrival and advanced to the Class 4A state title game three straight years. Ottawa lost to Kansas City, Kan., Sumner Academy in 2010 (66-45) and 2011 (66-60) before Ojeleye's junior season ended in 2012 with a 56-52 loss to Basehor-Linwood.
The program's only state championship came in 1971, as a 3A school. On slow practice days, McKowen might dangle a 2013 title in front of the players as motivation. They need to prepare with speed and tempo then "for game 26," he'll remind them. But, in general, the top-ranked 4A team doesn't have to talk about its chase for a title. As McKowen pointed out, Ojeleye isn't the only OHS senior. Natt, Austin Blaue, Dillon Boeh, Taylor Graf, Alex Hasty, Jordan Markley, Wyatt Peters and Kaden Shaffer are experienced, too.
"All of them have been through it," their coach said of the previous three seasons. "If they weren't on the (varsity) team, they were in the program, so they've been through the emotional roller coaster, and every one of them was on the team last year."
The group's collective mettle even surprises McKowen at times. He wasn't at all satisfied with how the Cyclones, who hadn't played a game in more than two weeks, practiced the day before their January opener. But Ottawa beat Paola, 77-30, the following night behind Ojeleye's 56 points.
So far this season, Ottawa has averaged 71.7 points a game, winning by an average margin of 32.1.
"I have to be everywhere," he said of his approach. "That's inside, outside. As the game starts to flow, if the guys are going, I just need to step up defensively. If they're not, then I need to carry the scoring load that much more. I just kind of have to read the game and react to it."
The Cyclones, who play host to Eudora tonight and will travel next week to the Basehor-Linwood Invitational, will spend January and February building toward a fourth straight state-tournament berth. If along the way Ojeleye seems detached or businesslike after throwing down an alley-oop as easily as most people tie their shoes, don't think for a second he isn't reveling in his team's success.
"We want to enjoy the moment," he said, "have some fun, and whatever happens, happens."