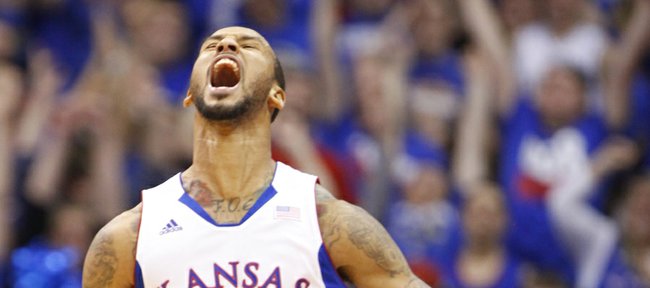 Podcast episode
Kansas coach Bill Self talks after his team's 69-62 victory over Temple on Jan. 6, 2013.
Podcast episode
Temple coach Fran Dunphy talks to reporters following his team's 69-62 loss to Kansas on Jan. 6, 2013.
Podcast episode
Kansas players Kevin Young, Jeff Withey and Elijah Johnson talk to reporters following the Jayhawks' 69-62 victory over Temple on Jan. 6, 2013.
Box score
Kansas University senior guard Travis Releford, who had six points, one rebound, two turnovers and an assist while committing two fouls in just 12 minutes the first half, heard from an angry coach Bill Self at intermission of Sunday's KU-Temple men's basketball game in Allen Fieldhouse.
"He got into me. I can't relay the message over an interview," Releford said with a smile. "He let me know I need to change it, because I didn't come ready to play early on."
The 6-foot-6 Kansas Citian wasn't much of a factor as the Jayhawks took a 33-27 lead into the break. KU won the game, 69-62.
"I was on Travis hard at halftime," Self said. "I thought Travis played a bad, bad first half. He didn't guard anybody. He wasn't aggressive. He made a couple baskets, but they were cheap.
"One thing about Travis ... gosh, was he huge down the stretch. I don't know about his fifth foul. I thought that was a phantom trip (with :14.3 left), but those two threes he made were huge. We don't win the game unless he came back (from fourth foul with 15:32 left; he returned with 6:53 left) and was aggressive."
Releford, who finished with 14 points off 5-of-5 shooting, hit a three to give KU its biggest lead of the second half, 38-27, at 18:21. His three with :35 to play boosted a 62-58 lead to seven points.
"Elijah passed it to me. I was wide-open and took the shot," Releford said of the late trey off a feed from Elijah Johnson.
Releford said it's great the Jayhawks were able to win despite his playing just 23 foul-plagued minutes.
"They played well without me in there," Releford said. "There will be times I have to be out or Elijah has to be out. We've seen it with Ben (McLemore) having to be out (with foul trouble). There will be times like that. We practice it. It's not new to us."
Releford said Sunday's game resembled an NCAA Tournament contest.
"We won't be at home, but that's the type of game and momentum we'll have to play through," he said.
KU senior Johnson said it was a positive sign KU could win without Releford for a long stretch.
"That was the biggest thing for me, to not have 'Trav' out there. That's my partner," Johnson said "To have him on the bench like that can happen in March. Naadir (Tharpe, six points, 19 minutes) did some good things. Drew (White III, no points, three minutes) came in for a few seconds. We figured it out. We know we can do it now. We're not used to seeing Travis in foul trouble like that. Usually he's sound. He did what he had to do. Wyatt (Khalif, 26 points, 8-of-19 shooting) kept drawing contact. We might have that problem (in tourney game), somebody aiming at one of our top players to get them out of the game. We've got to respond to it. I'm happy they did that to us. We know we can do it now."
Wow: Johnson hit McLemore with a crowd-pleasing alley-oop for a slam in the second half. "My only concern was, was it going to get over the defender's fingertips, and it did. I don't doubt Ben. He's Superman," Johnson said.
White plays: Self inserted White for a three-minute stretch the second half (9:52 to 6:52). "We threw Andrew out there. Even though he only played three minutes or so, that was pressure — three minutes for a freshman to play — but we had to rest Ben and Elijah a minute or two. He did fine. He didn't do much, but didn't screw up," Self said. "Kevin (Young, 16 points, 10 rebounds, 6-for-6 from line) and Jeff (Withey, nine blocks, 11 rebounds, eight points) ... if you are going to pick, they had to be the two best players of the game, no question."
Self will take the victory: "I was mad the first half at our guys. I didn't think we were ready to play. The ball stuck. We didn't play smart," Self said. "That's not who we are. We played at a fairly high level the past month, and I kind of thought we were due a game like this. To win a game against definitely an NCAA Tournament team where you have to make plays down the stretch, I think was good for all of us."
Stats, facts: KU (12-1) has won 11 in a row. ... KU has won 63 straight nonconference games in Allen. The Jayhawks have won 30 consecutive games overall in Allen. ... KU is 690-107 all-time in Allen, including a 153-7 mark under Bill Self. ... KU's plus-14 margin in rebounding (46-32) was its second-best of the season. KU was plus-20 in rebounding margin against Richmond (12/18). ... KU's 35 defensive boards matched a season high (35 vs. SE Missouri, 11/9). ... KU held the Owls to a season-low 30 percent shooting (19-for-63). ... KU had 12 blocked shots, most since it swatted 16 against San Jose State on Nov. 26. ... Young's double-double was his first since he scored 16 points and grabbed 12 rebounds as a sophomore at Loyola Marymount on Dec. 5, 2009 against Wyoming. ... Young's 16 points matched a career high at KU (16 against Colorado). ... Withey matched a season high with 10 defensive rebounds. Withey had 11 rebounds total. ... Withey's nine blocks marked his second-highest total of the season and the most since he recorded 12 against San Jose State on Nov. 26. He tied a career-high with three assists. ... Johnson matched a career high with nine assists. He had previously recorded nine dimes three other times this season, most recently on Dec. 15 against Belmont. Since Nov. 20, Johnson is averaging 6.4 assists per game. ... Releford's 14 points marked his 10th straight game scoring in double figures.