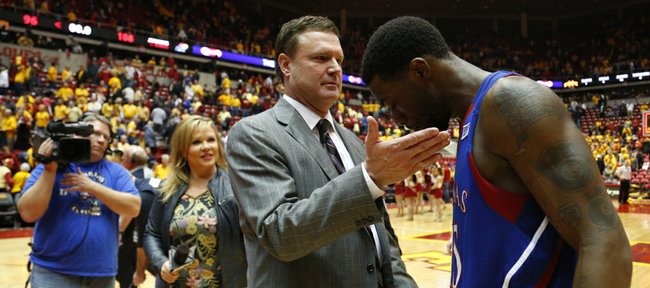 Elijah Johnson, who has orchestrated several postgame locker room celebrations for various Kansas University basketball teammates this season, on Monday was the honoree in Iowa State's Hilton Coliseum.
"I knew our guys liked Elijah, but I didn't realize how much they respected him and liked him until after the game. I have never seen a group of guys more happy for one guy than they were for Elijah," KU coach Bill Self said of senior point guard Johnson, who was mobbed by his buddies behind closed doors after conducting a postgame ESPN interview.
Johnson, who scored 39 points in KU's overtime victory against Iowa State, admits he was touched by the mob scene.
"A lot of times I'm trying to be the one to hype somebody up or shoot good feelings to somebody else. I'm usually not the one everybody's doing it for. I'm not used to it being me," Johnson said. "My team made me feel good. They cheered me on the whole time, told me, 'good job.' That's all I had to hear from them at the time."
Johnson has received a batch of text messages and phone calls since his explosive scoring effort.
"It might sound simple and boring but my dad. That was a person I was looking forward to hearing from," Johnson said of his most special call. "He knows how to get that smile out of me and make me feel a certain way, I guess you could say."
While feeling love from Jayhawk nation, Johnson experienced hate from two Cyclone students who sent him racist and threatening Twitter messages. Amid an ISU investigation into the students' behavior, ISU student government president Jared Knight sent an apology to KU's chancellor and athletic department on Wednesday.
"Definitely," Johnson said, asked if he accepted the apology. "I mean at the end of the day they are fans. They care. I am past it. I think we all should be past it. I think it's in the past.
"I honestly am not having a hard time dealing with it because I am real good with blocking out the negative stuff," he added "It's something about being able to man up and not pay attention to certain things. That's what I've always been able to do. My dad taught me that at a young age so I don't feed into certain things you'd think the average person would. I think it's that simple honestly."
KU coach Bill Self also accepts the apology. "The Iowa State student body has responded in a way that left no doubt where they stood on the things that were said and the issues. That's good enough for me," Self said.
Here's a copy of the letter from Knight, president of the student body of Iowa State, to KU officials:
"At approximately 10:45 p.m., on Monday, Feb. 25, two Iowa State students began tweeting a series of reprehensible and disgusting messages toward the University of Kansas basketball team and one player in particular. Though the individuals' accounts have been deleted, those messages contained threats of violence as well as derogatory, racial slurs. Another tweet today made similar comments toward one of the referees — an African-American — from the game.

"On behalf of all students of Iowa State University, I apologize to Elijah Johnson, the students at the University of Kansas and anyone else who read these hateful and disgusting tweets. I am embarrassed to be associated with these individuals and I unequivocally condemn their statements. This conduct is so far removed from the open-minded and accepting culture of Iowa State students that I have witnessed in my four years on campus.

"That there are people who still think, talk and act like these students is stunning to me, and it sadly reminds us that there is much work to do in eliminating racism and violence from our society. These individuals are a disgrace to our student body and our university, and we sincerely apologize to everyone affected by this incident."
ISU's dean of students, Pamela Anthony, told the Ames Tribune she could not comment on any specific actions the university may take as a result of an investigation of the tweets. Deputy Chief Rob Bowers of the ISU Department of Public Safety told the Tribune his office is involved, but it is unknown if criminal charges will be filed. Anthony told the AP the school is "repulsed by the derogatory and threatening statements."
Wise statement?: Self questioned the Big 12's deciding to issue a statement that indicated the officials in Monday's game will have future assignments reassessed for mistakes made in the game.
"I really believe and I'm not speaking behind the Big 12 office's back, that I think we're on the verge of crossing the line, that I think isn't good," Self said. "I am concerned that now we've opened up Pandora's box that now anytime something happens in the future, we have to make a comment about it. I always thought you handled your situations in-house. Since we put out that there will be some type of disciplinary action possibly, now the next thing is, all you guys (media) are going to wonder, 'Tell us what that is. What is it?' All it does is open up for more questions. I'm not saying right, wrong, indifferent. What I'm saying is that I think we've opened ourselves up now to different things."
Self said he hadn't been told by the league office which of the officials' calls were incorrect.
"We were the beneficiary of the one play that received all the attention because it was game point," Self said of a no-call on a possible charge by Johnson, noting there were "other plays in the game, too."
When asked if the NCAA instead of the conferences should handle officiating, Self said; 'I think a lot of coaches would love getting it under one umbrella ... the rules are the same; it's just that style sometimes dictates a little differently how it's called. You get to the NCAA Tournament and there's no more style. You call the game the way the rules are written."
1,000 wins unlikely: Self, who has 500 coaching victories, was asked if he'll stick around long enough to win 500 more. "There will not be another 500, unless they allow us to start playing 80 games a year. That would be the only way. That means that I would have to coach a long time. I would have to coach until I am your (media member) age and I don't want to do that, so I don't think that will happen," Self said with a smile.
More like this story on KUsports.com