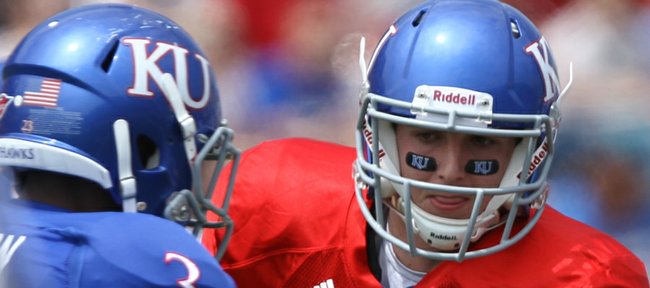 The more people within Kansas University's football program talk, the more it becomes clear that junior quarterback Jake Heaps is taking his role as team leader very seriously.
It's not that Heaps has been named team captain — yet — or even been asked to step up to fill the void left by the departure of several seniors from the 2012 team. It's more that he has taken it upon himself to rally the troops and make sure everyone is on the same page this offseason.
"Jake's been the biggest (leader), by far," said defensive end Chris Martin, a junior-college transfer who spent the 2010 season at Florida and came to KU in January. "If anyone sticks out in that aspect, it's Jake."
As soon as the 2012 season ended, Heaps hopped into a leadership role and has not looked back. In addition to helping organize workouts and constantly motivating teammates to dig deeper and push harder, Heaps took on a heavy role in recruiting and did not stop once signing day arrived.
"Jake did a great job with all of us new guys," said offensive lineman Mike Smithburg, who, like Martin, transferred to KU in January along with six others. "From the first day on, he introduced himself, and he's always asking us what's going on and how we're doing."
That kind of leadership — returning Jayhawks Keba Agostinho, Ben Heeney and Keon Stowers also have been praised by the newcomers — may not win games, but it can go a long way toward building the kind of chemistry it takes to win. Smithburg should know. He comes to KU fresh off of winning a juco national championship at Iowa Western.
"I'm starting to get some of the same vibe that I had with my old team," Smithburg said. "I can definitely tell that this team is heading in the right direction, just the way we come together as a team. It's definitely a good vibe."
Rockhurst lineman walks on
KU recently landed another preferred walk-on when Joe Gibson, a 6-foot-3, 280-pound versatile lineman from Rockhurst High, announced he would join the Jayhawks in June.
Gibson had scholarship offers from Idaho, Penn and Western Michigan and was offered a walk-on spot by KU and K-State. Ultimately, he told Jon Kirby of JayhawkSlant.com, his love of KU and trust in KU offensive line coach Tim Grunhard led him to Lawrence.
"It was a tough decision to pass up on the schools that offered me," Gibson told Kirby. "But after my visit to KU I kind of knew. I grew up a KU fan. So it wasn't that hard. I think I can go in and earn a scholarship."
Hawkinson does well
Former KU offensive lineman Tanner Hawkinson did himself a big favor by performing well in several of the agility drills at the NFL combine last weekend. Hawkinson's 40-yard dash time of 5.07 seconds was the 10th fastest among all offensive linemen invited to the combine and his 7.52-second three-cone time (10th) and 4.51-second 20-yard shuffle time (4th) also landed him among the top performers.
The McPherson native who started all four seasons at KU has been labeled by many as a mid- to late-round draft pick in April's draft, and his showing at the combine did nothing to change that.
Former KU safety Bradley McDougald will take his turn at the timing portion of the combine today with the defensive backs. His testing will be televised on NFL Network (Knology cable channel 154).