If one NCAA Tournament team ends with a victory and the other 67 with a loss, does that mean only one team can cherish the memory?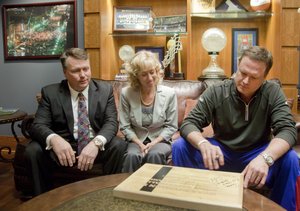 Local business owner and former Lawrence High basketball star Joe B. Jones thinks not. He believes he can turn the fresh memory of a favorite team of his into big bucks for charity.
Jones and wife Nancy acquired 50 pieces of last April's Superdome Final Four floor — each laser-engraved and measuring 18 inches by 12 inches — and he personally will solicit contributions for Douglas County charities in exchange for each of the pieces. The Joneses approached Kansas University coach Bill Self about signing and personalizing each item to enhance the value. The coach already has signed the pieces and agreed to personalize them.
Self's attention is trained solely on winning a ninth consecutive Big 12 title, so don't think he's looking anywhere but straight ahead, but he agreed recently to discuss the 2011-12 team's appeal because he knew doing so would help raise money for a good cause.
"What was so great about last year's team was we lost two lottery picks, plus another NBA player, plus Brady Morningstar, plus Tyrel Reed and Mario Little," Self said. "That was supposed to be the rebuilding year of all rebuilding years that we've had here. To see how that particular team led by Tyshawn (Taylor) and Thomas (Robinson) with a bunch of guys who hadn't had the opportunity to play here yet and really took a magical ride to New Orleans and had a chance to play for it all in a game that featured the two winningest programs of all-time, that was really cool."
Picked by at least one red-faced sports columnist to finish third in the Big 12, Kansas finished second in the nation.
"I like all our teams," Self said. "All of them will mean something to me or have a special place with me because we've had so much success here, but that team registers differently because the expectations were few and to see kids go from not playing to playing for a national championship just because of their dedication, their hard work and the love they have for this place. That was magical to all of us who had a chance to witness it first-hand."
More than exceeding low expectations made last year's team a memorable one for fans. Personal stories played a part too.
"They saw Tyshawn Taylor grow up right in front of their eyes," Self said. "They saw Thomas Robinson go through things that no young man or woman should ever have to go through in their life. And they've seen the maturity and how those guys rallied around the Kansas community to give them the support that they needed to thrive under difficult circumstances and our fans really took great pride in that."
But how much pride? Enough to make a sizable donation to charity in exchange for a nice addition to a mantle or a man cave? This makes for an interesting case study.
Those interested in exchanging a check for charity for a piece of memorabilia tied to one special Kansas team should contact Jones at his office at 785-856-2136 or on his cell at 913-269-1109.
More like this story on KUsports.com