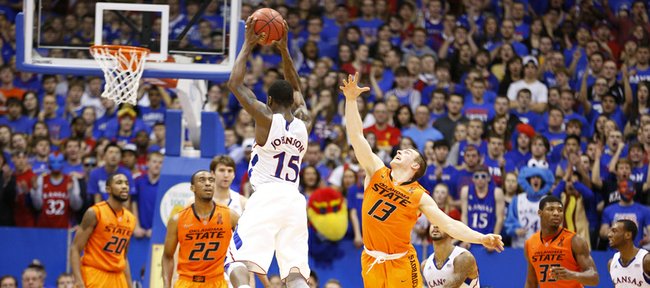 Kansas University senior basketball point guard Elijah Johnson was in need of a pick-me-up on Sunday, the day after his turnover on KU's final possession proved pivotal in a rare Jayhawk loss in Allen Fieldhouse.
"Usually I don't," Johnson said, asked if he required a pep talk or two during the course of a season. "But yesterday I did, and coach (Bill Self) gave it to me. I didn't realize until I went home that's what I got. He gave me one."
Self spoke to Johnson and the rest of the Jayhawks during a three-hour team meeting in the fieldhouse that took place after the Wilt Chamberlain Special Olympics Clinic.
"We talked a lot yesterday. We talked a whole lot yesterday," Johnson said.
Self naturally had a lot on his mind after an 85-80 setback to Oklahoma State, KU's first home loss in 34 contests and second in the last 104 outings in Allen.
"I like the confidence he (Self) is putting in me. I know he's still riding with me no matter what. I'm just trying to grow up right now," the slumping Johnson added.
Self on Monday said Johnson will remain the No. 5-ranked Jayhawks' starting point guard.
"He's my guy," Self said. "He hasn't played as well as he is capable of playing. I think in our situation, we should judge our point guard more by his record (19-2) than we do his stats. And I do know this: For us to have any chance of being a national contender and competing at the highest level, your best players have to play well, and he is without question one of our best players. He is my guy. I'm going to ride him, and it doesn't make any difference what happens, statistically, as long as I know he is trying and cares. He is my guy and will remain my guy, period."
Self didn't stop there.
"I look at the (Super Bowl champion Baltimore) Ravens. How many games did they lose this year? Seven or six? They lost three in a row, and they didn't bench (QB Joe) Flacco," Self said. "You look at the Giants last year. They lost seven. They were 9-7 and win the Super Bowl, and I don't think (head coach Tom) Coughlin was benching Eli (QB Manning).
"I think sometimes losses are OK as long as you get better through them. I think losing at home, to be honest, was good for us. If I was going to pick to lose on the road or at home, I would pick at home because it would definitely be more of a humbling experience than it would be if it didn't happen at home. I don't want to lose — don't get me wrong — but I think for our team, our mind-set and psyche, I think it was probably good for us to be humbled."
As far as other messages in the meeting in the fieldhouse, Johnson explained: "We sat over there for about three hours talking about what we didn't do hard, what we did do hard, and it balanced out the wrong way. They outplayed us. There were a couple plays he showed us where players from their team were diving on the ball, and there were four people on our team standing around watching them do it. The same thing with rebounds.
"Everything on the court falls back on me. I never rallied our team at the end of the game. I blame that loss on me 100 percent because no matter what was going on in timeouts on the court, regardless, a senior guard always rallies the team up and gets the fieldhouse to turn up and take care of the job. I never did that. I had a blank face out there, and I didn't like that at all."
Johnson said he was struggling about this time last year as well — Self noted that his stats are similar — and turned it around. He said he'll fix the problem at practice.
"Personally I don't think I'm doing a good job at practice," Johnson said. "I'm kind of pacing myself, and it's coming back to haunt me now. I think that's what I'm struggling with now."
Johnson, who said his surgically repaired knee is 100 percent, said his confidence will be helped when he starts hitting shots. As far as the team? He said the Jayhawks have been taking for granted the fact they'll pull out games, especially at home.
"It's losing focus, getting used to stealing those games like that," Johnson said. "Not really finishing it out and still coming out with a win. We were way too comfortable. I felt we needed that. From a team point of view, we thought we couldn't be touched here. We thought at the end of the game no matter what we'd have more points. Oklahoma State showed us different.
"It probably was the worst place to happen, the worst team to do it to us, but we needed it. I definitely think we're going to show what we learned from that game in a couple weeks or so."
Ben's future: Self discussed the possibility of Ben McLemore's heading to the NBA after this season. McLemore and his AAU coach/mentor have been quoted by the Journal-World saying they will not even think about the pros until this season is complete.
"I would recommend Ben definitely explore, and hopefully he'll want us to help him," Self said on his "Hawk Talk" radio show. "Then he must make a decision where he thinks he'll be at age 20, 25, 30, 35 and if another year helps him accomplish his goals or going ahead and getting out and starting to earn a paycheck would be the best thing for he and his family. I would never say, 'Stay,' (to Ben) because his family has sacrificed an awful lot for him to be in this position.
"The kid is a unique kid. You never know," Self added. "When he studies everything ... one thing we know about Ben, he's going to be great next year, too. His draft stock (projected top-five pick) isn't going to go down because he stays. His draft stock is going to be great next year, too. It's going to keep getting better because he's so gifted athletically."
Next: KU will meet TCU at 8 p.m. Wednesday in Fort Worth, Texas.
Practice important: Andrew White III, whose six points in the final minute almost saved the day vs. OSU, on what's ahead: "Everybody knows it starts today. We have to have good practices, and we have to come out a lot faster in the game. Performance-wise, we've been walking on that fine line between winning and losing for a long time. As a team, we feel we were overdue for a loss based on how we were playing. In practice, we're going to try to clean it up and keep doing what coach is telling us to do and try to get a streak going."