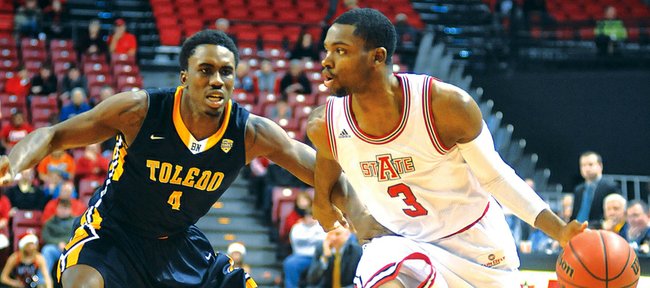 Seven college basketball teams that are ranked in the Top 25 — as well as under-the-radar University of Toledo — remain undefeated as the New Year approaches.
"They will have a ton of confidence," Kansas University coach Bill Self said of third-year coach Tod Kowalczyk's Rockets, who carry a 12-0 record into today's clash against the Jayhawks (8-3), set for a 7 p.m. tip in Allen Fieldhouse.
"They've got some good wins. They've won some close games (and) learned how to win close games," Self added.
The Rockets of the Mid America Conference are 5-0 in games decided by four points or less, including a 71-67 victory over Cleveland State on Dec. 21 in Toledo. The other narrow victories are over Robert Morris (80-77), Detroit (80-78), Stony Brook (103-99) and Boston College (95-92).
"If there's a negative to going 12-0, (I) don't think we're going to sneak up on anybody," Kowalczyk told the Toledo Blade after Saturday's 85-66 home rout of Coppin State. "We're going to get their best shot, but you know what, I think they're going to get our best shot, too."
Former Raytown (Mo.) South standout guard Rian Pearson, who burned Coppin for 22 points, enters with a team-leading 16.6 scoring average and, as Self indicated, plenty of confidence.
"I want to go in there with the mind-set we can beat them," Pearson told the Blade.
The win over Coppin tied the Rockets with Toledo's 1940-41 team for second-best start in school history. The 1966-67 squad opened 14-0, not losing until a Feb. 4 game at Marshall.
"We believe we can play with anyone in the nation," point guard Julius Brown told the Blade after scoring 18 points and dishing seven assists Saturday. "We're going to go in with the mind-set we can win, which I believe all of my teammates believe we can."
KU, which has won 67 consecutive nonconference home games, enters as a 14-point favorite. Kansas' last nonconference home loss was to Oral Roberts, 78-71, on Nov. 15, 2006. The Jayhawks are shooting for a 10-3 out-of-conference record, with San Diego State bringing its 10-1 mark to town Sunday.
"From a record standpoint, I was hoping we could get to Christmas with less than three (losses), two or one or whatever," Self said. "I didn't think it'd be a realistic shot we'd run the table just because the competition is so stiff and playing games away from home."
KU dropped a game to Villanova in the Bahamas and has also fallen at Colorado and Florida.
"If we are able to play well the next two games — both will be tough — I'd think that would be about the record we should have going into conference play," Self said. "Have we played great? No. Have we gotten better? Yes. I wouldn't be surprised had we lost one or two less, but I'm not surprised where we are at, at all."
Self, who starts three freshmen (Andrew Wiggins, Wayne Selden and Joel Embiid), a junior (Naadir Tharpe) and a sophomore (Perry Ellis), acknowledged that "this year probably would have been a good year to play a couple more guarantee games just because we are so young.
"Our RPI ... I think we are No. 3 in the country (behind Wisconsin and UMass). Do we deserve to be there? No. It's nice to be that high, because we played such a hard schedule. It will continue to go up, because the next two games will be two of the harder games we play."
KU is No. 1 in strength of schedule according to realtimerpi.com.
"I feel coming in and playing all those big games so early is getting us prepared for later on in the season," Selden said. "I feel we'll be used to the stage by the time we get there."
Tonight's undefeated foe boasts scoring balance. Senior guard Pearson is followed by junior guard Justin Drummond (14.8 ppg), junior guard Brown (13.3 ppg), junior forward J.D. Weatherspoon (10.9 ppg) and sophomore center Nathan Boothe (10.4 ppg).
"We're focused on each game. We're focused on Toledo now," KU freshman guard Frank Mason said. "We know they are a good team. Obviously they have a great record, and they've been on a pretty good win streak, so we have to come ready to play."
This marks KU's first game since a 86-64 victory over Georgetown on Dec. 21. The players had four days off to spend time in their hometowns before returning to the practice court Thursday.
"I don't think we needed it (break) as a team, but probably our bodies, more so," Selden said.
Self has said Selden has not been 100 percent for all of KU's games.
"Just bangs and bruises of the game, falling on the floor, getting hit by big guys. Nothing major, just bangs and bruises," Selden said of his physical condition.
He said Self's main message since the team returned from break has been: "Basically, we just have to keep moving forward. We have to keep getting better. We can't settle where we are at now because we are nowhere near where we want to be."
This, that: The country's undefeated teams include unranked Toledo, plus No. 1 Arizona (13-0), No. 2 Syracuse (12-0), No. 3 Ohio State (13-0), No. 4 Wisconsin (13-0), No. 10 Wichita State (13-0), No. 12 Oregon (12-0) and No. 14 Iowa State (11-0). ... Brown ranks fifth nationally with 7.3 assists per game and has a MAC-best 2.6 assist/turnover ratio. ... The Rockets have made 61 more free throws (272) than their opponents have attempted (211). UT has a .733 free-throw mark and ranks sixth nationally at 22.7 free throws made per game. ... Toledo is tied for seventh nationally in scoring at 86.4 ppg. ... Toledo is 3-10 in its last 13 games vs. nationally-ranked foes. ... UT's last three wins vs. ranked opponents came vs. No. 25 Miami of Ohio in 1999, No. 19 Cincinnati in 2000 and No. 14 Michigan State in 2002... The Rockets have lost their last eight games vs. ranked teams — No. 11 Louisville in 2003, No. 9 Duke in 2004, No. 12 KU in 2006, No. 11 Pitt in 2007, No. 19 Florida in 2008, No. 2 Michigan State in 2009 and No. 13 Illinois and No. 22 Temple in 2010.
Time set: The time of Sunday's KU-San Diego State game is set for 3:30 p.m., CBS television announced Sunday. The start time was determined by CBS' NFL Playoff schedule. San Diego State is 10-1 and ranked 20th in both the Associated Press and USA Today polls and plays at Colorado State on Wednesday.
Cliff a 'stud': KU signee Cliff Alexander, who was named MVP of last week's Pontiac (Ill.) Tournament, was asked by highschoolcube.com what Self said to him after Saturday's semifinal game, which Self attended.
"He told me I'm a stud and can't wait to have me in a KU uniform next year," Alexander, 6-foot-9 from Chicago Curie, said.
More like this story on KUsports.com