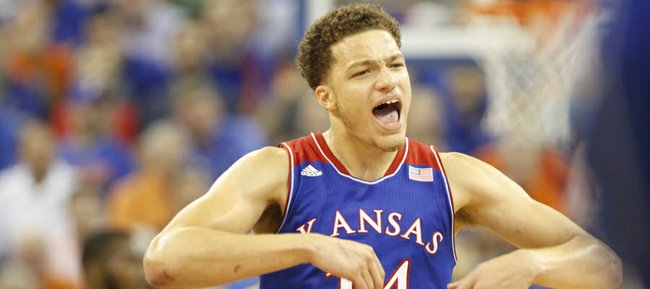 Lost amid the amazing second-half show put on by Joel Embiid, Naadir Tharpe taking command of the point-guard job and Perry Ellis leading the team in scoring and rebounding came another development during Kansas University's impressive performance Saturday against New Mexico in Sprint Center.
Talented freshman wing Brannen Greene has weaved his way through traffic to establish himself as the man to beat in a three-headed race for the first-shooter-off-the-bench role for Bill Self's 7-3 Kansas University basketball team.
Greene sat in three of the Jayhawks' first eight games and totaled just 25 minutes in the other five.
A 6-foot-7, 215-pound native of Juliette, Ga., Greene came to Kansas with a knack for pushing Self's buttons, the ones that say, "Have a seat and think about what you just did or didn't do."
Self likes his shooters to shoot but wants them exhibiting the patience to get the best possible shot. He preaches that if the ball gets to the third side, the chances are good that the defense will have been caught out of position by then, and the ball will find its way into the hands of an open shooter. Greene, too often, fired a guarded shot before the ball had been worked, thereby taking the defense off the hook.
Self, as do most coaches, preaches "next play." Players who turn it over and react by using their first three steps in the other direction to accelerate to top speed have taken their first three steps toward redemption.
Those who turn it over, miss a shot or don't get a whistle and react by freezing, frowning and then getting around to running to the other end have taken their first three steps toward the bench.
Popping into a sound defensive stance too sparingly and out of it too quickly, or other defensive transgressions such as lending too little help or arriving with it too late, also lead to quick hooks.
"Brannen and I just need to get on the same page, but Brannen's a good player," Self said after KU's 80-63 victory against New Mexico. "He's starting to value things that we think are important. He's just a freshman trying to figure things out, but he certainly, I thought, gave us some good minutes."
The page the coach referenced is the one written, edited and interpreted by the coach, long before Greene became a high school basketball player. The choice for Greene and any other Self player, past or present, is a simple one. The page or the bench, on which will you land? Interpreting the words on the page becomes easier with time but can leave freshmen confused at first.
Greene has been on the page the past two games, but his name is written in pencil. Complacency on the part of the player triggers the coach flipping the pencil to use the eraser.
"It's all about playing hard," Greene said after the loss to Florida. "Coach wants energy. He wants somebody who's tough and plays hard. I'm just trying to learn that and go out there and give him what he wants."
Greene played a season-high 16 minutes vs. New Mexico and for the second game in a row scored five points. Thirty of his 55 minutes this season have come in the past two games.
Sophomore Andrew White III was sidelined by a hip pointer Saturday, and Greene took advantage of his opportunity.
White has played 81 minutes and made seven of 18 three-pointers.
Conner Frankamp has played 60 minutes and made three of 13.
Greene has made three of 10 threes.
Greene has the biggest and most explosive body of the three and gets good elevation on his jumper.
If Greene can match White's hustle, the freshman's higher ceiling could land him more minutes than the sophomore.
Greene's time on the bench, always the best teacher in any sport, changed the way he has played. If he views those changes as a starting point to improvement and not a destination, he could bring a new dimension to a team that could use better three-point shooting. The guy's an exciting talent, and it will be interesting to see how ready he is to understand what the coach wants and deliver it consistently.