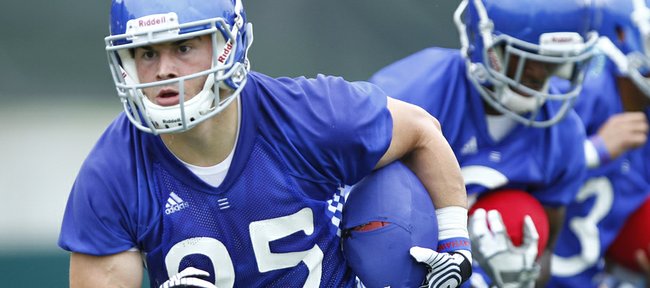 One week into fall camp, Kansas University football coach Charlie Weis has seen enough to feel comfortable handing out a few gold stars.
The positive reports, which came during a meeting with the media Tuesday morning between two-a-day practice sessions, included both newcomers and veterans and reached both sides of the line of scrimmage.
And while Weis praised a half-dozen players individually, few received the kind of glowing review that Weis gave junior running back Brandon Bourbon.
"If we asked everyone to rate the best five players in camp, he'd be on everyone's list," Weis of the 6-foot-1, 225-pound "F" back, who opened camp with the second team behind junior Tony Pierson. "Offensive coaches and defensive coaches would all put him on the list. So that's good for us because he runs, he catches, he runs routes. It's really given us another guy that we thought would be a back-up guy but now you're trying to find more ways to get him involved and get him on the field."
While that may be tough to do in an offense that appears to be loaded with weapons — particularly at running back, where Weis said everyone had looked sharp but senior James Sims was "still clearly No. 1" — finding a similar camp gem on defense has been a piece of cake. And that's because of junior-college transfer Cassius Sendish, the Jayhawks' first-string nickel back.
"It's pretty obvious when we're out on the field that one of the people that stands out, both as a leader and performer, has been Cassius," said Weis, noting he was not surprised. "I'm very happy to see how that's gone. (Sendish is) a corner-type guy who can rush the passer, drop into zones and also play man coverage. And, at that position, you need to be able to do all those things."
The other standouts whom Weis singled out on Tuesday were wide receiver Rodriguez Coleman and linebacker Ben Heeney.
Coleman, 6-3, 195 pounds from Garden City Community College, has impressed coaches from Day 1, particularly with regard to his superior physical shape.
"He could've run the conditioning test again after he ran the conditioning test," Weis said. "Stock is way up on Rod. Once again, if we're rating players on the team and people talk about wide receivers, everyone would bring up Coleman."
Later, when asked how Heeney had looked thus far, Weis left no doubts about the junior's status as the rock of the defense.
"I have no concerns with Ben at this point," Weis said. "Ben is ready to go. He looks like a caveman, but he's ready to go. I might institute a cut-your-beard policy here before too long, but there's no doubt that he'll be one of the main factors in not only performance but also leadership of our defense."
QB update
Weis said junior quarterback Jake Heaps had carried over his terrific offseason into fall camp, but had even greater compliments for the guys on the depth chart behind him.
"Michael's had a really good camp," said Weis of second-string QB Michael Cummings. "I didn't know whether Michael'd be competing to be No. 3 or competing to be No. 1. I didn't know which way that would go. But he's competing to be No. 1."
Weis later clarified his comments and said Heaps remained the clear-cut top option at quarterback but emphasized that Cummings was pushing him every day.
As for freshmen Montell Cozart and Jordan Darling, Bishop Miege grad Cozart has taken the early lead in the battle for No. 3.

"Montell might be playing as good as anybody," Weis said.

Linebacker battle
Weis said the battle at Will linebacker between sophomore returner Jake Love and juco newcomer Samson Faifili was so strong that he was considering cross-training whichever guy did not win the job.
"Those two guys have played so good that I could see one of those guys rotating in and out at Mike linebacker," Weis said.
Special teams crowded
It's still early in the special teams battles and Weis said nothing had been settled. Place-kicker Michael Mesh has had a couple of good days, but fellow newcomer Trevor Pardula has looked better from long distance.
"I could possibly see using a shorter field goal kicker and a longer field goal kicker," Weis said. "But we'll just wait and see how it plays out."

As for return duties, Weis said six guys were in the mix for kickoff return and three or four had been working on returning punts. Neither group included junior Tony Pierson, who Weis said likely would be his choice to handle either job if the Jayhawks faced a must-deliver return scenario.
More like this story on KUsports.com