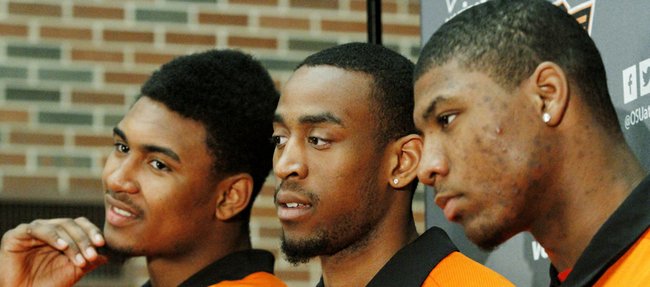 Point guard deluxe Marcus Smart's decision to stay in school for his sophomore season has made Oklahoma State's basketball team the early odds-on favorite to win the 2013-14 Big 12 regular-season title.
It's a league that has been dominated by Kansas University the past nine seasons.
"I don't know who everybody returns, but based on their roster, no question Oklahoma State would have the best roster returning," KU coach Bill Self said.
Self was featured speaker at Thursday's "Man 2 Man With Eric Berry" Big Brothers Big Sisters fundraiser at Arrowhead Stadium in Kansas City, Mo.
"They may have had the best roster anyway (without Smart)," he added. "That was a big decision that I'm sure keyed other players making sure they stayed as well."
OSU's LeBryan Nash and Markel Brown also announced Wednesday they'd remain in college another season.
"They'll be preseason top-5, -10 team for sure," Self noted. "It'll be good for our league, not a bad thing at all for our league. No question going into the summer they have the best roster. There's also some schools not finished recruiting yet. We'll see how it plays out."
KU, which has signed five players in the Class of 2013, is still pursuing players with three scholarships to give.
"I'd like to sign one, two, maybe three more depending how things play out," Self said. "There are still guys out there I think can make us better next year."
The biggest prize is No. 1-ranked Andrew Wiggins, 6-foot-7 out of Huntington (W. Va.) Prep who has a final list of KU, Kentucky, North Carolina and Florida State.
Dollar Bill: Kansas State football coach Bill Snyder this week stole headlines by saying he is "grossly overpaid for what I do." He also expressed concern for college athletics because of conference realignment and decisions being made for money reasons only.
In January, Snyder signed a new five-year contract worth $14.75 million.
Self commented in an interview with KSHB-TV's Jack Harry at the Big Brothers event: "First of all, if anybody deserves to get paid for the job they've done, Bill Snyder does. He's as good a coach as we have in any sport in America collegiately," Self said. "He's done a fabulous job there.
"It is out of whack," Self added of money in college athletics going to coaches, not players. "There's a lot of people who have benefited from kids performing well in college — coaches have and colleges, universities have. The NCAA has in a big way. Many believe room, board, tuition is enough (for players). It's not enough when you are sending home every per diem to make sure the lights (of parents) are on. I'd like to see the kids receive something."
Popular hire: KU assistant Joe Dooley's hiring at Florida Gulf Coast University has met the approval of Dan DeLuca, columnist at the Fort Myers News-Press.
Here's the start of his column:
"There's only one emotion FGCU's hiring of Joe Dooley as its men's basketball coach should elicit from the Eagles players, fans and supporters.
Elation.
Total, complete, absolute elation.
A program precious few outside of Southwest Florida and — let's be honest, not all that many inside of — knew or cared much about one month ago just got its coach from the University of Kansas.
Rock Chalk Jayhawk Kansas.
Phog Allen Kansas.
Wilt Chamberlain Kansas.
Wow."
For the entire column, go to http://newspr.es/14AsOUY
More like this story on KUsports.com