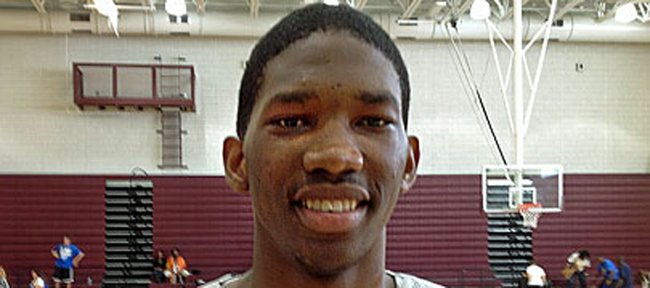 Late-blooming Cameroon basketball sensation Joel Embiid, who is currently unranked but figures to skyrocket as recruiting lists continue to be amended during the 2012-13 season, on Tuesday morning orally committed to play basketball at Kansas University.
Embiid, who is listed 7-foot, 220 pounds by Rivals.com and 6-foot-11 by ESPN.com, chose the Jayhawks over Florida and Texas. A senior at The Rock School in Gainesville, Fla., he also visited Marquette and Virginia.
"He's the equivalent of a top-20 commitment," ESPN recruiting analyst Dave Telep said of Embiid, a former volleyball player — and son of a pro handball player — who has been playing basketball just 18 months.
"Conservatively speaking, he'll end up in at least the top 35-50 range," noted analyst Eric Bossi of Rivals.com.
Embiid will sign his letter-of-intent during a Thursday ceremony at his high school. He announced his intentions to the world at 11 a.m. Eastern time Tuesday, typing the words "Proud to be a Jayhawk" on Twitter.
Embiid's commitment came a day before today's start of the weeklong early-signing period. The Jayhawks' recruiting class, which is ranked second nationally (behind Kentucky) by ESPN, consists of big man Embiid, plus Conner Frankamp, 6-foot, 160, Wichita North; Brannen Greene, 6-7, 200, Tift County High, Tifton, Ga.; Frank Mason, 5-11, 160, Massanutten Military Academy, Petersburg, Va.; and Wayne Selden, 6-5, 225, Tilton (N.H.) School. Greene is ranked No. 24 by Rivals.com, Selden No. 25, Frankamp No. 30 and Mason No. 133.
Embiid, who said he was blown away by the 2012 Late Night in the Phog, told ESPN that KU was the best fit.
"When I was visiting schools, I wanted to go and see what they've got," Embiid said. "After my visit, I knew that Kansas was good. Luc talked to some people in the NBA, and they said that the player development was good at Kansas."
Luc is Luc Richard Mbah a Moute, a fellow Cameroon native who discovered Embiid at one of his basketball camps in Cameroon when Embiid (now 18) was 16. Mbah a Moute, who played at UCLA and now plays for the Milwaukee Bucks, encouraged him to attend Montverde Academy (Fla.), where he played basketball his junior year under the direction of coach Kevin Boyle.
Playing behind 6-10 Dakari Johnson, Embiid elected to transfer to The Rock for his senior year.
"The improvement he made from April to July to now was really staggering. It was like, 'Wow, how can one kid improve this much in four months?'" Bossi said. "But he's only been playing basketball for a little bit over a year, period. He is raw, but there is a lot to work with.
"I wouldn't really call him a shot-blocker. He's a great rebounder. He's got good hands. He's got soft touch. I watched him do some skill work and do things he's never done before. He seems to pick things up right away. And he's hungry. He wants to learn. He sees an opportunity to help his family out through an education or maybe one day playing pro basketball. I think he's really driven to succeed. He's a really interesting, fun kid."
The Rock coach Justin Harden said Tuesday: "I definitely think that Joel has every ounce of potential of what the experts say he has. When you hear Bill Self, Billy Donovan (Florida), Buzz Williams (Marquette) and other guys get excited about him, these are guys that have obviously sent players to the NBA. I'm talking about first-round picks and top draft picks, and they get excited and tell you that he can play in the NBA.
"I really believe that Joel has that potential. He can go to any school and make it to the NBA, probably, but it's a matter of, his hard work is what's going to determine whether or not he actually makes it to the NBA. He's got a great coach in Bill Self, along with the rest of the staff," Harden added, noting KU aide Norm Roberts did a great job recruiting Embiid.
Embiid played this past summer for Florida Elite AAU.
"He learned his foot skills by watching videotapes of Hakeem Olajuwon," Florida Elite coach Jeff Simmons told cbssports.com. "He taught himself. His footwork is outstanding. He's still learning the sport. He's special. He's going to be good."
As far as his position ... "I can play center now," Embiid said. "But I want to be a forward."
A lot depends on the weight he'll put on working with KU strength coach Andrea Hudy.
"It's not like he's scrawny. He's 220 (pounds) so he's got decent weight on him, but in order to battle with the really big guys in the NCAA, he's gotta probably put on at least 25 more pounds," Harden told the Gainesville Sun.
"He can run the floor really well and he can get out," Harden added. "He can catch awkward balls. Some bigs can't catch a ball unless it's dropped right in their lap. He can catch balls that are somewhat over his shoulder or behind him. He can make those adjustments."
Some of Embiid's future KU teammates welcomed him aboard on Tuesday.
"Welcome to the family big dawg," Selden wrote on Twitter.
"Shoutout to Joel Embiid for committing to KU! Best recruiting class in the country!" Frankamp wrote.