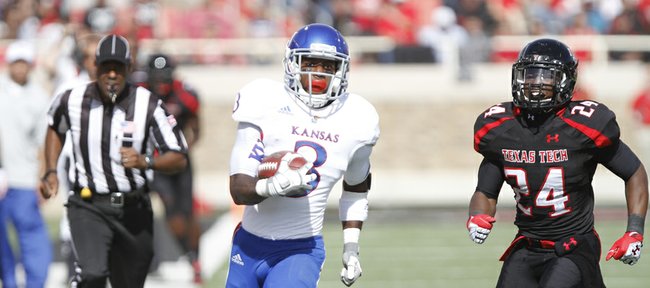 Photo Gallery
KU football v. Texas Tech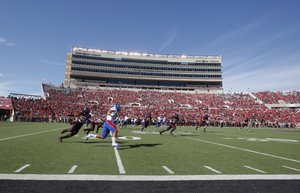 Images from Saturday's game against Texas Tech at Jones AT&T Stadium in Lubbock, Texas.
Podcast episode
KU coach Charlie Weis talks after his team's 41-34 double-overtime loss to Texas Tech on Nov. 10, 2012.
Box score
Lubbock, Texas — While scouting earlier in the week, Texas Tech defensive coordinator Art Kaufman watched film of about 230 Kansas plays.
He only remembers four or five of them being speed-options — the plays that burned TTU for the biggest yardage in the Red Raiders' 41-34 double-overtime victory over the Jayhawks on Saturday.
"They do a great job of having a plan for the next week," Kaufman said. "Whatever they've done last week, they do some, but they've always got another plan that they'll come up with something new."
Kaufman admitted that KU coach Charlie Weis' change-up gave his defense fits.
All week, Kaufman had his team prepare for both zone-read runs and stretch plays, as those two combinations made up more than half of the snaps the Red Raiders had on film.
"They ran some things we hadn't worked on," Kaufman said. "I knew they would come out with something."
Kaufman also said KU had run mostly "21" personnel in previous weeks — with two running backs and one tight end. Saturday, the Jayhawks switched it up by going primarily with a three-wide-receiver look.
"We couldn't get (the option) under control until the very end of the game, and we made an adjustment," Kaufman said. "That was the difference in the ballgame."
Leading 41-34 in the second overtime, Texas Tech shifted a linebacker out wide to give him better positioning for a potential pitch to KU running back Tony Pierson.
The move worked, as Pierson was dropped for a four-yard loss on a critical third and five.
"We never really stopped the option play other than right there at the end," Texas Tech coach Tommy Tuberville said. "We stopped it one time."
Kaufman left impressed by KU's offensive linemen.
"Their center (Trevor Marrongelli), left guard (Duane Zlatnik) and left tackle (Tanner Hawkinson) do a really good job. I thought those were three of the best offensive linemen we've seen going into the game," Kaufman said. "That's where they kept attacking us at was behind those guys."
KU finished with 390 rushing yards, which was the most ever for the Jayhawks in a Big 12 game.
"They were creasing us, and the option game ... we weren't picking up the pitch man," TTU defensive tackle Kerry Hyder said. "The quarterback (Michael Cummings) was finding the seams when they did pitch it. That was the biggest part. They found some natural gaps and were able to hit the gaps for big runs."
Pierson also had a career day, rushing 16 times for 202 yards.
"When he gets out loose," Kaufman said, "he's hard to get hold of."