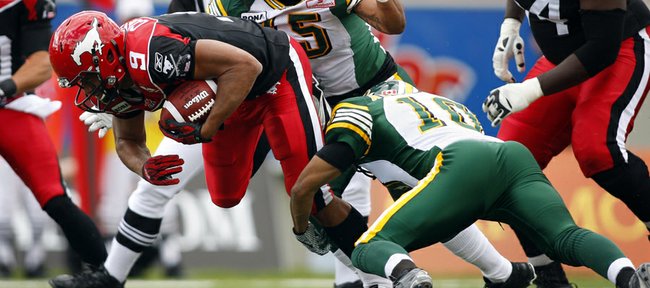 As Kansas University's football program continues its push to develop pro-caliber talent, several former Jayhawks are enjoying success in their post-KU careers.
Although a couple of guys have made solid names for themselves in the NFL, no former Jayhawk is as hot at the moment as running back Jon Cornish, who plays for the Canadian Football League's Calgary Stampeders and, last weekend, set the CFL single-season rushing record by a Canadian by matching the exact total — 1,457 yards, on 258 carries — he recorded when he set KU's single-season record in 2006.
Cornish, a native of Westminster, British Columbia, achieved the feat during Calgary's 30-27 victory over Edmonton. A 22-yard carry in the third quarter propelled him past Edmonton legend Normie Kwong, who ran for 1,437 in 1956.
"(Normie Kwong) has always been that name," Cornish said. "He's been the top of the top for Canadian running backs. For me to now be mentioned at the same time as him is an honor."
Cornish's regular-season total also made him the first Canadian-born player to lead the CFL in rushing since Saskatchewan's Kory Sheets did it in 1988.
The 2012 season was by far the best of Cornish's six-year CFL career. In addition to setting the rushing record, the 2006 KU grad who ranks ninth on KU's all-time rushing list finished with 1,795 yards from scrimmage, placing him second in the league behind B.C. Lions running back Andrew Harris, a native of Winnipeg. It marked the first time in CFL history that Canadians had finished first and second in that category. Both players surpassed the previous record of 1,662 yards from scrimmage set by Calgary's Terry Evanshen in 1967.
Cornish's squad, winner of eight of the last 10 games, finished the season 12-6 and will enter the postseason on a four-game winning streak. Calgary will play host to Saskatchewan on Sunday in the West Division semifinals.
Regardless of how Cornish fares in the playoffs, this likely won't be the last time his name is heard around here this season. Current KU junior James Sims, who last week became the first Jayhawk since Laverne Smith in 1974 to rush for 100 yards or more in five straight games, sits just 28 yards behind Cornish (2,245) on KU's all-time rushing list.
Sims and the Jayhawks (1-8 overall, 0-6 Big 12) will play at Texas Tech (6-3, 3-3) at 11 a.m. on Saturday. The game will be televised by Fox Sports Net.
More like this story on KUsports.com