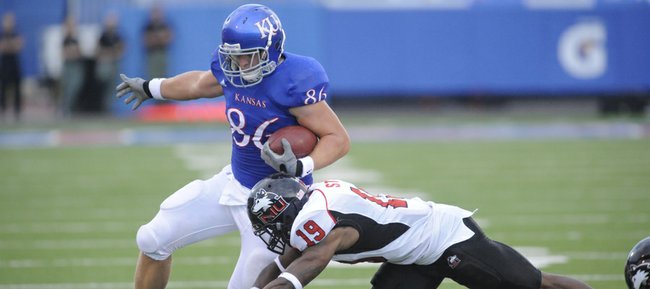 Former Kansas University tight end Tim Biere is a realist, and that characteristic served him well last weekend as he watched the 2012 NFL Draft without worrying too much about it.
"From everyone I talked to, they pretty much said I'd be a priority free agent," said Biere, who signed a free-agent contract with the Kansas City Chiefs last Saturday. "Going through the draft, you're kind of like, 'What if it happens?' but I kind of knew it wasn't gonna happen."
Although Biere came to expect that his name would not be called during the seven rounds of the draft, he believed he would get a shot somewhere. Prior to the draft, officials from several teams, including Kansas City, reached out to the 6-foot-4, 260-pound tight end and told him they would be interested in signing him when the draft ended. Biere liked what he heard from each and appreciated that he had options. He chose the Chiefs because of his familiarity with the team and the area.
"Kansas City just happens to be a really good fit," he said. "It's close to where I played college ball, it's still close to my hometown and it's a good opportunity."
Growing up in Omaha, Neb., where the University of Nebraska-Lincoln's Cornhuskers are considered the state's professional football team, Biere found himself paying extra attention to the Chiefs because they were the closest NFL franchise.
"I wouldn't say that I was a fan of one certain team growing up," he said. "But I definitely watched them more than other teams just because they were on (TV) all the time."
Biere's ability to be on his game is what caught the eyes of the Chiefs' scouts, who told him that they liked his all-around skill set.
"The Kansas City guy just said that he thinks I'm a tough football player and he thought I could stick around there for a while," Biere said. "He said he liked how I gave a lot of effort and just did a lot of things well."
Asked what area of his game he thought gave him the best shot to make the team, Biere pointed to his experience in two different programs under former KU coaches Mark Mangino and Turner Gill.
"Just the versatility," he said. "I've been in a program where I've been asked to run a lot of routes and catch a lot of passes, but I've also been asked to play fullback and do stuff like that, run block and pass block. I've had a lot of experience doing all the things they want tight ends to be able to do so it's good to have that background."
Biere, who still lives in Lawrence, has talked to several former teammates about what to expect from his first NFL training camp experience. Guys like Jake Laptad, Brad Thorson and Mike Rivera all gave the same answer.
"Everybody just says, 'Do whatever it takes, do whatever they want you to do,'" Biere said. "It's good to know that they're gonna give you a good look. It's on you now. The way you perform decides it."
As for his thoughts on the direction of his former team under new coach Charlie Weis, Biere, who has continued to workout and lift weights at KU's facilities, likes what he sees.
"I think they're going in the right direction," he said. "Obviously, coach Weis knows what he's doing and the guys are buying into it, and they can really sense that something special's gonna happen here. I think they're gonna win a lot of ballgames, and I think they're gonna win soon. I think that there's a lot of talent on the team. I'm the only one in the class I came in with that's done already, so it's kind of tough to see all those guys still playing for KU. But, at the same time, I know I've got a great opportunity ahead of me."