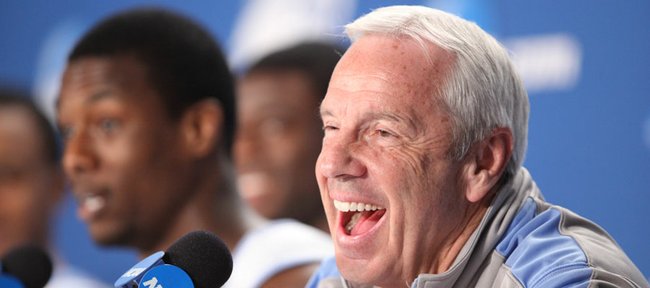 St. Louis — Shortly after Kansas University's run to the 2008 national championship was complete, North Carolina coach Roy Williams took quite a beating from the folks in Chapel Hill, N.C., for wearing a Jayhawk sticker and supporting his former school during the national title game against Memphis.
Saturday, a little more than 24 hours before Williams and his top-seeded Tar Heels were set to tip off in a rematch of sorts against Bill Self's Kansas Jayhawks, Williams talked about the scars from the harsh criticism.
"It was really difficult for me because I didn't think it was fair," Williams said. "All the junk was coming from the North Carolina side. In 1993, I was coach at Kansas and North Carolina beat us (in the Final Four), and I stayed there for the finals in New Orleans waving my North Carolina blue pom-pom and I didn't get any junk then. So I didn't think I should have gotten any junk in 2008, when I was cheering for Kansas."
Nearly four full seasons have passed since then, and both Williams and Kansas have gone on to add to the greatness that is a source of extreme pride within each program and both fan bases. Kansas has won 125 games and four Big 12 championships in a string of eight straight since then. UNC has won 115 games, including the 2009 national championship.
"It's over with now," Williams said. "And time, as they say, will heal a lot of things. I don't think (facing KU) will ever feel good for me, regardless of the outcome. ... It was 15 years of my life that I felt like that I gave my heart and my body and my soul. And the people were wonderful to me."
KU-UNC every year?
With the history of the KU-UNC series dominating the early portion of Williams' meeting with reporters on Saturday, Williams and Self were both asked if the two schools ever would consider hosting a home-and-home series.
"No," Williams said.
Self, who spoke with reporters first, gave a different answer.
"I think it would be a great game for us. I don't know if Roy would agree with that," Self said. To me, it's, you know, the hardest games to play are sometimes where the other team you're playing has extra incentive for whatever reason. I think those are hard games. I understand why we don't, if we don't. But I certainly think that it would be a great, great series. Kentucky and North Carolina play. And I guess we're the second-, third-winningest program of all time, and I think it would be unbelievably good if we could play. Certainly neither place has a hard time selling out, but we could certainly raise the price of season tickets a couple bucks."
Lucky to be alive
Much of the talk in the early portion of UNC's session with the media on Saturday was about how fortunate the Tar Heels were to top Ohio in overtime in the Sweet 16.
Many described the game as a grinder, as UNC out-rebounded Ohio 63-30 but also shot just 40 percent, turned it over 24 times and allowed the Bobcats to knock down 12 three-pointers to hang around.
"Yesterday, you said grind it out, and I appreciate that," Williams said. "But we were damn ugly. That's what we were."
Few Tar Heels struggled as much as heralded sophomore Harrison Barnes, who tallied 12 points on 3-of-16 shooting. Five of Barnes' 12 points came in OT, though, something the 6-8 forward said helped him move on.
"I think it was a nice way to finish out the game," he said. "Obviously, it gives you confidence that you can make shots in that building. But (Sunday's) a whole new game. Kansas is an extremely good ball club. You have to bring your best in order to beat them. So kind of put that game aside and just change your focus again."
Defending the Jayhawks
Although the Tar Heels boast the biggest front line in the nation, they were not about to say that they expect to have an easy time matching up with KU forward Thomas Robinson and center Jeff Withey.
"Robinson and Withey are fantastic players," said UNC senior Tyler Zeller, who scored 20 points and grabbed 22 rebounds during Carolina's victory on Friday. "We are going to have to have a very good game as a frontcourt and our guards will have to step up, as well. Obviously, Robinson is a Player of the Year candidate and Withey had 10 blocks last night, which is an incredible feat. So it will be interesting to see how we match up. I think with our size hopefully we can give them a some problems, but I think it goes both ways."
Of course, just because the Jayhawks possess size inside does not mean that the Tar Heels are going to shy away from using theirs.
"It doesn't hurt," Marshall said. "When you got a 6-7 two-guard in Reggie Bullock that crashes the boards the way he does, it makes us a hard team to keep off the boards. Like I said, we're huge. It's a very good advantage for us. But you gotta give credit to their team. They don't just depend on Thomas Robinson."
Kansas kinship
When Williams replaced legendary head coach Larry Brown at KU in 1989, he became the seventh head coach in school history, joining a list that included such greats as James Naismith, Phog Allen, Dick Harp and Ted Owens. On Saturday, Williams talked about how he always felt a special bond between himself and the school's eighth head coach of all time, even though he and Self don't spend much time together.
"There's no question that there's a tremendous sense of kinship," Williams said. "Bill's a tremendous coach. And I'm not saying that lightly. He's a tremendous coach. (He's) a friend, but it's more respect."
Much of the reason Williams has such great admiration for Self goes well beyond the ninth-year KU coach's tremendous record at Kansas.
"I understand what Bill is going through," Williams said. "I know the stress and the pressures and the expectations and the feelings and the love and the passion. And it's all of those and some of those are good. The passion that they have is good and maybe the expectations aren't good. So I do understand that part of it. But Bill's a big-time coach and has done a great, great job with Kansas' program."
More like this story on KUsports.com