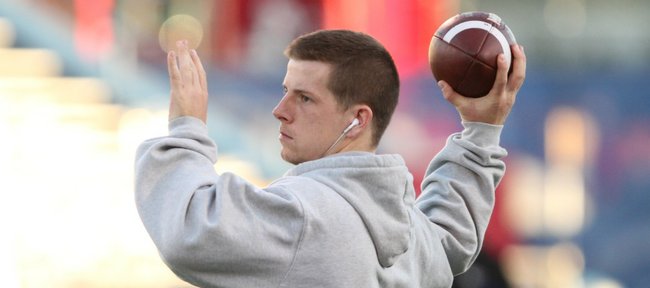 Former Kansas University starting quarterback Jordan Webb is headed from the Big 12 to the Pac-12.
Webb confirmed to the Journal-World on Friday various recent reports that stated he will be transferring to Colorado. Once admitted to the school — something Webb expects to happen as early as Monday — his relocation will be official.
The future Buffaloes QB expects to have a shot at winning the starting job once he arrives in Boulder, Colo.
"That's the whole reason I wanted to transfer," Webb said. "I wanted to go somewhere where I felt like I had that opportunity."
When Charlie Weis took over as KU head coach this past December, Webb soon learned he wouldn't be a part of the program's plans. Quarterbacks Dayne Crist (from Notre Dame) and Jake Heaps (from BYU) transferred in, and in January, Weis announced Webb would be leaving Kansas.
Webb said he didn't take anything personally.
"It's just kind of part of the business," he said. "I understood that with new guys coming in (Weis) wants some fresh faces at quarterback. If you can get a fresh face, it's gonna look good for the fan base, and I'm really rooting for those guys this year. I'll always be a Jayhawk. I've got some of my best friends on that team."
Still, the whole process doubled as a lesson.
"You can't hang your head," Webb said. "Things are gonna come in life that you're not expecting, but you've just got to roll with the punches."
The Union, Mo., native appreciated that Weis let him know early on his plans to go another direction at quarterback.
"That would be the worst thing, to be strung along and find out once you put your work in that you don't have that chance," Webb said. "I was glad that he was up front and honest. That's all you can ask for."
Because Webb continued taking classes at KU and graduated after leaving the team, he will be able to take advantage of an NCAA transfer rule and be eligible immediately at Colorado. He visited the campus and met with CU coach Jon Embree this past spring.
"I think it's a good fit. They're an up-and-coming team and coach," Webb said. "I really enjoyed my time there, so we'll see how it goes."
Webb, who has two years of eligibility remaining, played in all 12 games for the Jayhawks in 2011, completing 179 of his 281 pass attempts for 1,884 yards, with 13 touchdowns and 12 interceptions.
He plans to move to Boulder this coming week and begin workouts with the Buffaloes soon after.
More like this story on KUsports.com