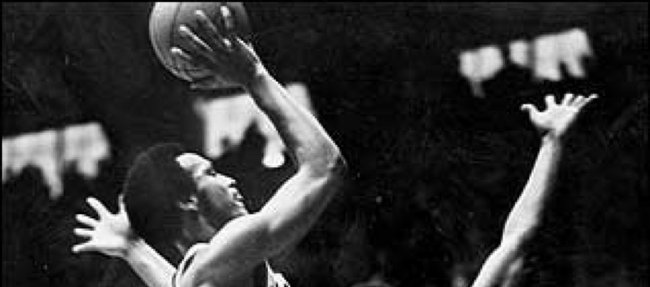 Sunday marks the 40th anniversary of one of the most remarkable days in Kansas University basketball history: the day Isaac "Bud" Stallworth exploded for 50 points in a 93-80 victory over Missouri in Allen Fieldhouse.
The sweet-shooting 6-foot-5 senior from Hartselle, Ala., hit 19 of 38 shots and 12 of 13 free throws on Feb. 26, 1972, thrilling a packed Allen Fieldhouse crowd that included his mother, who was watching her son play in KU's tradition-rich building for the first time.
Members of KU's 1952 national title team, who were in town for a 20th-reunion celebration, also were on hand to see Stallworth's one-for-the-ages outing.
"It was a great, great day — a remarkable performance," former KU coach Ted Owens said of the second-highest scoring output from a Jayhawk. Stallworth's 'half-a-hundred' points trailed only Wilt Chamberlain, who scored 52 points against Northwestern on Dec. 3, 1956. It remains the most points a Jayhawk has scored in a conference game.
"It's not like we were playing a bad team. Missouri was good. Norm (Stewart, MU coach) tried everything. He put three different guys on Bud. Bud just had one of those nights," Owens said.
Stallworth — he had the front-end of a one-on-one free throw make erased when teammate Wilson Barrow stepped into the lane — scored 50 without benefit of the three-point line.
"Think about this ... 13 of those baskets would have been three-pointers today," Owens said. "That's 63 points."
Stallworth, who played in the NBA for five years and returned to Lawrence in 1987 to work in design and construction management at both KU Med Center and KU, has been reminded of his 50-point outing on almost a daily basis since that amazing day.
"I can't believe it's been 40 years," Stallworth said with a laugh. "That 40 years have passed is kind of a monumental thing. I think it's great to be alive and an honor to have played at KU. It's been quite a ride. Individually, that was icing on the cake. That was the individual highlight, but team-wise (11-15 record) we were disappointed we didn't have the success we had the previous year (when KU reached Final Four and went undefeated in Big Eight)."
Stallworth averaged a whopping 25.3 points a game his senior season en route to winning Big Eight player-of-the-year honors. He had his jersey hung in the rafters of Allen Fieldhouse on Jan. 31, 2005, with that 50-point outing of course prominently mentioned that day.
"Missouri had a chance to win the Big Eight championship if they beat us," Stallworth recalled. "The shots started falling, and Norm tried all different defenses. I guess I just got on a hot streak, and the rest is history. To do something like that your last time as a senior is a storybook kind of thing. More so than anything else though, we ended up beating Missouri my last game."
As co-host of the "Rock Chalk Sports Talk" radio show on Lawrence's KLWN, he has spent a lot of time talking about Missouri's leaving the Big 12 for the SEC, starting next season.
"I have no heartache of them going to the SEC," Stallworth said. "I have heartache not playing them anymore. I have good relationships with a lot of people from Missouri. I see Norm on the celebrity golf circuit and speaking circuit. I never had hatred for Missouri. We just wanted to beat them.
"The thing about this rivalry ... it goes deep," Stallworth added of the passions of the fans. "To get a feel for it, you have to be in Lawrence or Columbia. It's not just two schools or cities. It's two states going against each other."
What follows is former Journal-World Sports Editor Chuck Woodling's actual account of Stallworth's 50-point game written back in 1972.
By Chuck Woodling
Former Journal-World Sports Editor
His real name is Isaac Stallworth and, as you might expect, he doesn't especially like it when you address him by his real name.
But Bud Stallworth won't cringe if you happen to call him by the name he inherited from his father. Bud will just smile.
In fact, you can call Bud Stallworth any name you want to and he'll smile. Bud's entire gamut of emotions consists of a smile.
That's why the Bud Stallworth grin never left his face after the 6-5 senior had scored half a hundred points against Missouri Saturday in Allen Fieldhouse.
Likely Bud would have been smiling if he scored only five against the Tigers ... provided the Jayhawks had won. And of course they did.
Kansas crunched the Tigers, 93-80, and threw a roadblock in their hopes for the Big Eight Conference title.
Only the fabled Wilt Chamberlain, who threw in 52 points in his first game as a Jayhawk, ever scored more among Big Eight performers. No one had ever scored 50 points in a conference game. Chamberlain's record output came against Northwestern.
In funneling 50, Stallworth eclipsed the old standard of 47 in a conference game set by Colorado's Cliff Meely last year. Bud actually broke Meely's record with 2:22 left in the game when he hit a free throw after being fouled by Missouri's Chuck Link.
Nevertheless, because of some apparent confusion late in the game, the Jayhawks fed the ball to Bud for one more shot. It was the only time during the game they were really trying to get the ball to him.
"They called down," KU coach Ted Owens said, "and said Bud was within two points of breaking some record. I didn't know what it was. I thought he had 35 points maybe. I forgot he had 27 at halftime."
So with four seconds left, Bud took and missed a desperation 30-footer. But MU's Steve Blind fouled him and Bud wrapped things up with a pair of free throws.
The record will show Stallworth connected on 12 of 13 free throws that historic afternoon. In reality he hit them all. With 9:36 to go in the first half, Stallworth earned a two-shot try at the line after being fouled by Mike Jeffries. Bud hit the first and then the second. But the second was disallowed because Wilson Barrow was in the lane too soon.
So Bud Stallworth, the sweet-shooter who was discovered by Jo Jo White here for the Kansas summer band camp, really tallied 51 points against the Tigers.
Bud earned them all. At times he was really dragging out there and the punishment he took from the muscular Tigers was often brutal.
Once in the second half, Owens instructed his team to spread the offense and try to kill some time. Owens did that, he pointed out later, to give Bud time to catch his breath. Stallworth on the other hand, would never admit to dragging his feet.
"You don't get tired," he smiled (what else?), "when you are winning."
Bud put up 38 shots, hitting 19, and it would seem his arm must have gotten tired, at least.
"Naw," Bud said, grinning, "it never gets tired."
More like this story on KUsports.com