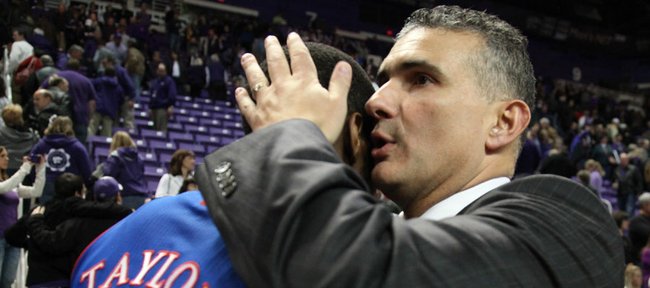 Podcast episode
Kansas coach Bill Self talks to reporters following the Jayhawks' 59-53 victory over Kansas State on Feb. 13, 2012.
Podcast episode
Kansas State coach Frank Martin talks to reporters following the Wildcats' 59-53 loss to Kansas on Feb. 13, 2012.
KU vs. Kansas State
Manhattan — After his team took a one-point lead in the second half, Kansas State coach Frank Martin said he saw one main difference between Kansas and KSU: maturity.
"That's the difference when you've got grown men playing for you," Martin said following KSU's 59-53 loss to KU on Monday night. "It makes our guys look like little kids in those moments."
The Jayhawks went on an 11-0 run at that point, turning a 37-36 deficit into a 47-37 lead.
There were a couple of reasons for KSU's breakdown.
The first points in the run came from Tyshawn Taylor, who was able to beat the shot clock with an open three-pointer after KSU's Angel Rodriguez tried to draw an offensive foul.
"Angel tries to flop on a charge, and Tyshawn looks at him when he falls down, says, 'Thanks for making my job easy,' and sticks a three," Martin said. "Then he comes down and sticks another three."
Kansas State also couldn't figure out how to attack a new KU defense.
With KSU's Shane Southwell on the court — a guard with limited offensive skills — KU coach Bill Self switched to a triangle-and-two defense that allowed Southwell to run free.
Against the set, the Wildcats missed their next six shots with a turnover.
"Those junk defenses — and I say that in a nice way, not in a negative way — they're made to get you to stand around," Martin said. "When you've got guys that don't know what to do against it, now you've got to run a different offense. Then you come out of a timeout, and you still don't run the right offense ... It got the mission accomplished."
Martin was quick to take on responsibility for his team's second-half "self-destruction," saying the Wildcats should have been better prepared for KU's change-up.
"That defense is designed to try to take away the guys that get you into offense and get you to be passive, and that's what it did to us," Martin said. "We got passive."
Martin also bemoaned his team's poor first-half shooting. KSU made just seven of 31 field goals (23 percent) and one of eight threes (13 percent) before halftime. The Wildcats trailed, 28-18, at the break.
"I told our guys (at halftime), 'I don't know what to tell you. You've got an open shot, you've got to make it,'" Martin said. "It's plain and simple."
Martin dropped to 2-9 against KU and 2-3 at Bramlage Coliseum.
"We played hard. We tried. We lost," Martin said. "Huggs (Former KSU coach Bob Huggins) said that when we got hired here: 'It's hard to have a rivalry when one team wins all the time.' When you lose on your home court, there's no rivalry."
Martin left impressed by the Jayhawks' discipline, saying they were a team that didn't make many mistakes.
"They've got big boys playing — and I don't mean in size, I mean in age and maturity," Martin said. "And Bill does as good a job as anyone in the country."
More like this story on KUsports.com