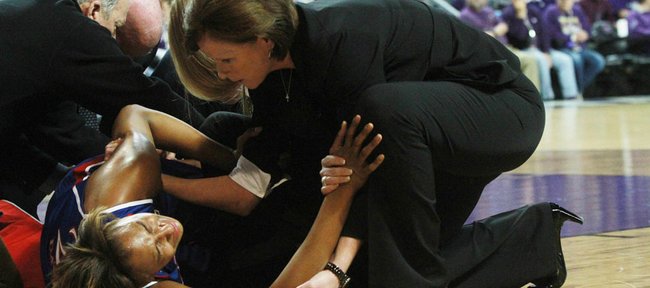 Kansas University women's basketball coach Bonnie Henrickson has said throughout the season that freshman forward Chelsea Gardner reminds her of a younger Carolyn Davis.
Now, Henrickson — KU's the eighth-year coach — will get to see how much.
Early Monday afternoon, Henrickson announced that Davis, a junior forward from Houston who led KU in scoring (17.5 points per game) and ranked in the top five nationally in field-goal percentage (60.2), would miss the rest of the 2011-12 season after suffering a dislocated left knee and torn anterior cruciate ligament during the early minutes of Sunday's 47-43 loss at Kansas State.
When the Jayhawks play at Iowa State on Wednesday, the 6-foot-3 Gardner will start in Davis' spot. Until then, Henrickson and crew will spend every waking minute trying to come up with a plan for moving on without their All-Big-12-caliber forward.
"We have other games that we have to tend to, and we have to figure out how we're gonna work around this and just come together as a team," senior forward Aishah Sutherland said. "We have talented people on this team. Carolyn was in the spotlight, but now we have other people that can come into the spotlight, and we're going to have be more of a play-with-everybody type team."
The Jayhawks did that well Sunday, using scrappy defense and pride to take K-State to the wire. Henrickson said a similar approach would be a big part of the recipe to play without Davis, but also talked about the need for individuals not named Angel Goodrich to elevate their games.
"We can't sit here and ask Chelsea to be Carolyn Davis overnight," Henrickson said. "We've gotta get more out of (junior guard) Monica (Engelman). (Freshman guard) Natalie (Knight) has to be more aggressive. Aishah needs to be who she was in that second half (Sunday) more consistently. And honestly we gotta get more out of (freshman guard) Asia Boyd."
Boyd, the highest-rated recruit during Henrickson's time at Kansas, did not play during Sunday's loss, in which the Jayhawks scored a season-low 43 points without their leading scorer. Henrickson said that would change in the near future.
"We've gotta get her on the floor and let her work a little bit, because at least she has an aggressive mind-set," Henrickson said.
As for Davis' role in all of this, Henrickson expects her star forward to go above and beyond what's required in helping her team cope with life without her. In many ways, that started Sunday night when the Jayhawks (17-7 overall, 6-6 Big 12) visited Davis in the hospital. Her support continued into Monday and doesn't figure to stop any time soon.
"She sent me a text with a thumbs up and a smiley face," Henrickson said Monday. "She's trying to help us, and that speaks to her. That's who she is."
Added Gardner: "Reality set in today when I saw that she was not here at practice. I really don't know the effect it's having on her, but she wanted to motivate us as a team and just told us to keep going."
More like this story on KUsports.com