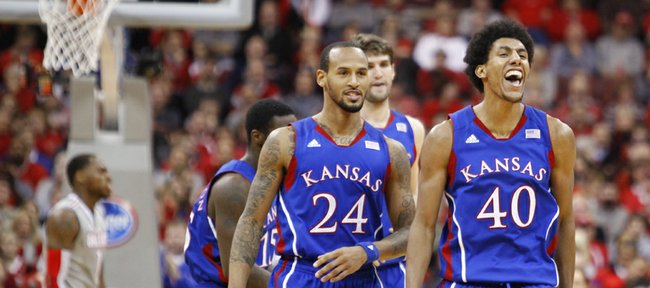 Photo Gallery
KU basketball v. Ohio State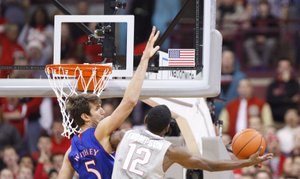 Images from Saturday's game against Ohio State in Columbus.
Podcast episode
Kansas coach Bill Self talks after his team's 74-66 victory over Ohio State on Dec. 22, 2012.
Podcast episode
Kansas players Jeff Withey and Ben McLemore talk after the Jayhawks' 74-66 victory over Ohio State on Dec. 22, 2012.
Box score
Columbus, Ohio — Elijah Johnson sees Saturday's eight-point victory at No. 7-ranked Ohio State as an early-season statement game.
"(It was) real big," Kansas University's senior point guard said of the 74-66 win before 19,049 fans in Value City Arena. "Now we know we've got the same kind of team we've always had. We will fight back. We will not lay down for anybody."
The Jayhawks trailed by as many as eight in the first half, yet led, 37-35 at the break. No. 9-rated KU used suffocating defense to hold the Buckeyes to 25-percent shooting the final half (nine of 36; two of 18 from three).
"Yes and we tried to capitalize on it," Johnson said when asked if he sensed frustration from the home team. "I think we fell apart at the end," he quickly added. "We've got to do a better job on closing games out."
KU saw a 12-point lead dip to six late, though Jeff Withey saved the day by hitting four free throws in as many tries.
"Coach put it in my head, it's the best feeling in the world," Johnson said of winning on the road. "It's a hard game to play, especially a good program like that. To go to their house and do that, that's big, that's big-ball right there."
The Jayhawks snapped Ohio State's 39-game nonconference homecourt win streak. The last loss had been to West Virginia on Dec. 27, 2008.
Home for holiday: KU's players broke for Christmas after the game. Some returned to Lawrence on a charter plane. Other out-of-state Jayhawks remained in Columbus on Saturday night and were to fly out of the Columbus airport to their hometowns Sunday morning. They will reassemble in Lawrence for practice the night of Dec. 26.
Ben to visit brother: KU frosh Ben McLemore said he will visit today his brother, Keith McLemore, who celebrates his birthday on Christmas Day locked up in Potosi Correctional Center in Mineral Springs, Mo.
"I'll be there just a couple of hours to see him," Ben said. "Finally, (for the first time) since I've been in college. He's been watching my games. He definitely watched this game so he might even be calling me tonight to congratulate me on the win. I just can't wait to get home," the St. Louis native added.
OSU's Aaron Craft on McLemore: "He's a great player. He's surrounded by great players as well. I think sometimes we get caught up in trying to focus on the rest of their action, then you kind of lose him. In the one-on-one situation, he's 6-6, can shoot over the smaller guys. He got off early. He made a couple shots. Giving a guy like that confidence that has been playing great all year ... that's tough to stop."
Turnovers: Johnson had four turnovers against two assists to go with 13 points. He had just one turnover the final half.
"I got used to the ball. We were fumbling it. We got a rhythm with it," Johnson said. "We realized we've got to take care of the ball, adjust to the ball, don't let the ball adjust to you."
Streak ends: OSU grabbed its first lead of the game, 24-23, with 8:31 left in the first half. It marked the first time KU trailed in the last seven games. The streak ended at 306 minutes, 5 seconds dating back to the Nov. 15 win over Chattanooga.
Releford on whether this was a statement win: "Yes of course. It's early. I think we played all right. There's a lot of stuff we can do better and room for improvement for this team. The sky is the limit for this team now. I feel we're playing really well."
Stats, facts: KU's Naadir Tharpe had three assists against no turnovers while going 2-for-2 from the field (1-1 from three) in 15 effective minutes. ... Kevin Young had 10 rebounds, six points and three assists in 33 minutes. ... KU leads the all-time series vs. OSU, 8-3. ... KU is 10-1 for the third time in the last four seasons and the fifth time in the 10-year Bill Self era. ... KU has won nine straight games. ... KU has won six in a row versus Ohio State. ... KU held Ohio State to a season-low 30.8 shooting percentage, while the Jayhawks shot over 50 percent for the fifth-straight game (51 percent). ... KU's 3-for-8 (37.5 percent) effot from the free-throw line in the first half tied a season-low (vs. Chattanooga, first half). The Jayhawks went 16-for-22 (72.7 percent) the second half. ... Jeff Withey recorded his second-consecutive double-double (14 points, 10 rebounds). ... Withey collected one block to raise his total to 55 rejections and 220 for his career for fifth all-time on the KU blocks list. ... Withey has now had at least one block in 21 consecutive games. ... Withey grabbed his 400th career rebound with 5:17 left in the first half. He finished with 10. ... Ben McLemore hit three of five threes. He has now connected on multiple threes in five straight games, going 14-for-23 (61 percent) during that stretch. ... McLemore's 22 points mark his fourth 20-plus scoring performance of the year and the 10th straight time he's scored in double figures. ... Travis Releford, the Big 12 free-throw percentage leader, missed his first free throws in more than a month (5-for-6 vs. Saint Louis, 11/20). After going 2-for-4 from the line Saturday, Releford has only missed four free throws all year (28-for-32). ... Saturday's game marked OSU's first sellout of the season.