Photo Gallery
Kansas basketball v. Belmont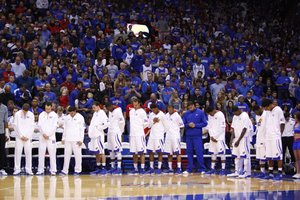 Images from Saturday night's game against Belmont at Allen Fieldhouse.
Podcast episode
KU coach Bill Self talks about what went right during Saturday night's convincing victory over Belmont.
Box score
Andrew White III has put on some remarkable three-point shooting displays during Kansas University's basketball practices.
"I've seen him make six or seven in a row (in scrimmage situations), so that didn't really surprise me tonight," KU senior point guard Elijah Johnson said after White, KU's freshman shooting guard/small forward, exploded for a career-high 15 points off 6-of-8 shooting — 3-of-5 from three — while playing just 10 minutes in the Jayhawks' 89-60 battering of Belmont on Saturday in Allen Fieldhouse.
"He's getting better with putting the ball on the floor and actually making a situation, if he has to take a one-dribble pull-up or a floater," Johnson added. "I'm happy for Drew. He is soaking up the experience more than probably a lot of freshmen right now."
White, who actually was used as a 6-foot-6 power forward against undersized Belmont, scored five straight points for KU the first half as KU opened a 39-25 lead with a minute left. The margin expanded to 44-28 by the break.
White iced back-to-back threes to go with seven straight points from Travis Releford to push the lead to 85-46 in the late going.
The 15 points scored surpassed White's previous career high of eight set seven days earlier versus Colorado.
"Oh, yeah, he goes down. Sometimes coach gets onto him," Johnson said of the highly-recruited Richmond, Va., native sometimes being knocked to the canvas emotionally his freshman season. "Today coach got onto him at shoot-around. Drew held his head up. He came out here and did what he did tonight. That shows a lot about him."
Seated in the interview room with Releford (17 points, five rebounds, four assists) and Ben McLemore (17 points, 6-7 shooting), White played down his own performance.
"This is just one game," White said. "I've been working in practice every day trying to progress as quick as I can. It's always good to have a good scoring game, but this is a long season.
"I try not to be selfish. I'm not a selfish teammate," White added. "I have two pro talents playing in front of me right now (McLemore and Releford), so I just do what I have to do every day to learn something or pick something up from them and the coaches and try to progress. You have to realize as a freshman sometimes that it's not your year to be the man, so I'm just trying to contribute to the whole team."
Self liked the look of White as an undersized 4-man.
"I've been saying we were going to do that, but we haven't done it, play him at the 4 and have him be a pick-and-pop 4," Self said. "That's what happened tonight. He made a couple of threes by doing that, and then he was aggressive after that. He can really shoot the ball. Nobody in our gym has a better attitude than Andrew, and I haven't given him much of a chance to play. I thought he was really good tonight."
Self added: "There's no way Belmont would know he can shoot because statistically he hasn't yet (4-for-10 from three entering the game, 37.5 percent shooter overall). Hopefully he can be a guy we go to in each half and add to what we are doing. If you do play him, it doesn't allow them to clog the middle like they did around Jeff so much because it stretches it out. With Perry (Ellis) or Jamari (Traylor) or Kevin (Young) in there, they didn't leave the lane. That could be another weapon for us hopefully moving forward."
Jeff Withey was a fourth Jayhawk to score in double figures with 14 points, five blocks and four rebounds. Self said the player of the game was senior point Johnson, who had seven points, nine assists and just one turnover. Johnson has been slowed the past month or so by knee problems.
"I thought he controlled the game," Self said. "I am really liking his health right now. It seems to me he is so much more explosive and faster than he was earlier. He still has a long way to go to improve and to know how to utilize all the talent and players around him, but I think he's made more strides than anyone over the last two or three weeks."
KU held mid-major Belmont to miserable 34.4 percent shooting, just eight of 38 from three. KU hit 50.8 percent of its shots, including 10 of 21 from three.
"I thought we played pretty well," Self said. "Our defense was good. We shared the ball, for the most part. I was pleased with our defensive effort and ball movement."
KU (8-1) will meet Richmond at 6 p.m. Tuesday in Allen.