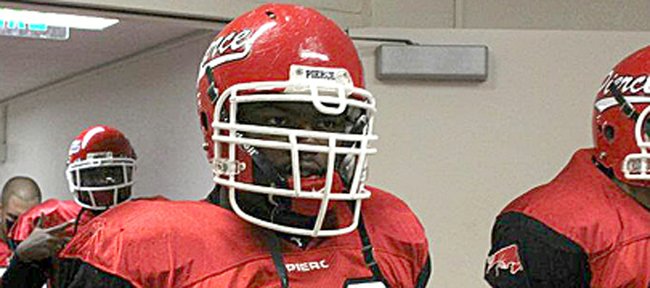 Another big day on the recruiting front turned into a huge night for the Kansas University football team, which learned late Tuesday that highly coveted defensive tackle Marquel Combs, of Pierce Community College in Woodland Hills, Calif., had committed to KU.
Combs, a 6-foot-5, 305-pound, four-star defensive tackle, made his choice about a week earlier than expected and announced it via Twitter after some serious build-up.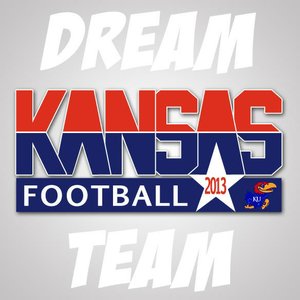 "I would love to say thanks to everyone who supported me," Combs wrote. "But I know where I should be and it's in Kansas wearing blue and red #rockchalk!!"
When reached by the Journal-World late Tuesday night, Combs divulged why he went ahead with his decision.
"I felt like there was no need to wait," he said. "And I wanted to get on board to help with recruiting."
Last week, Combs, who goes by the name "Quel" (pronounced Kwel), reached 50 scholarship offers, most from BCS-conference programs including five Big 12 schools and several SEC and Big Ten programs. After narrowing his list down to KU, Kansas State and Washington State — and then again to KU and KSU last weekend — Combs chose the Jayhawks and instantly became the gem of what's shaping up to be a solid class loaded with junior college talent.
Unlike many prospects, who seem to labor during the recruiting process, Combs maintained a playful demeanor throughout, whether on Twitter, Facebook or in person on his visits.
"I really did enjoy the whole thing," Combs said. "I'm happy with my decision and I'm ready to get to work."
Combs visited KU the weekend of the Rice game and said his choice ultimately came down to the opportunity to make a name for himself with the Jayhawks and in the Big 12.
"I just feel like I can come in and make an immediate impact," Combs said. "I wanted to show everybody that I can help rebuild a program. It's not about going to a program that's already built. I'm not trying to be a number. I want to be a reason why that program was built."
Combs plans to sign Dec. 19 and is expected to arrive in time for the start of the spring semester in January. That will allow him to participate in spring football.
Earlier in the day, KU picked up an oral commitment from Isaiah Johnson, a 6-1, 207-pound safety from Iowa Western Community College.
"I know from talking with Coach (Charlie) Weis that we've got a lot of juco guys coming in," Johnson told the Journal-World on Tuesday. "And if we do all sign, with what everyone's capable of doing, we can really change this program back into what it should be."
Johnson and Combs are the 16th and 17th members — and 10th and 11th juco players — in the Class of 2013 to commit to KU.