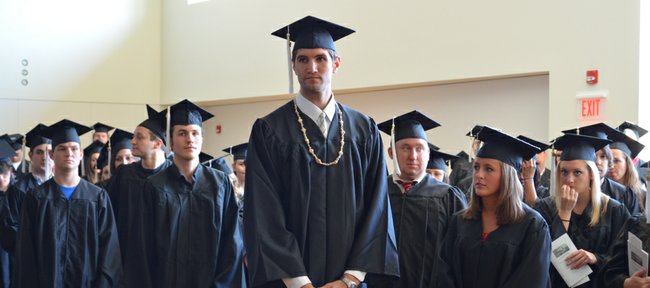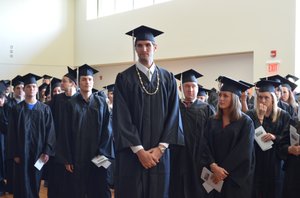 Jeff Withey, who blocked five Colorado shots while wearing a Kansas University basketball jersey Saturday, capped his weekend in a cap and gown Sunday.
Withey, KU's senior center from San Diego, graduated with a degree in American studies and a minor in education Sunday afternoon at the Lied Center.
"It's been a long time (in the classroom). I'm certainly proud of myself. It feels good to have all your hard work pay off," said Withey, who spent one semester at the University of Arizona (2008-09) before transferring to KU in time for second-semester classes.
"I knew at the beginning of last year (he could receive diploma in December)," Withey added. "Scooter (Scott Ward, associate AD, academic and career counseling) told me if I did everything I was supposed to, I'd be able to graduate. I'm doing it early. That way I can kind of just focus on basketball next semester."
Withey will enroll in a class or two for second semester of the 2012-13 school year.
"I'm still going to take classes. That way I can play basketball, obviously," said Withey, who has to be enrolled in class to be eligible. "Nothing too difficult."
Withey, who is currently listed as a first-round pick in the 2013 NBA Draft by both draftexpress.com (25th) and nbadraft.net (26th), also will take part in graduation ceremonies in May in Memorial Stadium with teammates Elijah Johnson, Travis Releford and Kevin Young.
"It will be a lot of fun doing it in May with the big group of people," Withey said. "I'm doing this one for my parents (Debbie and Mike). My sister, Michelle, graduates in May (from California State University-San Marcos), and my parents are going to see that. They can't be two places at once so I'm doing this one for them. The one in May is for me and my friends, I guess you could say."
Tad's trying day: The Boulder Daily Camera referred to Colorado's 90-54 loss to KU on Saturday as coach Tad Boyle's "homecoming hell."
The 36-point loss was the biggest margin of defeat in former KU guard Boyle's three seasons at CU. It was CU's most lopsided loss since an 84-46 defeat to Air Force on Nov. 18, 2006. Ricardo Patton coached that CU team.
"We couldn't get stops," Boyle said. "Kansas played extremely well. They were disciplined. They wanted it more than us. Their effort ... the way they guarded the ball, the pressure they dictated," Boyle added, rattling off reasons KU mashed his team. "They had 24 layups, 46 points in the paint.
"Our Colorado State game (Wednesday's 70-61 win in Boulder), we dictated to Colorado State. Today, the shoe was on the other foot. We have to handle that pressure better than we handle it now," he added of fullcourt pressure.
"Eight assists, 18 turnovers isn't going to cut it. It doesn't matter who you are playing. If you are playing a team like Kansas in a building like this (Allen Fieldhouse), your mistakes get magnified. They put it to us."
Next year's ticket to be tough: KU fans in Western Kansas and Denver who are used to filling half of Coors Events Center for the KU-Colorado game in Boulder might need to find creative ways to land tickets to next year's game at CU.
Just a handful of Colorado State fans were among a record crowd of 11,708 that attended Wednesday's game.
"I've heard historically that they called it (Coors Center) Allen Fieldhouse West," CU sophomore guard Spencer Dinwiddie told the Boulder Daily Camera. "I heard how they would invade our arena and make it a tough place for us to play in our own stadium. So even though I wasn't a part of that, I take offense to it because this is my school."
Boyle has challenged CU fans to buy enough season tickets to sell out the arena next season before Jayhawk fans can get their hands on tickets.
It should be interesting to see how many KU fans purchase season tickets just to attend the KU-CU game in Boulder.
More like this story on KUsports.com