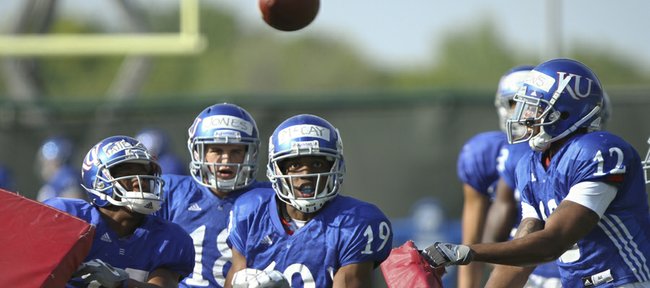 It has been a little more than three months since wide receiver Justin McCay committed to Kansas University after transferring from Oklahoma to get closer to his Kansas City home.
It may have seemed more like three years.
McCay, 6-foot-3, 220 pounds from Bishop Miege High, still is awaiting a ruling from the NCAA about whether he will be eligible during the 2012 season. KU coach Charlie Weis said Tuesday that he and his staff had followed McCay's appeal process closely and expected to hear something soon.
"We were told that this week was going to be judgment week," Weis said.
Similar sentiments were sent KU's way more than a week ago, but those in charge of reviewing McCay's case still had not completed their review as of Tuesday. Although it has been slow going, Weis said he remained "cautiously optimistic" that McCay would be cleared and was encouraged by the latest news he received.
"They're going to move it on up the ladder," Weis said. "Normally when you get granted another year, it's for one drastic, tragic occurrence, and in Justin's case it's a whole lot of things. It isn't just one thing. They said they had never really seen this many things on one person, so I'm (hopeful) it will have a favorable outcome. We're calling every day. As soon as I know something, we'll get it out there."
Asked if he had been able to gauge how difficult the uncertainty had been for McCay, Weis painted a picture of a young man eager for a resolution.
"I think it's pressing on him," Weis said. "You're still talking about a kid here, now. It's not going to end his career one way or another, but I think, psychologically, it would be so uplifting to have a favorable outcome, and having three years to play three instead of having to sit for a year and having two years to play two."
KU OK at RB
Monday's news that starting running back James Sims would miss the first three games of the season to serve a suspension for an OUI arrest over the weekend brought to the forefront questions about KU's depth at running back.
Weis did not sound worried.
"I think we'll be fine at running back," he said. "It never helps to lose a front-line player, but (we have) (sophomore) Tony (Pierson) and (sophomore Brandon) Bourbon, then we've got the reinforcements coming. We feel really good about the two guys (Taylor Cox and Tevin Shaw) we've got coming."
Weis said Sims, a junior who led the Jayhawks in rushing in 2010 and 2011, would continue to receive normal reps throughout the rest of the spring. However, things could change when fall camp arrives in August.
"I'm looking at him sort of like Jake Heaps — practice him now because this is when he's gonna practice," said Weis of KU's QB transfer, who won't be eligible in 2012. "Those first three games, when you look down at the show team, we're gonna have the best show team running back in the country. The only way to not get rusty is to go over there and run show team, so the first three games, if the defense is looking to get a good look at a running back, that's the running back they're gonna be looking at."
Jackson shifts positions
Because of the Jayhawks' depth at wide receiver, Weis said Tuesday that sophomore Marquis Jackson would get a look at running back.
"He's a big, physical guy, but there's a whole lot of competition at the position," Weis said. "What I try to do is, I try to look at who I have and say, 'Where can I put him in the best position to get on the field.' He's a perfect example of, 'What do you do with him?' You've got this guy, this big, physical guy, and he's really not in the two-deep right now at wide receiver. So do you let him sit there at third, or do you try to find something else for him to do?"
Crist crisp
Senior quarterback Dayne Crist has received a lot of attention since deciding to play out his eligibility for Weis at KU.
Tuesday, he got some more, this time from Weis.
"He had his best day Saturday," Weis said of KU's fifth-year senior QB. "He was a man among boys. He was on. If we played Saturday, it would have been a good day for the offense. He had one ball that wasn't right on the money. That ball should have been caught."