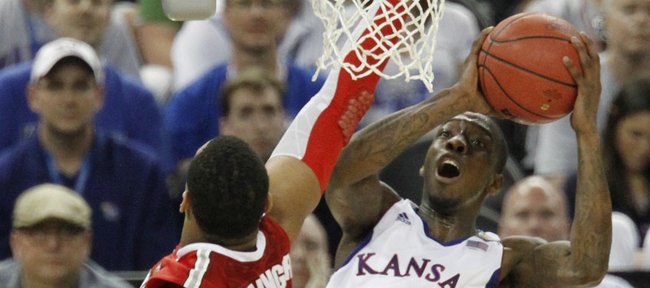 New Orleans — You know how it is in basketball. A team falls behind, and the pressure mounts. The hole gets too deep, and it's over. And everybody knows that in a close game the less time that remains, the more pressure a free-throw shooter feels.
That's in this universe. The Kansas University basketball team must come from some opposite world, where up is down, long is short, and Tyshawn Taylor is a player who leaves his supporters wanting to hug him then slug him then hug him then slug him and then in the end hug him in hopes his irrepressible zest for life and basketball will rub off on them.
The fact Kansas and, specifically, Taylor, responded to playing 20 minutes of basketball that would make a nice how-not-to-play-the-game instructional video with a comeback victory, 64-62 in the Superdome, to advance to Monday night's national-title game should surprise nobody.
Taylor almost always makes himself the story, and it's never a one-sided tale.
He opened the game like a child consumed by stage-fright, even though he had 40 minutes to make up for any mistakes. He closed it facing more pressure than any college basketball player has at any point in this season. And at that point, he was completely tension-free.
Taylor's team led by a point with eight seconds left when Lenzelle Smith Jr. committed a foul that sent KU's senior guard from Hoboken, N.J., into as pressure-packed a moment as he ever experienced. At least that's how it should have been, but this being the opposite-universe basketball team, he felt none of it.
"I was relaxing," he said. "I was looking in the crowd. I was smiling. I walked up to the line knowing I was going to make it. I've been in that situation a few times this year. Some resulted in us losing, and some won us some games."
And what did he see when he looked into a dome filled with 73,361 spectators?
"I saw my mom in the crowd blowing me a kiss," Taylor said. "I saw the (Morris) twins, or one of them anyway. I saw all the fans in the crowd yelling and smiling."
He made both free throws to give Kansas a 64-61 lead, and that's not the last thing he did that made half the crowd want to hug him.
He overheard a conversation between Aaron Craft, who so badly outplayed him in the first half, and a teammate, and applied what he heard to steal the ball in the backcourt with five seconds left to seal the game. Wait, not so fast. This is Taylor, remember? This is the opposite-universe team, remember?
Instead of dribbling the clock out, Taylor threw a one-handed, cross-court bounce pass intended for Elijah Johnson, but nowhere near him. There was a receiver in the area, so it wasn't an intentional grounding. The problem was, the receiver was wearing a suit and tie, and his name was Bill Self, the ninth-year coach who has had at least one McDonald's All-American on all of his Kansas teams except this one.
"'I was open, Ty, but you threw it three feet behind me,'" Taylor recounted Self telling him, his smile lighting up the locker room.
The play that drew so many gasps didn't end up hurting Taylor or the Jayhawks because they're going to the national-title game against Kentucky, the only school that has won more basketball games.
Similarly, Taylor's woeful three-point NCAA Tournament shooting hasn't hurt Kansas. Taylor is 0-for-20 shooting threes in this tournament and 0-for-20 lifetime shooting in domes. But it's a combination of the dome and the tournament for Taylor, a 41-percent lifetime three-point shooter in non-tournament games. He has made just three of 40 three-pointers in NCAA Tournament games.
Will he try, try again Monday night?
"For sure," he said. "I'm going to keep letting it fly. I'm going to keep letting it fly. I'm going to make one. Mark my words."
It's getting tougher and tougher to doubt anything about these Jayhawks (32-6). How can you when the only player on the roster who scored a point in last season's Elite Eight loss to Virginia Commonwealth can't hit a shot and his team keeps winning after falling so far behind?
Ohio State had leads of 26-13 and 30-17, which of course meant the Jayhawks had the Buckeyes right where they wanted them.
Five games into this NCAA Tournament run to the title game, Kansas has led at the half just once, and that was against Detroit Mercy in the first game.
The Jayhawks trailed at the half against Purdue (six points), North Carolina State (one point) and were tied with North Carolina at the half. Coming into this season, Self had an 0-9 record in tourney games when trailing at the half. This team is different, as it showed by storming back from a 19-point second-half deficit to Missouri in Lawrence to win in overtime.
What is it with this team that it feels pressure when it shouldn't and doesn't when it should?
"Isn't that weird?" Taylor said. "I think that's exactly how it feels. I can feel it myself because, 'OK, we're down, but we've been here before, know exactly what we need to do to get back. We need to get some stops and work our offense.'
"I think being down helps our offense because we cherish the ball more. We make the right plays, do everything we can to get the best shots possible."
Taylor's respect is so deep for Kentucky that the last thing he wants is for Kansas to put itself in a hole again.
"No way we can do that in the national-title game," he said. "We've got to make sure we come from the jump ball and we're on point, doing the things that we do when we get down."
More like this story on KUsports.com